Beach picnic, dock picnic or a patio party -summer is here so why not celebrate with these picnic dishes that are all make ahead and travel well.   Take your pick of beverages, sandwiches, salads and sweets from the recipes below.  Once that cooler is packed the work is done so you can enjoy the party too.
Spanish Rosé Sangria from Bacon is Magic
Muffuletta Sandwich by The Wine Lover's Kitchen
Easy Chicken Salad Sandwiches  from Julia's Kitchen – uses a deli chicken or chicken leftover meat
Spiralized Cucumber Shrimp Salad with Honey Lime Dressing from Lichen Palio, AIP
Grilled Chicken Pasta Salad from Salt and Lavender
Shrimp Saffron Pasta Salad from The Wine Lover's Kitchen
Cucumber Mango Salad from The Wine Lover's Kitchen
Easy Bean Pecan Salad – Gluten free, Vegan, Healthy and Tasty from Imagelicious
Thai Glass Noodle Salad – Yum Woon Sen from Cinnamon and Coriander
Berry Citrus Kale Salad with Raspberry Vinaigrette from Crumb Top Baking.  This is the perfect time to make this salad with all the fresh fruit in season.
Melon and Grapefruit on Cucumber from Urbn Spice – along with a wealth of other summer salad ideas!
The Perfect Simple Tomato Salad from My Kitchen Love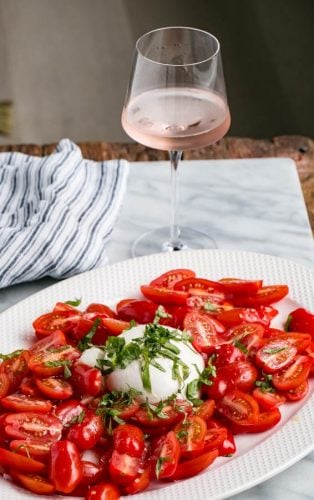 Mason Jar Peach Crisp from Flavour & Savour
Tequila Lime Squares from The Wine Lover's Kitchen
Chocolate Frosted Almond Brownies from Chocolates and Chai
Chocolate  Salami from The Wine Lover's Kitchen