Nothing is easier than Beef Tenderloin in the Air fryer!
For best results let the tenderloin come to room temperature before cooking. This will give you a juicer and more evenly cooked end result. Small cuts like a tenderloin should be ok with 30 minutes outside the fridge. If you don't have a half hour go with whatever time you have. Every little bit helps.
I served my beef tenderloin, which becomes filet mignon once you cut it into steaks, with this Café de Paris sauce.... ooh la la! as the French would say.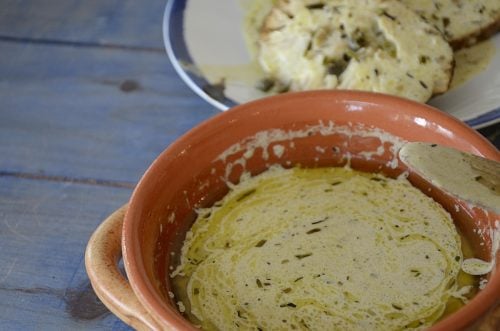 This sauce is so good that it is the signature item on the menu of the original Café de Paris in Geneva. The original recipe is a secret and continues to be served at Café de Paris and is licensed to a few select restaurants around the world. Of course many chefs have tried to duplicate it! You can check out the version I made that I will be making again and again and again!
Back to the tenderloin... I used to do the pan sear and transfer skillet to a hot oven. This is a fine technique but the air fryer is way less messy and gives you a nice crust without the searing, oil-splattering part!
Wine Pairing for Air Fryer Beef Tenderloin
Beef seems to be made to pair with red wine! It will stand up to the boldest, most tannic of reds because the protein in the beef will soften the wine considerably. A Cabernet Sauvignon, a Bordeaux blend, a Malbec, Rioja, Barolo, Brunello are all good candidates. Frankly any full-bodied red will be fine.
Note: My Air fryer is a Pampered Chef one and I absolutely love it! I have not tried others but based on my research the Pampered Chef with its 2 tray and cube configuration is more versatile than others. You can actually do a 2-3 lb rotisserie chicken in it! it toasts, roasts, bakes, reheats, dehydrates besides air frying. No folks... this is not a sponsored post - I am just sharing my enthusiasm! If you are in Kitchener -Waterloo Ontario, Canada region you can check out Pampered Chef products here https://www.pamperedchef.ca/pws/karenlair or contact a local Pampered Chef rep at cookingwithkarenlair@gmail.com.
Ingredients
1-1.5

lb

beef tenderloin

whole

1

tablespoon

olive oil

salt and pepper
Instructions
Allow tenderloin to come to room temperature. (About 30 minutes).

Preheat Air fryer to 400°.

Pat tenderloin dry and rub the tenderloin all over with olive oil. Season all sides with fresh ground sea salt and fresh ground black pepper. See Note 1 for variations.

For medium rare cook 22 minutes flipping at midpoint of cooking. You want to remove the tenderloin from the Air Fryer when it is about 5° below your final target temperature.

Check internal temperature and adjust timing by just a couple of minutes at a time. See the chart below for suggested timing for different degrees of doneness. These times will also vary with the size of your tenderloin and the power of your air fryer.

Internal temperature of 125° for blue -check temperature at about 18 minutes;

Internal temperature of 135° for rare - check at about 20 minutes;

Internal temperature of 145° for medium rare- check at about 22 minutes;

Internal temperature of 150° for medium well, check at about 24 minutes

Internal temperature of 160° for well done- check at about 27 minutes.

Remove from oven at 5° below final desired temperature. Cover and allow tenderloin to rest for 5 minutes.

Slice and serve with desired sauce or condiments.
Notes
Note 1:  If not planning to serve with a sauce you may choose to include ½ teaspoon of garlic and/or onion powder in the rub.
Nutrition
Calories:
342
kcal
|
Protein:
21
g
|
Fat:
28
g
|
Saturated Fat:
11
g
|
Cholesterol:
79
mg
|
Sodium:
56
mg
|
Potassium:
345
mg
|
Calcium:
8
mg
|
Iron:
3
mg