These Bread Machine Sweetened Condensed Milk Dinner Rolls are the softest, fluffiest rolls I have ever had!
(Note manual kneading instructions are included in the recipe card.)
Apparently soft and fluffy is a hallmark of Asian rolls but these will be a hit with any type of cuisine. Milk helps give bread a soft crumb and the addition of sweetened condensed milk makes for an even softer, fluffier roll.
Jump to:
What Are Sweetened Condensed Milk Rolls?
They are pretty much what they sound like. It is a dough recipe much like any other yeast dough but the milk makes the dough soft and the sweetened condensed milk makes an even softer, sweeter dough than even traditional milk bread recipes. Having said that they are not overtly sweet; they go well with a savoury soup or filling.
The Japanese get credit for the origins of milk bread. It involves a method called Tangzhong where you make a warm roux to start. This allows the gluten to develop before you add the milk and the remaining ingredients. It is also shaped by forming three dough balls in a bread pan to rise which results in a distinctive segmented pattern after baking.
These Sweetened Condensed Milk Dinner Rolls are like milk bread on steroids for softness and sweetness! And - they are much easier to make in your bread machine! In fact - you get all the classic softness and fluffiness without any additional work on your part. The ingredients are doing the work for you here!
Ingedients
Butter- unsalted is best. If salted butter is all you have you can use it but reduce salt in the recipe to ¾ tsp.
Egg- the recipe calls for a large egg. Only have small or medium? Go ahead- the difference will be negligible.
Milk- the recipe calls for whole milk which is recommended because this is what contributes to the soft, fluffiness of the bread crumb. You can use 2 % or Skim but your rolls will be less soft and light.
Sweetened Condensed Milk - This ingredient is key to the recipe. There is no substitute.
Flour - the recipe calls for all purpose flour and that is recommended. You can use bread flour but again your crumb will not be as soft and light as it will be with all purpose.
Sugar- is regular sugar. Fine grind or regular is ok. Do not use powdered sugar.
Salt - regular table/sea salt is what is called for. If you used salted butter instead of unsalted reduce salt to ¾ tsp.
Yeast - the recipe calls for Rapid Rise yeast. Bread machine yeast, fast acting yeast are all ok. See Fleischmann Yeast's Guide for yeast equivalents. Active yeast does not work well in a bread machine because it needs to be dissolved in water to activate it.
How To Make Bread Machine Sweetened Condensed Milk Rolls
These rolls are soooo soft and moist. We are going to use the dough cycle of the bread machine and then shape the buns by hand and bake in a conventional over. (Note that manual kneading instructions are included in the recipe card so don't despair if you don't have a bread machine.)
How Long Does It Take To Make These Rolls?
It takes about 2 hours and 45 minutes total. So you have to be around your kitchen. But the good news is you only spend about 15 minutes hands on in total. The bread machine dough cycle takes about an hour and a half for the first rise and the second rise takes about 35 minutes. Baking is another 25 and some time to cool.
Instructions
Gather your ingredients.
Measure out the flour, sugar and salt. A kitchen scale is highly recommended for baking since flour can compact and dry measuring is not really very accurate. Having said that if you don't have a scale be sure to stir your flour up to loosen it and then spoon or scoop the flour in to your final measuring vessel. Mix flour, sugar and salt together.
Measure out the yeast.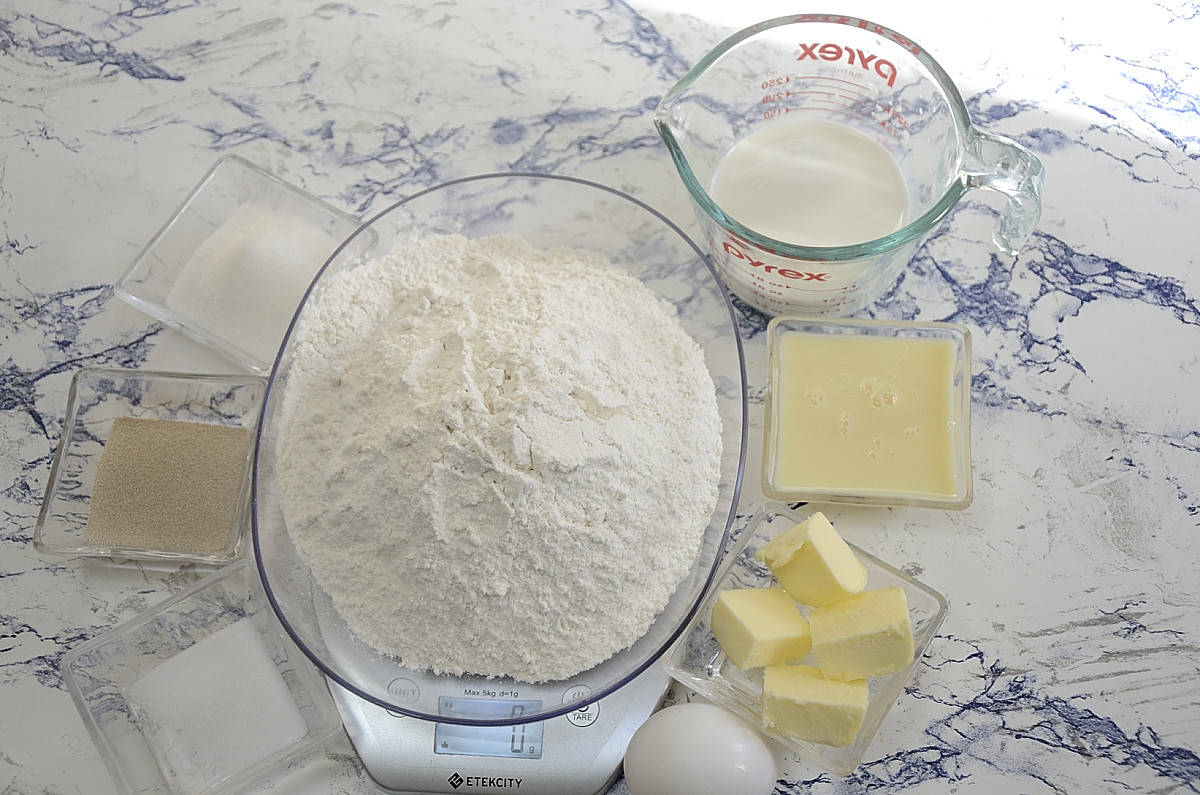 Then warm the milk and melt the butter. Whisk the egg and sweetened condensed milk in to the milk and butter.
Tip: You will have sweeten condensed milk left over after making these buns so consider making White Chocolate Snowball Cookies or Lemon Custard Puddings to use it up. Or make more batches of buns and freeze them!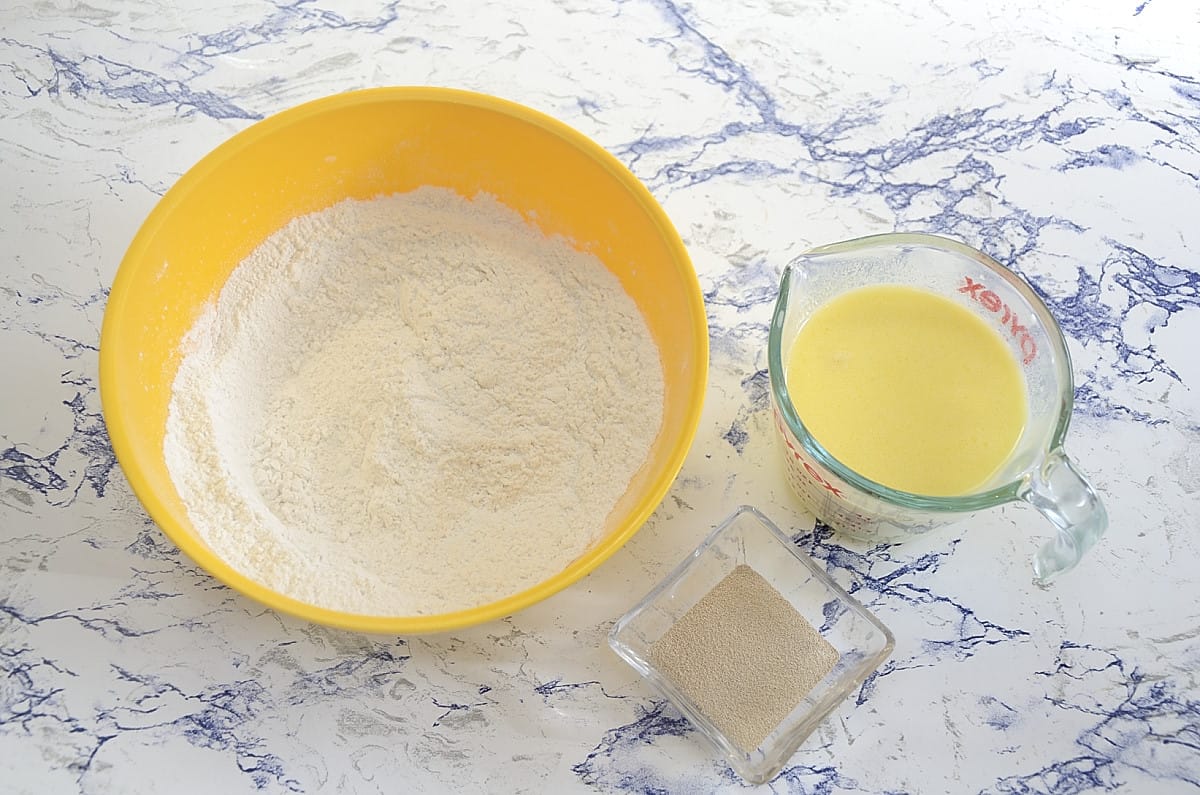 Add the ingredients to your bread machine in the order recommended. Mine is liquid on the bottom, then flour mixture, then the yeast.
Set your machine to the dough cycle. Make sure your container and paddle are firmly in place.
Check your dough about 15 minutes in to the dough cycle. The picure below is a bit fuzzy because the paddle was moving. But you can see a fairly smooth elastic looking skin on the dough. The dough should be forming a nice size ball around the center of the machine. If the ball is really small and tight it might need a tablespoon of water. If it is really shiny and wet and loose, not in a nice ball, it needs more flour. Either way add a tablespoon at a time and watch when the kneading resumes. Give it a minute or so to incorporate and decide if you need to add a tablespoon more. BTW... this is not a big issue if you weighed your flour. The flour to water ratio should be about right.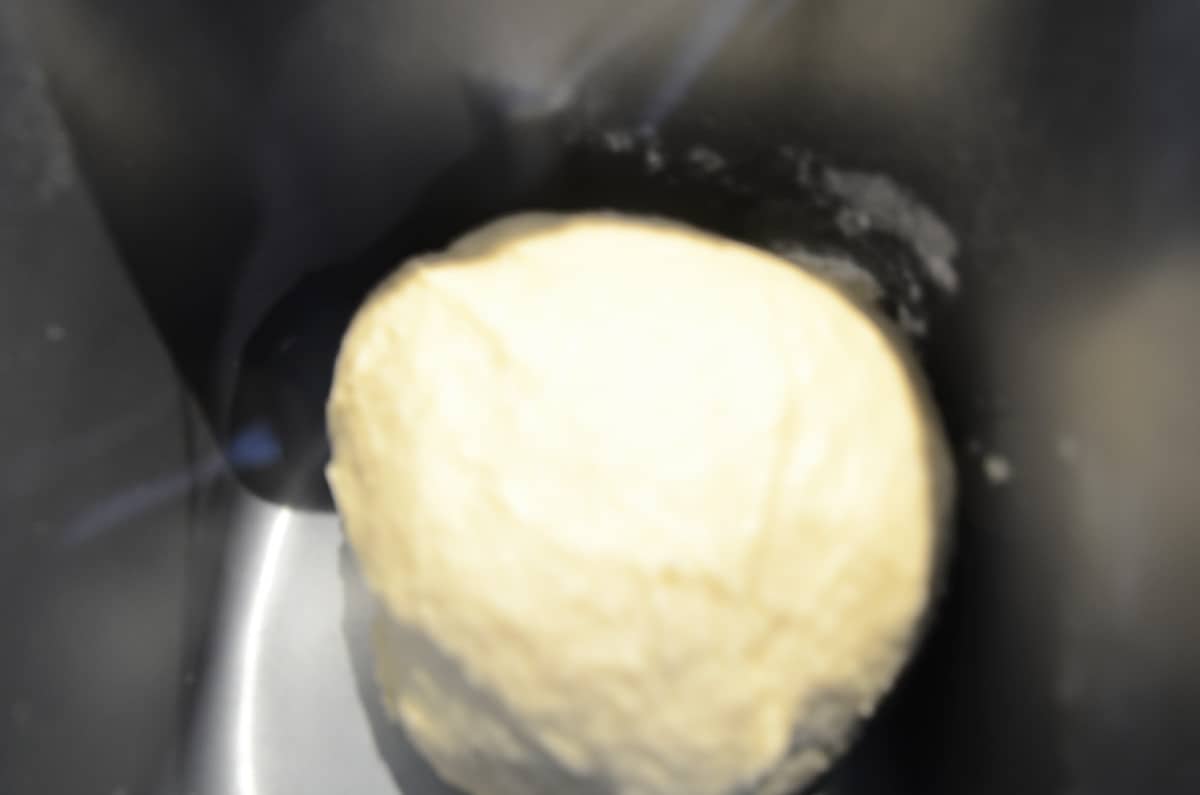 Allow the dough cycle to finish.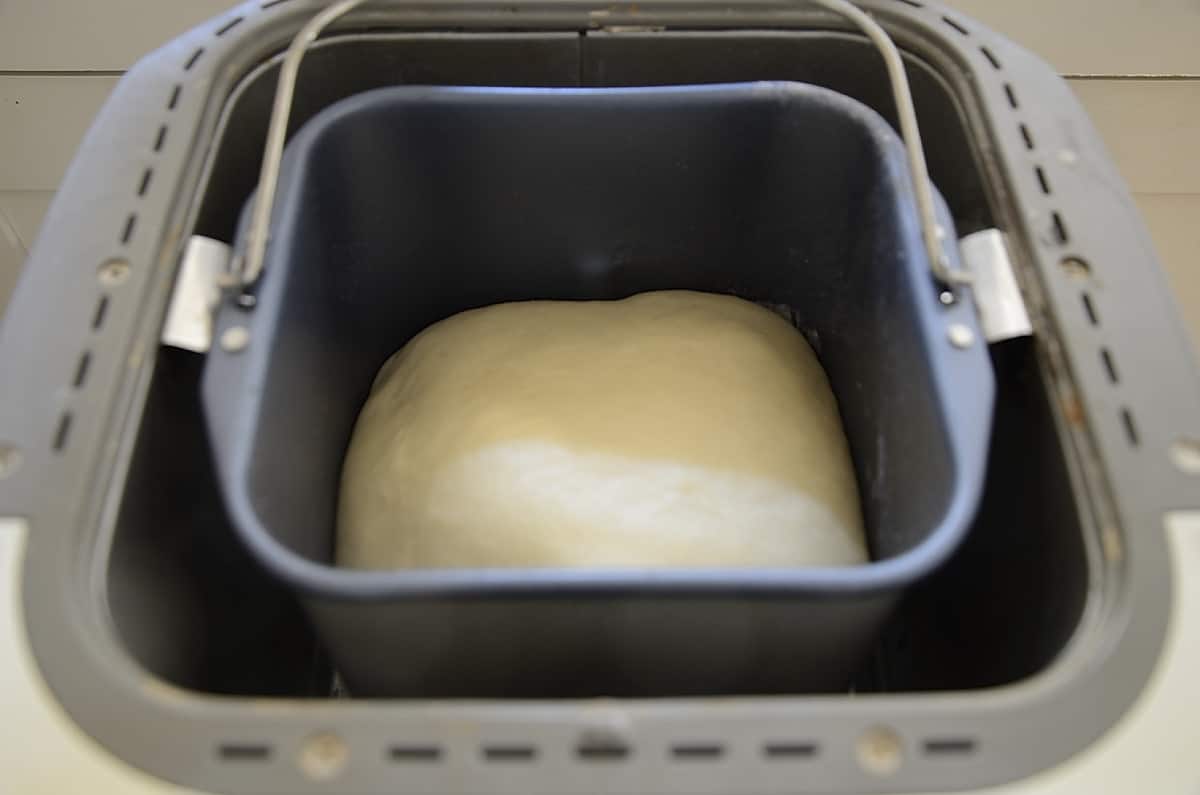 When the dough is ready, oil your hands and transfer the dough to a work surface. Punch it down to deflate it. Fold it over on to itself in thirds and form a thick log.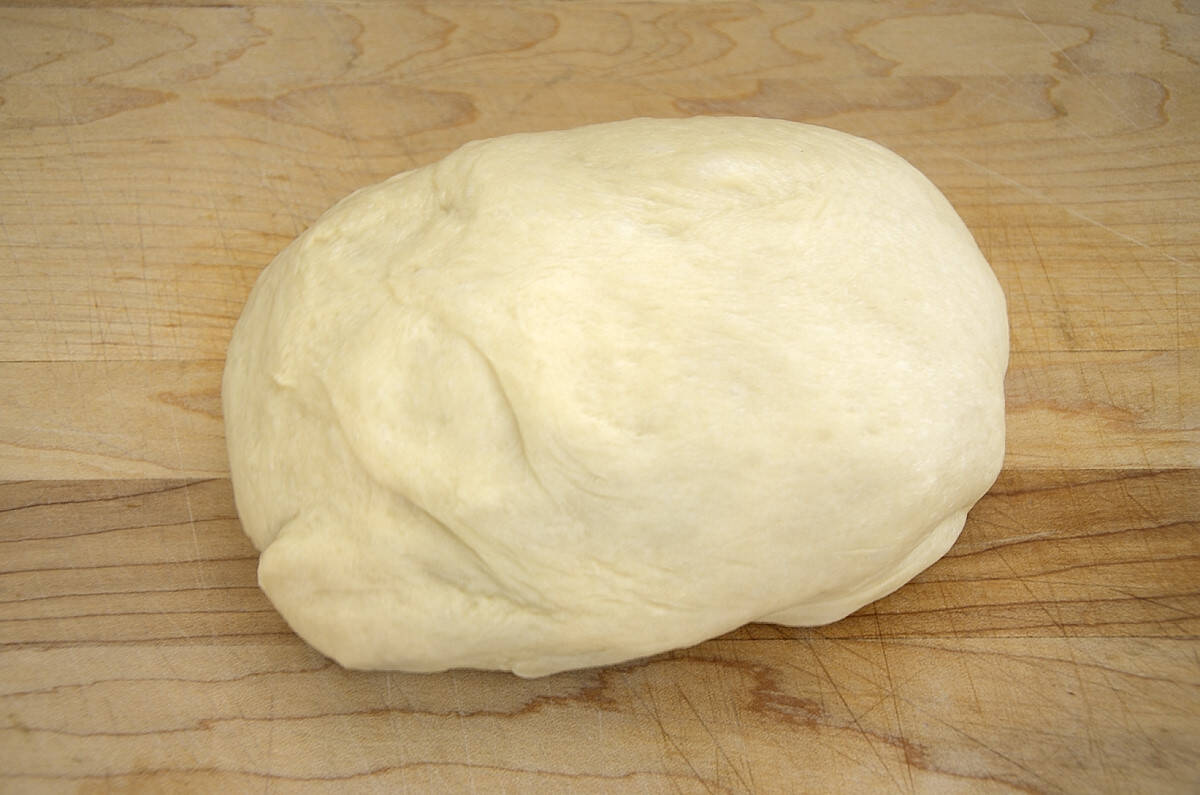 You are going to cut the log in to thirds.
Tip: I often measure the complete dough ball and then the thirds as I cut them so I get evenly sized dough balls.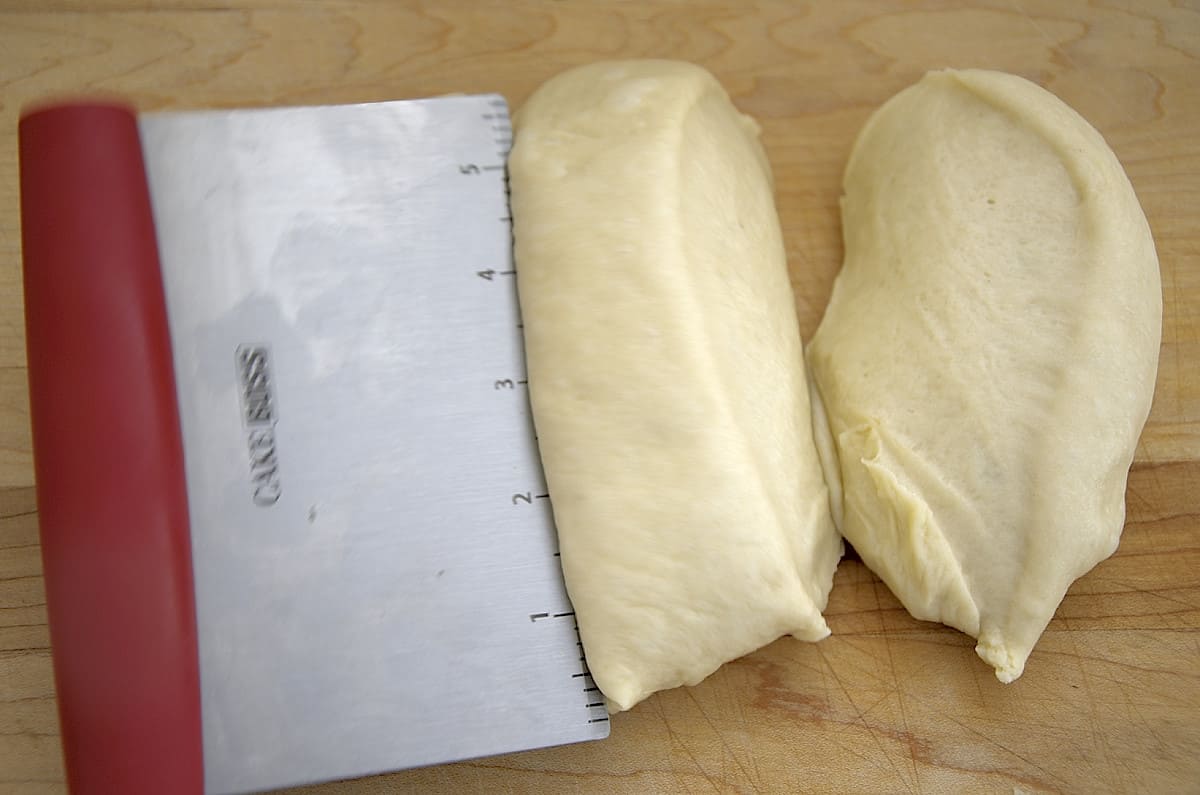 Cut each third in to 3 balls again. You will have 9 dough balls. (This is where weighing the dough balls helps to get evenly sized buns. But some people are way better at eyeballing this kind of thing than I am!)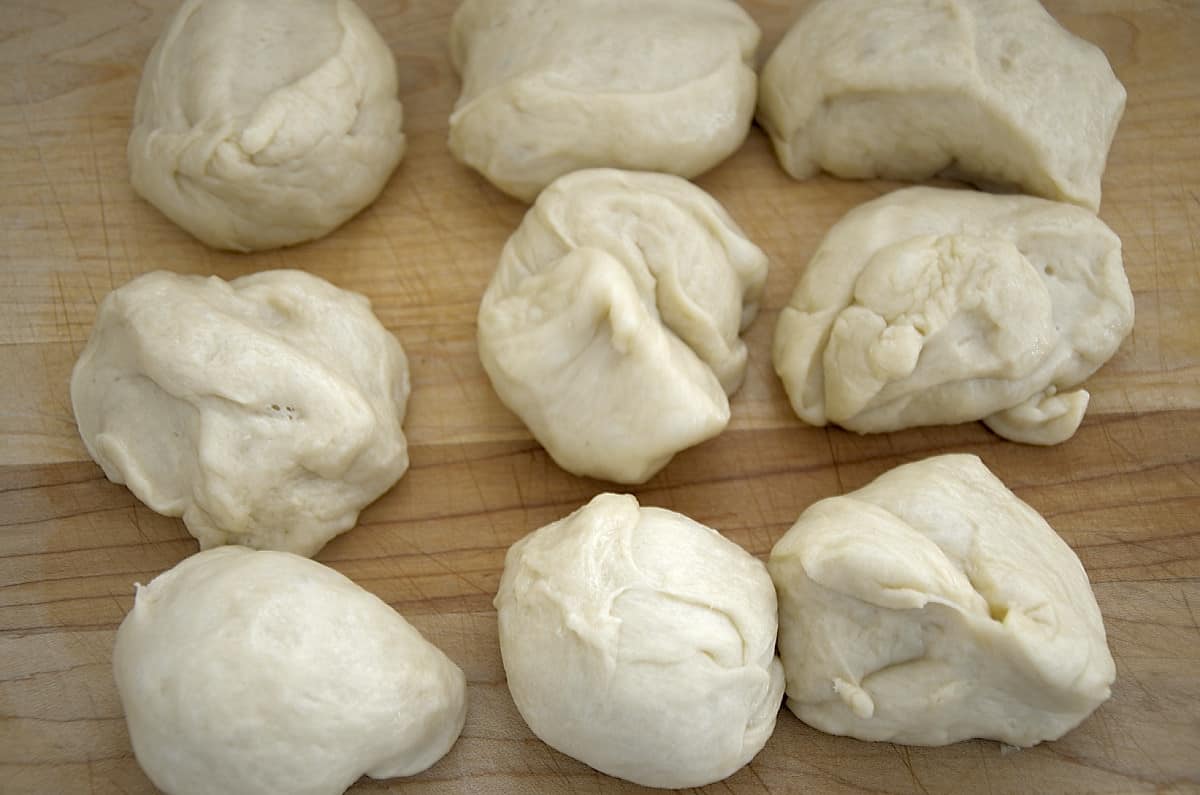 Smooth the top surface of each dough ball by pulling the outer edges underneath the ball. Twist the edges you have pulled down and tuck them up in to the center of the dough ball.
Line the dough balls up evenly in your baking pan.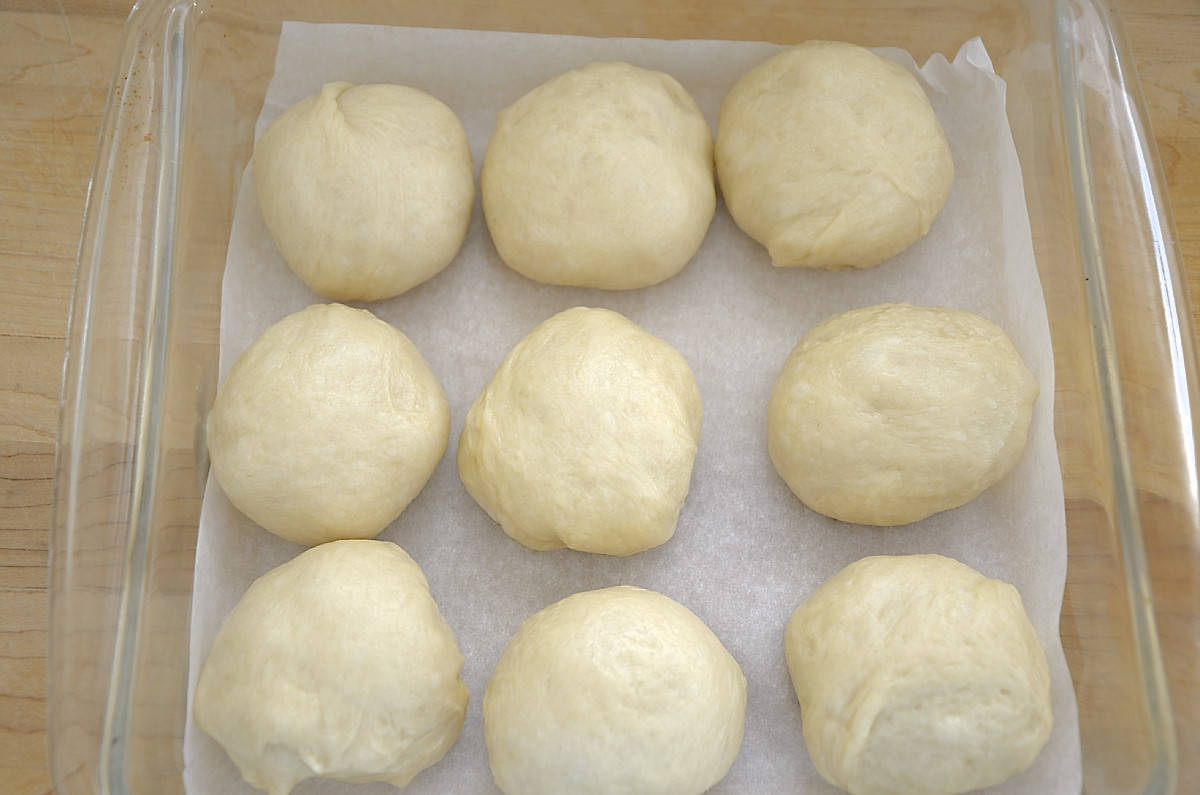 Cover and allow to rise in a warm place for about 35 minutes.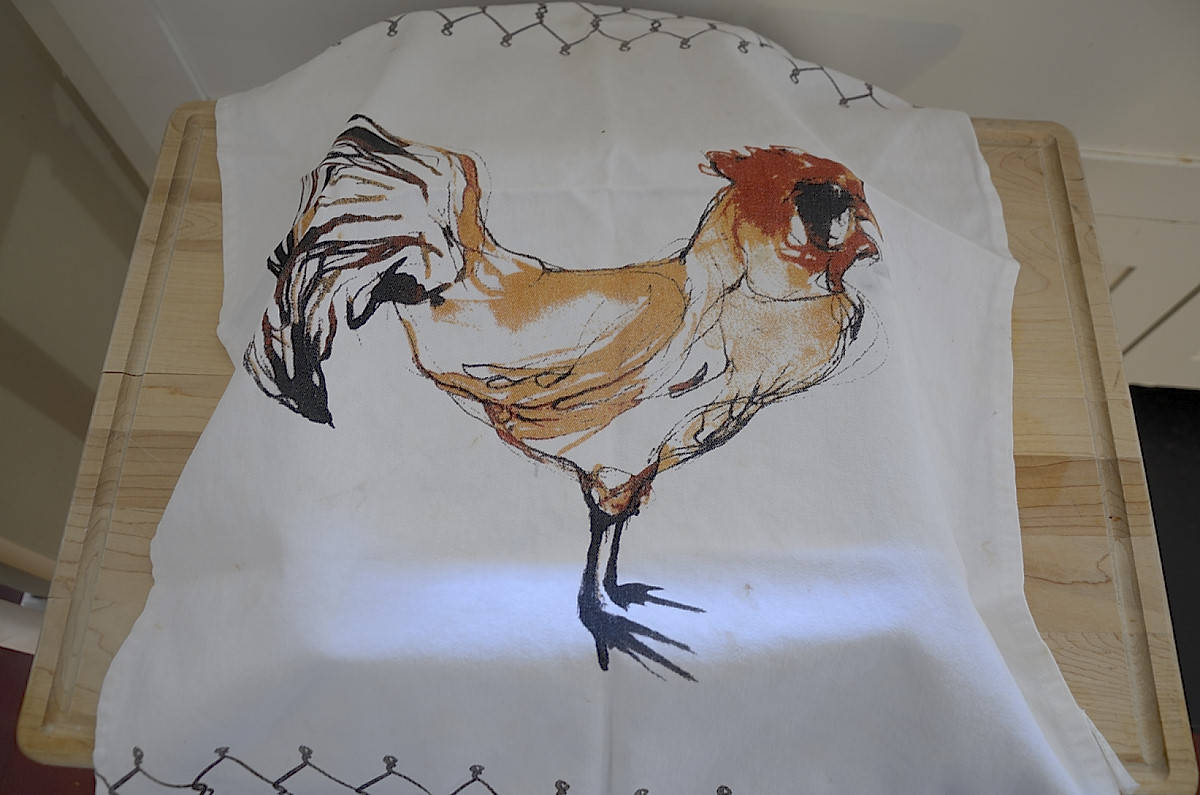 Preheat the oven to 350 degrees F while the buns are risings. Line your baking pan with parchment. Cut an extra piece of parchment paper to cover the buns while baking.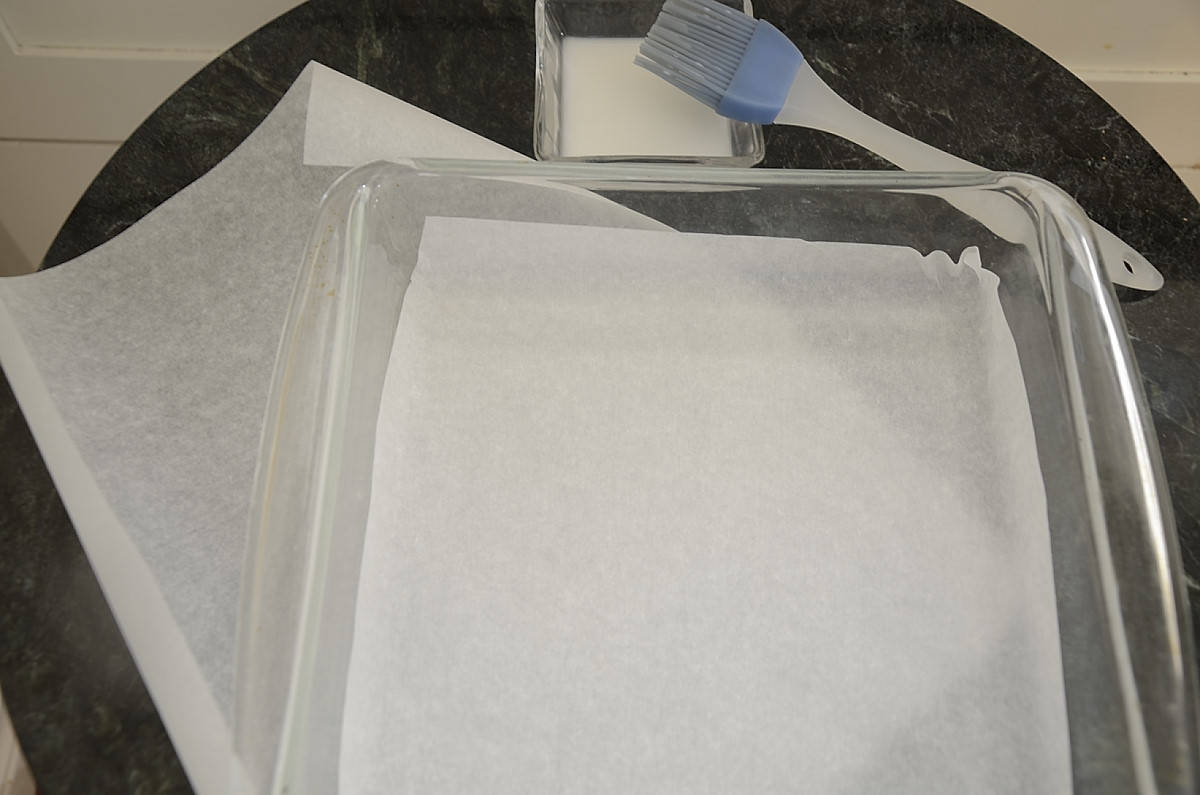 When buns have finished their second rise, brush the tops of them with milk. Transfer baking pan to the oven. Place a sheet of parchment paper lightly over the top to prevent them from browning too much.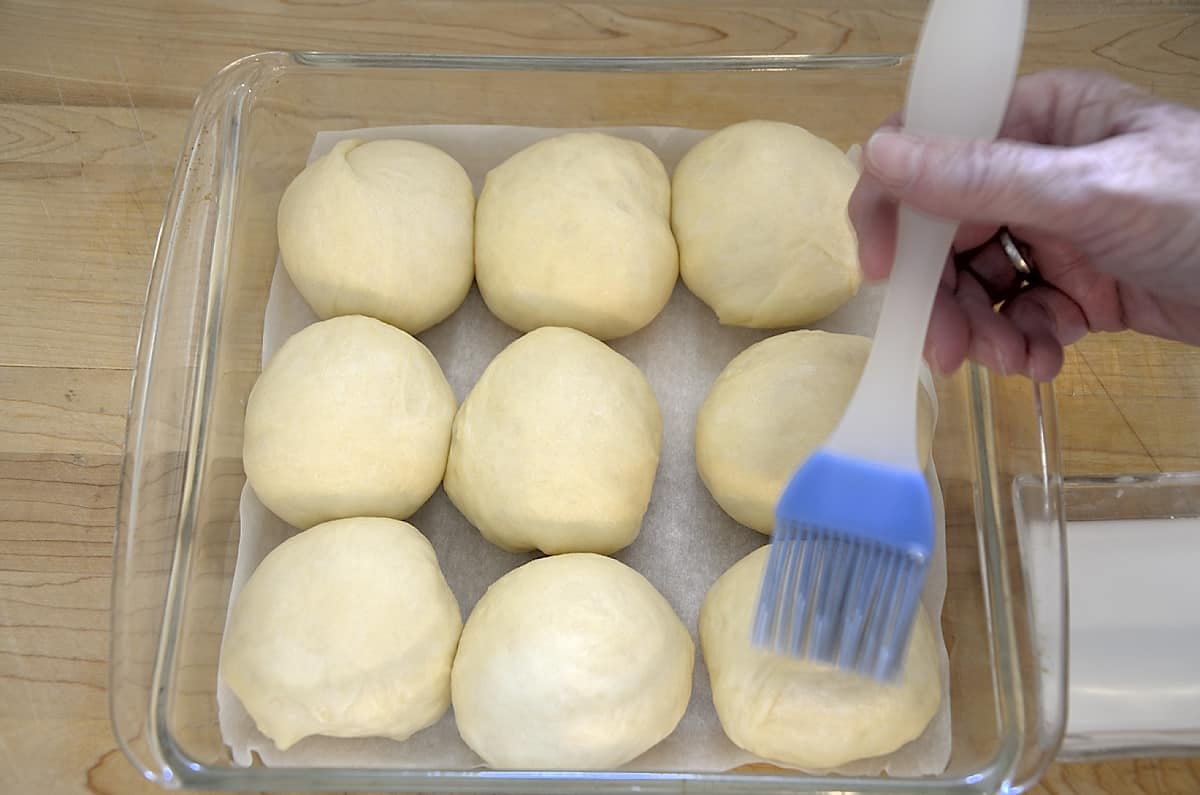 Remove the parchment after about 20 minutes and allow the buns to cook another 5 minutes or so. If you are using an instant read thermometer check for 190 degrees internal temperature. As you can see in the picture, mine read 202 degrees which was fine. The buns are quite forgiving of a bit higher temperature but lower than 190 and you risk an uncooked center.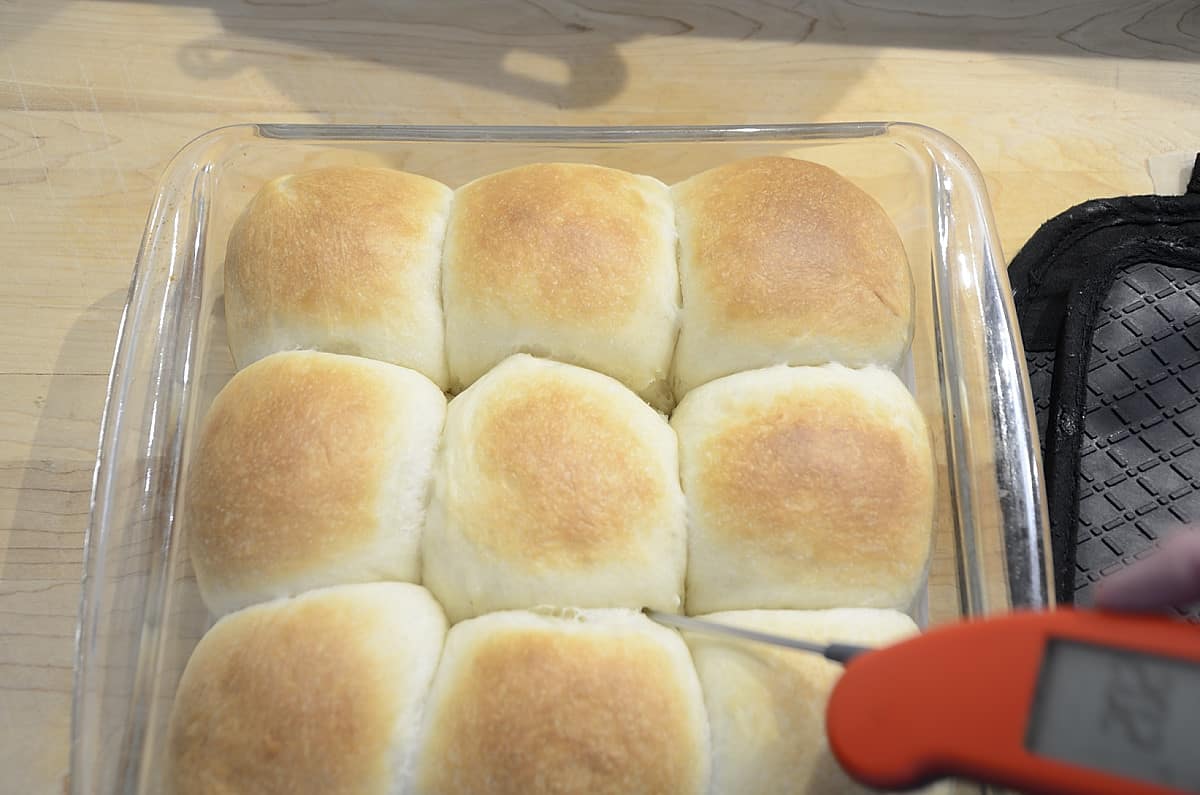 When done, allow buns to cool 10-15 minutes, then remove them from the pan and allow them to continue to cool.
Separate buns when ready to serve.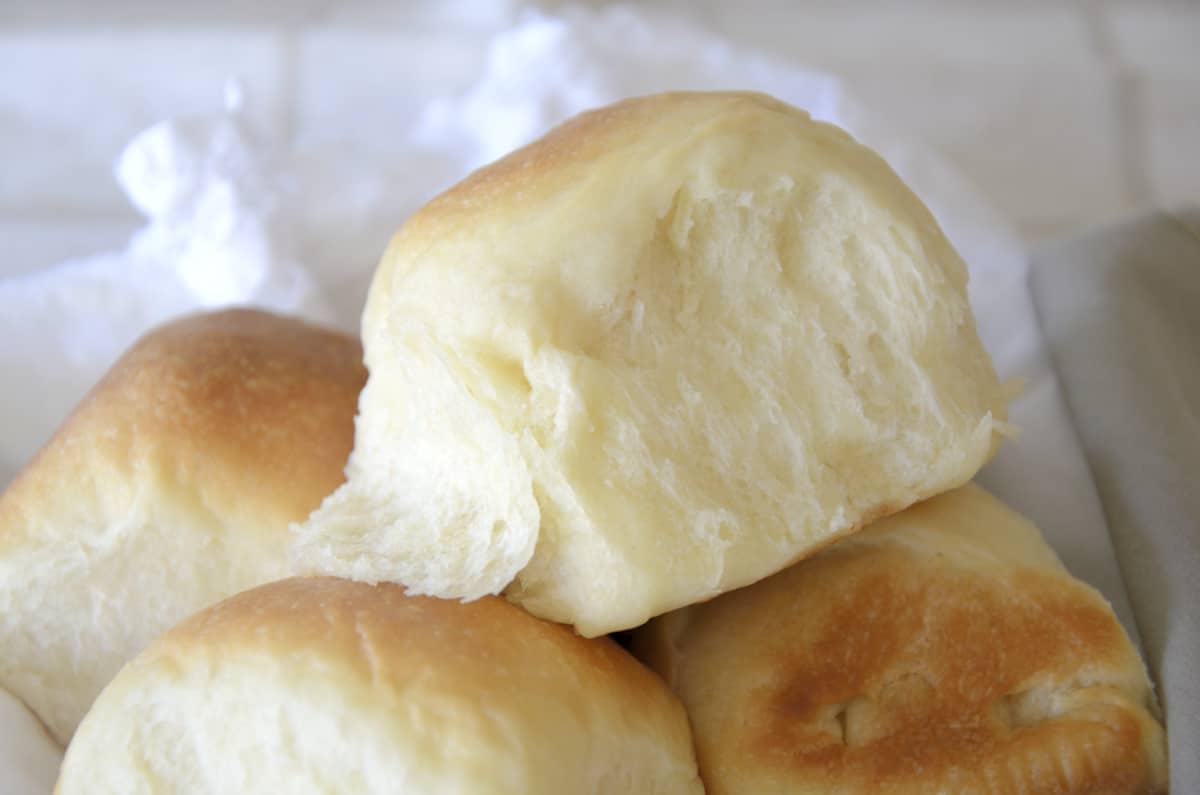 FAQs
How Do I Store These Buns?
Since there are no preservatives in homemade buns they are best the day they are made. Freeze any leftovers or buns you know you won't use immediately, once fully cooled. You may keep leftovers tightly sealed on the counter overnight but you will notice they are not quite as good as the first day.
Can I Use Rapid Rise Yeast or Instant Yeast instead of Bread Machine Yeast?
Yes. Bread machine yeast, instant yeast and rapid rise yeast are all interchangeable according to Fleischmann's Yeast. Active yeast needs to be dissolved in liquid to activate it so it doesn't work well in a bread machine.

Can I Make These If I Don't Have a Bread Machine?
Yes. Instructions for manually kneading the dough are included in the recipe card.
Can I Substitute Condensed Milk for Sweetened Condensed Milk?
No. They are two different products. The recipe requires sweetened condensed milk.
Can I Freeze These Buns?
Yes you can and it is recommended that you freeze any buns you don't eat on the first day. There are no preservatives in these homemade buns. You can keep them sealed airtight on the counter but you will notice the 2nd day they are not as soft and light. Best freeze any extra buns as soon as they are completely cooled. When ready to use just defrost. You might choose to lighty warm them but that is optional.
How Do I Serve These Rolls?
These rolls are delicious with butter on their own! You can put jam or peanut butter on them. I have served them with Pulled Pork or with leftover turkey and cranberry sauce. They go well as a side with soups and salads as well.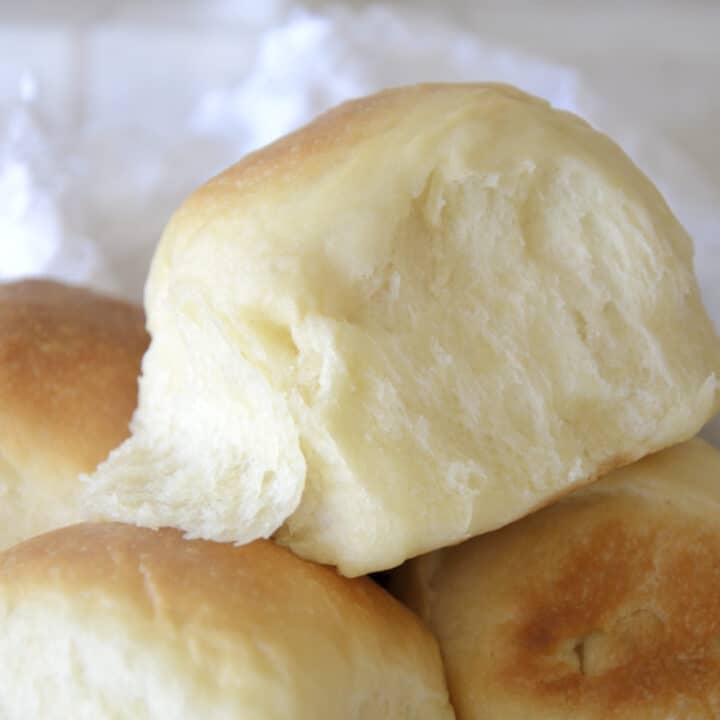 Ingredients
4

Tbsps

unsalted butter

melted See Note 1.

1

large

egg

140

ml

whole milk

½ cup plus extra for brushing top of rolls

80

grams

sweetened condensed milk

¼ cup

300

grams

all purpose flour

2 ½ cups

30

grams

sugar

2 ½ Tbsps

5

grams

salt

1 tsp

7

grams

Rapid Rise yeast

2 teaspoons See Note 2.
Instructions
Melt butter in microwave. Warm milk in microwave-about 1 minute on medium.

Whisk melted butter, egg, milk and sweetened condensed milk together until well mixed.

Combine flour, sugar and salt in a bowl and mix well.

Add ingredients to your bread machine in order suggested by manufacturer. Mine is liquids, dry ingredients and yeast on top.

Set bread machine to dough cycle. (See notes below for manual kneading/rise).

Prepare a baking pan about 8 X 8" or 9 X 9" with parchment paper on the bottom and slightly up the sides. Alternatively oil baking dish slightly.

Lightly oil your work surface and your hands. When the dough cycle is finished remove dough to work surface and punch it down. Fold it over on itself and form a fat log.

Divide dough into 3 equal portions and then divided each third into 3 more equal portions.

Shape the dough by stretching the top surface into a round smooth top. Twist and tuck the ends into the bottom of the dough ball. Transfer the dough to the baking pan spaced evenly apart in 3 X 3 rows. Cover the baking pan with plastic wrap and allow dough to rise for about 35 minutes.

Preheat oven to 350°. Do NOT use convection here because you are going to cover the buns with parchment paper so they don't get too brown. Convection fans will blow the paper off.

Brush the tops of the rolls with milk. Place a sheet of parchment paper lightly over the top of the buns.

Bake the rolls for about 20 minute. Remove parchment paper and bake rolls 5 minutes more. You can test for doneness with an instant read thermometer. Middle roll should read 190°.

Remove from oven and allow rolls to cool for 5-10 minutes. Remove rolls from the pan and allow to cool further. When warm or room temperature pull or cut rolls apart.

Serve warm or at room temperature.

Rolls are best the day they are made but will keep another day in an airtight container at room temperature. If you want to keep them longer than the 2nd day freeze in an airtight bag.

Allow frozen rolls to thaw at room temperature and warm slightly in microwave if desired just before serving.
Notes
Variations
Note 1: If using salted butter reduce salt to ¾ tsp.
Note 2:  Bread machine yeast, instant yeast and rapid rise yeast are all interchangeably.
Manual Dough/Rise:
 Mix all the dry ingredients in a bowl, including the yeast.
Mix the wet ingredients (except the butter.)
Using a stand mixer with a dough hook on low or wooden spoon- add the wet ingredients to the dry ingredients until consistently wet.  This will only take a minute or two with a mixer and a bit longer by hand.  Take a spatula and ensure all the dry flour on the sides of the bowl gets incorporated.
Increase the mixer speed to med/low and add the butter bit by bit in cubes until it is smoothly incorporated and the dough is smooth.  This will take a couple more minutes with the mixer and a bit longer by hand.  The dough will be sticky and moist.
Transfer the dough to an oiled bowl.  Work it another minute or so by hand by stretching it into a ball, tucking the bottom edges in.  Repeat this a few times and then position the dough seam side down.  Cover and allow dough to double. This will take 1-2 hours depending on how warm your kitchen is.
When ready, punch the dough down and continue with the recipe as written.
Nutrition
Calories:
227
kcal
|
Carbohydrates:
35
g
|
Protein:
6
g
|
Fat:
7
g
|
Saturated Fat:
4
g
|
Cholesterol:
39
mg
|
Sodium:
243
mg
|
Potassium:
104
mg
|
Fiber:
1
g
|
Sugar:
9
g
|
Vitamin A:
234
IU
|
Vitamin C:
1
mg
|
Calcium:
52
mg
|
Iron:
2
mg