These Savoury Spinach and Feta Scones make a hearty addition to a soup or a salad.
What a treat these turned out to be! They are so moist and buttery and dense, yet fluffy textured at the same time. There is a trick to the fluffiness you will want to use in all your scone recipes!
I served these with this Tuscan Sausage Soup and the combinations was delicious!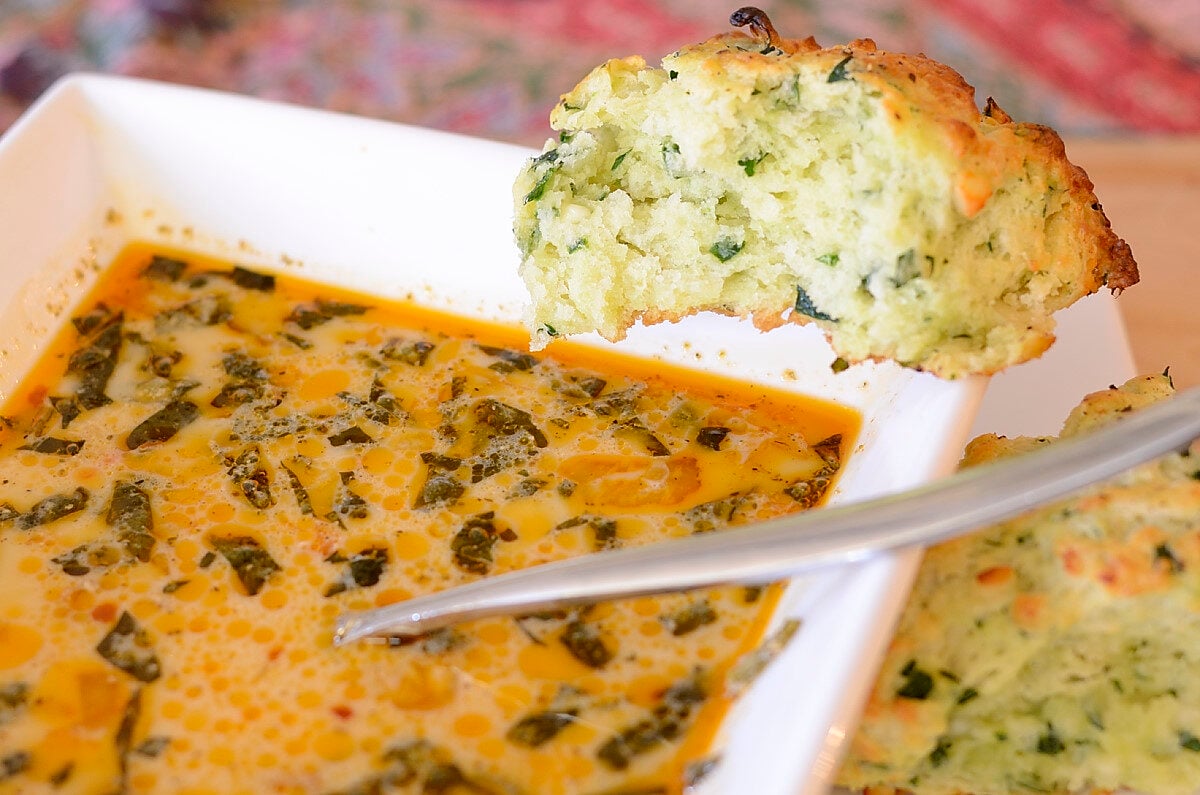 These scones are so moist and creamy you don't need to add butter. You could if you want but I can't imagine what it would add!
Chef's Tips for Spinach and Feta Scones
Fresh Spinach is best since it is not soggy. If you need to use chopped frozen spinach then be sure to squeeze out as much excess liquid as possible. I would add frozen to the dry ingredients and then add the liquid and feta to the mix. Coating the spinach bits in flour will give them a better chance of being distinct flecks in your scone.
Freezing the flour/butter mix before the final mix is not a required step but it is the step that ensures a fluffier scone. The colder the butter the more layers/lift you will get during baking.
You can use the freeze step to suit your schedule. You can freeze the flour/butter mix as long as little as you like. Just do the final mix with remaining ingredients just before ready to bake.
When measuring your feta if it is not already crumbled, eyeball 1 cup but err on the smaller side. After you crumble it it will have more volume than when it is in a solid chunk.
I used the outer ring of a springform pan to help get a uniform circle of dough. You don't have to do this. You could just form a disc with your hands approximately 8″ in diameter.
The dough is quite dense and sticky so cutting the dough into 8 pieces and separating them by and inch or so can be a bit tricky. Don't skip separating them or you will get uneven cooking and it will take longer. I made my disc on a piece of parchment paper and separated/lifted/nudged each cut piece away from the others by an inch or so. It left a smear of dough on the parchment. I guess it wouldn't matter but I didn't want burnt smears of scone on my parchment for the pictures! So- I separated the slices and then transferred them one by one to a fresh piece of parchment that lined my baking sheet. You could also cut and transfer them from a flour work surface to your parchment lined baking sheet.
Brushing the top of the scones with cream before baking is an optional step but it does give you a lovely golden top.
Storage
Many recipes say scones are best the day they are made. They are definitely very, very good once they have cooled down fresh from the oven!
But – I refrigerated my leftover scones in an air tight container (because of the cheese content). With a little gentle rewarming in the microwave they were also delicious the day after. I can't imagine that the same would not hold true on day 3 either.
These scones are so moist and creamy that going stale is not as much a concern as it might be for other types of drier scones.
You also reheat gently in a 350 degree oven for 5 minutes or so just before serving.
These cooked scones also freeze well in an airtight container. Use parchment paper to separate slices unless you are sure you are going to defrost them all at once. Defrost at room temperature and then reheat gently in the microwave or oven.
I have not tried freezing them before baking. I would be concerned the texture of the feta might change and/or the spinach might end up watery so I don't think I would even try that approach.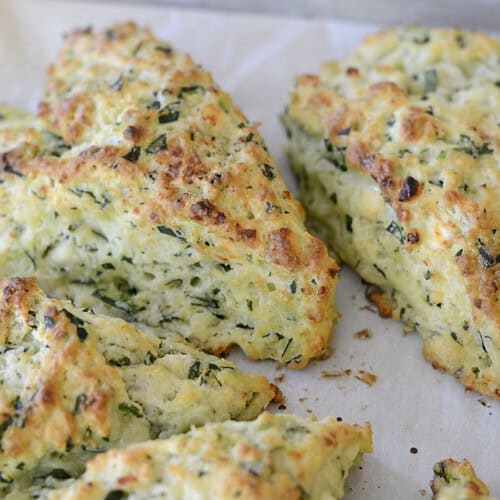 Savoury Spinach and Feta Scones
These incredibly creamy, moist scones make a great side for a soup or salad but they are also delicious on their own.
Print
Pin
Rate
Ingredients
2 1/2

cups

all purpose flour

3.75

tsps

baking powder

3/4

tsp

salt

1

tsp

garlic powder

1

Tbsp

sugar

1/2

cup

cold butter

cut into 1" chunks

2

cups

fresh spinach

1

cup

crumbled feta cheese

1 1/4

cups

cream

heavy or 10% Plus more for brushing or as required.

fresh cracked pepper
Instructions
Preheat oven to 450°. Line a baking sheet with parchment. Prepare a floured work surface or a separate piece of floured parchment.

Mix the flour, baking powder, salt, garlic and sugar together.

Cut chunks of butter in with a pastry blend or two sharp knives until butter is the texture of small peas.

Place bowl in the freezer until ready to do the final mix. See Note 1.

Meanwhile, destem spinach, rinse very well, chop until fairly fine and rinse again to ensure all sand is removed. Drain well.

If feta is not pre-crumbled, crumble feta until it is peas-sized.

Toss the spinach and feta until evenly distributed. Remove flour mix from the freezer. Add the feta/spinach mix and stir. Add the cream and stir until no pockets of flour remain. You may need to work the dough a bit with your hands to gather up the loose flour at the bottom of your bowl. If you need to add more cream do so 1 Tbsp at a time.

Transfer the dough to your floured work surface. Shape the dough into roughly and 8" disc. If you have a springform pan collar to make the disc uniform that may help but is not necessary. Cut the disc in halve, the quarters and finally eighths.

Use a broad knife or offset spatula to tranfers each piece to your prepared baking tray. Form a circle leaving about an 1" between the pieces so the air can flow freely.

Brush on more fresh cream and grind a bit of fresh pepper over the top of each scone.

Bake 15 minutes. Tops should be golden brown.

Scones are best eaten warm or at room temperature the day they are made. These will keep refriegerated air tight a couple of days or freeze, air tight if desired. See Note 2. Thaw at room temperature.

Gently reheat leftover scones in the oven or microwave just before serving.
Notes
Note 1:  Freezing the flour/butter mix is not absolutely required but that is the step that will guarantee you a fluffier scone.  You can freeze while you prepare the remaining ingredients or you can freeze as long as convenient until you are ready to mix the final ingredients and bake.
Note 2:  If freezing baked scones separate scones with parchment paper unless you plan to defrost them all at once.
Nutrition
Calories:
430
kcal
|
Carbohydrates:
34
g
|
Protein:
8
g
|
Fat:
29
g
|
Saturated Fat:
18
g
|
Polyunsaturated Fat:
1
g
|
Monounsaturated Fat:
7
g
|
Trans Fat:
0.5
g
|
Cholesterol:
89
mg
|
Sodium:
739
mg
|
Potassium:
139
mg
|
Fiber:
1
g
|
Sugar:
3
g
|
Vitamin A:
1684
IU
|
Vitamin C:
2
mg
|
Calcium:
244
mg
|
Iron:
2
mg