This easy Pistachio Cream Crumb Cake uses Pisti pistachio cream from Costco to keep it simple!
The minute I saw the jar of Pisti pistachio cream on the Costco shelf my cart stopped with a jolt!! My mind started racing – thinking what I could make with it!
Turns out there are a lot of Italian recipes that call for pistachio cream, but most of them involve blending blanched pistachios and then cooking and thickening it to turn them into a curd-like sauce. Pisti pistachio cream makes this a cinch compared to that!
There are only a few a common ingredients in the crumb cake so this is super easy to make- although you would not guess it from the taste! Winning!!
This cake is not overly sweet, which is nice. A nice sprinkle of icing sugar fancies it up and adds a nice touch. It is buttery and creamy with a streusel-like topping.
And that seam of pisachio cream in the center – makes it creamy and nutty and delicious!
It is quite sturdy – you can snack on it with your fingers (as I did when I took some leftover along on an overnight hotel stay!) or serve it up on a plate with a little extra pistachio cream for extra fun.
What is Pistachio Cream Like?
This is a new ingredient for me so I was learning as I went along. Right out of the jar it is reminiscent of peanut butter in texture but a little firmer, less oily.
It tastes nutty and sweet. If you didn't know what you were eating I am not sure you would guess pistachio 'butter'. I might have guessed almond. But.. having said that – the flavour really unlocked when I mixed it with the whipping cream. This seemed to unleash the pistachio flavour and sweetness.
The jar says not to heat or refrigerate. The less you process the pistachio cream the better.
I did refrigerate my jar of Pisti after I had opened it and will let it come to room temperature beore I use it the next time.
Chef's Tips for Pistachio Cream Crumb Cake
The crumb cake is dead easy but cold butter is the key. Use a pastry cutter like you would for pie crust to cut the butter into the flour mixture. Refrigerate before baking to ensure the butter lumps will give the cake a light texture.
Pistachio cream is dead easy too as long as you don't overprocess it here. The jar says not to refrigerate or heat. I tried melting it in the microwave and I went grainy. What worked best was beating the whipped cream just to soft peaks. I was using a hand held stick blender and I beat the pistachio cream in. I overdid it the first time because I thought the whipped cream would get stiffer. Not so -it started to go grainy on me. So I took a fork and gently incorporated a couple more Tbsps of whipped cream, one Tbsp at a time until it smoothed out. It didn't go back to completely smooth as you can tell in the process shots below. But..once it was baked in to the cake it was fine. If in doubt- whip your cream to soft peaks and then add the pistachio cream. Less is more here when handling the pistachio cream.
Some of the pictures show a piece of the cake on a pool of pistachio cream. I had some left over from making this Pistachio Cream Cheesecake so I thought it might be fun to serve the Crumb Cake with some of it too. It was good, and the extra crushed nuts really amped up the pistachio flavour. Having said that – the cake is delicious on its own.
Other Pistachio cream recipes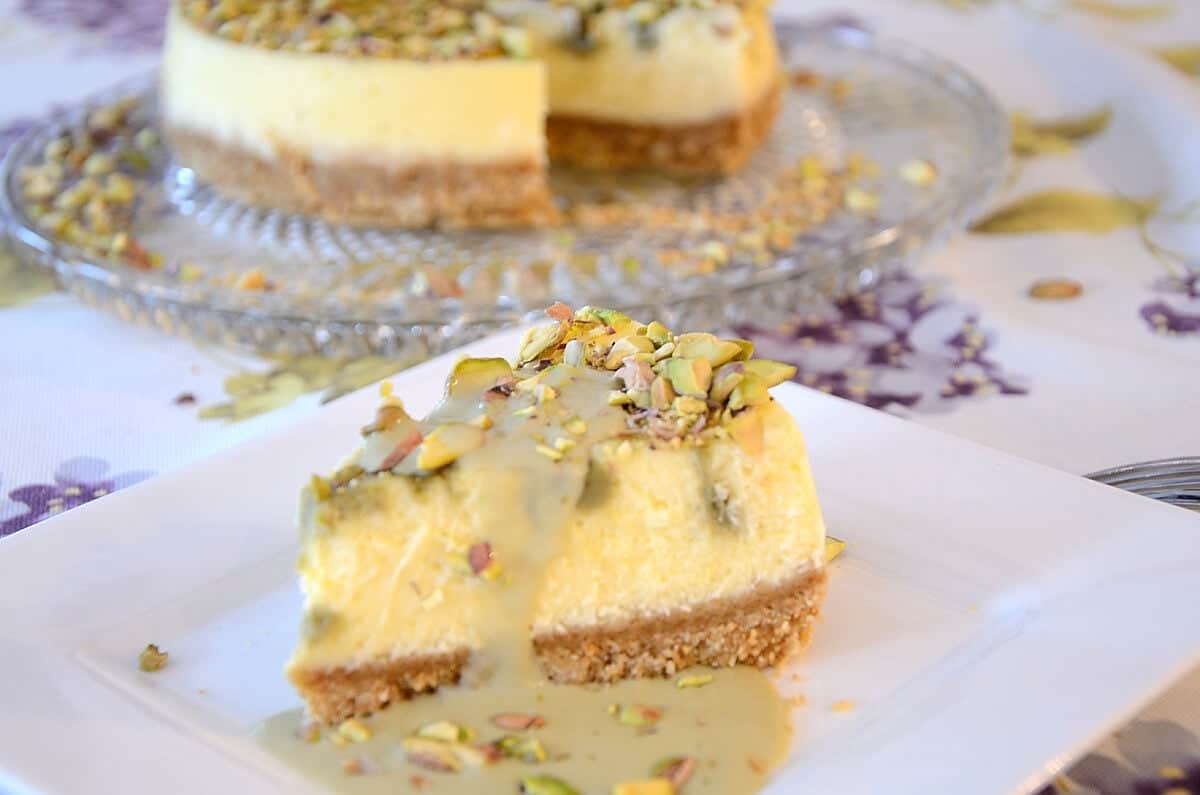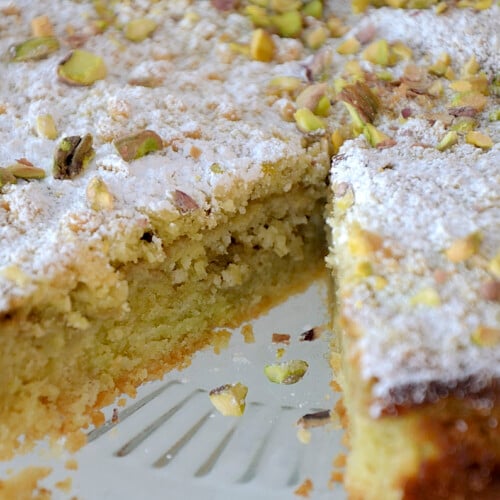 Pistachio Cream Crumb Cake
Simple ingredients and easy to make adds up to amazing flavour. Perfect for dessert, coffee time or snack time.
Print
Pin
Rate
Ingredients
Crumb Cake
2

cups

flour

1/2

cup

sugar

1

egg

beaten

3

tsps

baking powder

7

Tbsps

cold butter, cubed

1/2

cup

pistachios, crushed

optional but highly recommended

icing sugar for sprinkling

optional but recommended
Pistachio Cream Filling
1/2

cup

Pisti pistachio cream

room termperature

8

oz

whipping cream

2

eggs

beaten

2

Tbsps

corn starch
Pistachio Cream and Crushed Pistachios -Optional for serving
1/4

cup

crushed pistachios

1

cup

whipping cream

See Note 2.

1/2

cup

Pisti pistachio cream

See Note 2
Instructions
Crumb Cake
Line a 9" spring form pan with parchment paper.

Mix the flour, baking powder and sugar in a large bowl.

Add the beaten egg and stir til you have a rough dry dough.

Add the butter cubes and use a pastry cutter to cut it into the flour mix. Butter should be the size of peas. Refrigerate the flour mixture for 30 minutes.
Pistachio Cream Filling
When you remove the flour mixture from the fridge, preheat oven to 350°

Using a stick blender or hand mixer whip the cream until it thickens, to just soft peaks. (Do not overbeat to stiff peaks). Blend in the pistachio cream and mix til just incorporated evenly. Do not over mix or the pistachio cream will turn grainy. If this happens add a Tbsp of whipping cream at a time and mix gently until the mixture turns smoother again. Add the eggs and corn starch and mix until just evenly incorporated. See Note 1.

Transfer 3/4 of the flour mixture to the bottom of the spring form pan and press down firmly to make the bottom 'crust'. Pour the pistachio cream over the bottom. Starting with about 3/4 of the remaining flour mixture, sprinkle evenly over the pudding layer. Then use the last of it to fill in any gaps, especially around the outer edges of the pan.

Bake 30-35 minutes. Remove cake from oven and allow to cool before sprinkling crushed pistachios and icing sugar evenly over the top.

Cut and serve. See Note 2 if you want to serve the cake with additional pistachio cream and crushed nuts.

Leftovers keep well in a cool place for 2-3 days. The cake also freezes well for 3 months. (Probably more!)
Notes
Note 1:   Pisti should be used at room temperature.  It says not to heat so don't try melting it in the microwave.  Adding whipping cream at room temperature will lighten it up and make it pourable.
Note 2:  If desired whip 1 cup whipping cream to soft peaks, add 1/2 cup of Pisti pistachio cream and blend just until incorported.  Serve over Pistachio crumb cake if desired with more crushed pistachios.
Nutrition does not include additional pistachio cream and nuts for serving.
Nutrition
Calories:
520
kcal
|
Carbohydrates:
51
g
|
Protein:
10
g
|
Fat:
32
g
|
Saturated Fat:
17
g
|
Polyunsaturated Fat:
2
g
|
Monounsaturated Fat:
13
g
|
Trans Fat:
0.4
g
|
Cholesterol:
120
mg
|
Sodium:
294
mg
|
Potassium:
165
mg
|
Fiber:
3
g
|
Sugar:
22
g
|
Vitamin A:
844
IU
|
Vitamin C:
1
mg
|
Calcium:
132
mg
|
Iron:
2
mg