You will never buy expensive tortilla salad toppings again once you have made Air Fryer Tortillas!
Five minutes to fresh, chewy, spicy tortillas that you can break up and treat like a side bread bit or tear for a crunchy salad topping.
I was making this Avocado Black Bean Salad and wanted something a bit spicy on the side. The tortillas were just sitting there on the counter ….. beside the Air Fryer.
I had briefly considered frying tortilla strips in oil in fry pan and dismissed it as too much fuss at the moment.
Then Eureka! I sprayed each side of the tortilla with olive oil and dusted each side with seasoning salt. I used Pampered Chef Chili Lime seasoning salt and it was perfect. You could also use Tiajin – a Mexican chili/citrus seasoning.
They are a combination of crisp and chewy. They really make a mouthfull! You could think about tearing them into pieces for a dip but they do not tear easily so you would need some elbow grease and napkins handy for that!
If you are looking at your spice cupboard -then mix a little chili powder and cuming together and sprinkle that. If you want spicy then add a hint bit of cayenne pepper or other hotter chili powder to taste.
And – you don't have to limit this to Mexican. The tortilla puffs up as you can see similar to a papadam. You could use any seasoning salt that you like quite frankly.
I think I am going to work on a light garlic salt/paprika combo. The choices here are almost unlimited!
oh..and that package of tortillas beside the Air Fryer…. gone!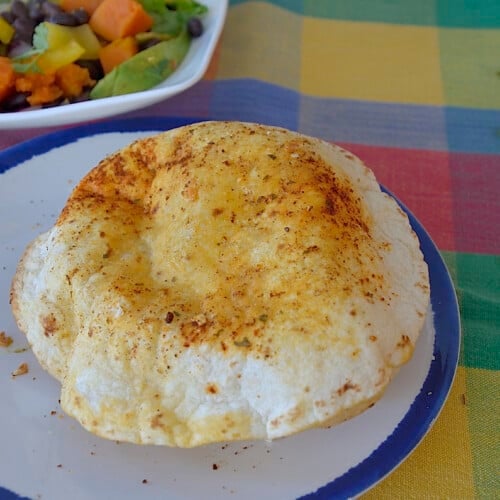 Ingredients
2

medium

flour tortillas

olive oil for misting

chili/lime season salt

or Tiajin or seasoning of your choice. See note 1
Instructions
Spray both sides of the tortillas with olive oil or cooking oil.

Sprinkle each side with seasoning to taste.

Cook 5 mintues on Air Fry setting. Flip tortillas over at mid point.

Serve warm or at room temperature.
Notes
Note 1:  If you don't have a premade Mexican style seasoning combine a 1/2 tsp each of chili powder and cumin. Add a pinch of cayenne pepper or other chili powder like Ancho or Habanero to taste.  Sprinkle over both sides of the tortilla.
Nutrition
Calories:
100
kcal
|
Carbohydrates:
15
g
|
Protein:
2
g
|
Fat:
3
g
|
Saturated Fat:
1
g
|
Polyunsaturated Fat:
1
g
|
Monounsaturated Fat:
2
g
|
Sodium:
497
mg
|
Potassium:
46
mg
|
Fiber:
1
g
|
Sugar:
1
g
|
Calcium:
32
mg
|
Iron:
1
mg