Here is a collection of make ahead appetizers, worthy of holiday entertaining. Who doesn't want to get a head of the game for Christmas or holiday parties?
Pick the time that works best for you to make your appetizers and then enjoy a stress free holiday party!
And get ready to pop the Champagne because many of these appetizers use Champagne! (And pour a sip for yourself while you are making them!)
Choose from a variety of freezable, make ahead appetizers, to dips, patés and cured meats to make a few days before, or cold appetizers to assemble the day before.
Some of the Make Ahead Months Before are fancy preserves or condiments that make unique toppers for crackers or a cheese log. Some may require baking before serving but these unique homemade appetizers will be better than commercial, store bought any day!
The Make Ahead a Couple of Days categorie includes dips and spreads but goes far beyond to include some cured meats and festive presentations and finger foods that may surprise you!
Jump to:
MAKE AHEAD MONTHS BEFORE
FREEZABLE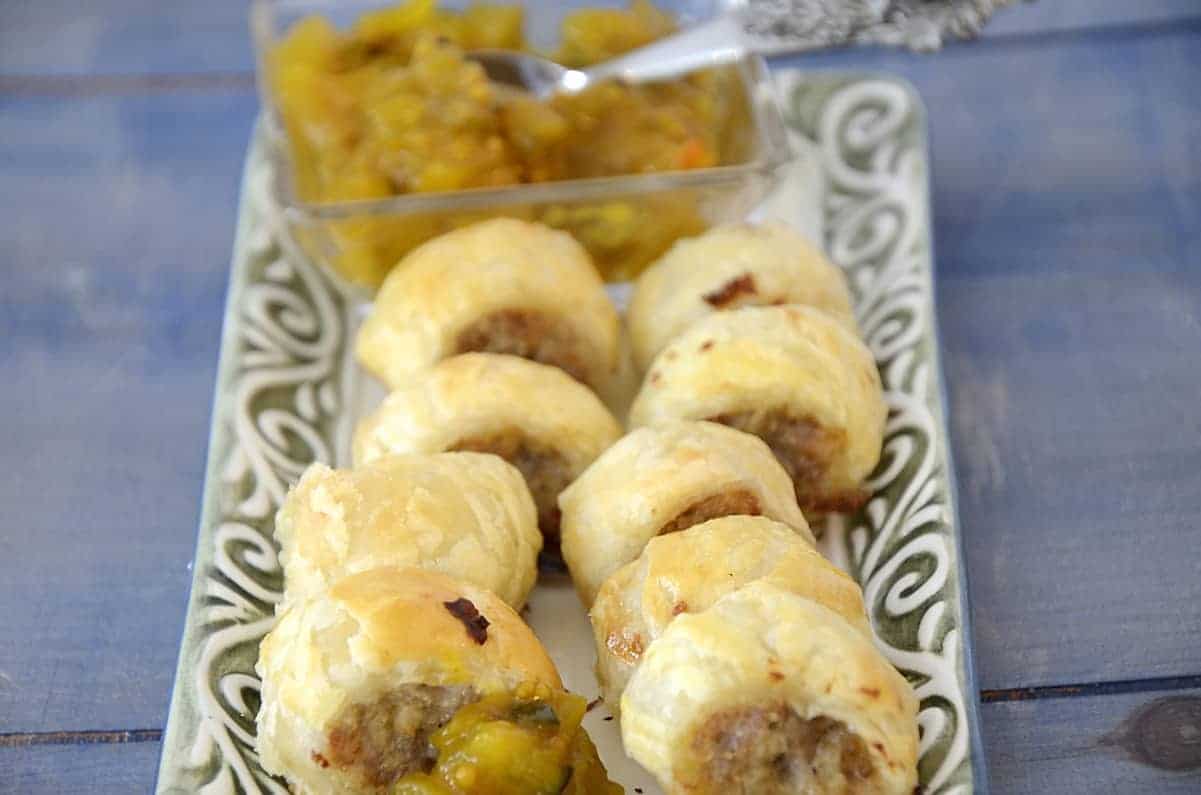 Australian Sausage Roll With Ground Pork
These flaky, spicy pastries are famous 'Down Under' for a reason! Make them up to 3 months in advance. Hint: Slice before freezing so you can heat them up just before serving.
The French really know a thing or two about easy, elegant hors d'oeuvres! 6 ingredients plus an interesting cheese and your guests will be saying Ooh La La! Make and freeze up to 3 months ahead. Bake just before serving for best results.
Savory Shortbread makes an unusual but welcome party food, especially beside a glass of Chardonnay! You can make the dough a couple of days before or freeze it up to 3 months. Bake a day or so before serving.
Surprise your guests with the most elegant cracker ever! 8 ingredients! I cut them with little Christmas tree cookie cutters to give them some holiday flair! Bake and freeze up to 3 months ahead! Ps... that is Champagne Jelly in the picture with them if you really want to get fancy!
Pistachio Chicken Pastry Puffs
You can make this Puff Pastry appetizer with its unusual filling ahead of time and bake before serving.
This Italian appetizer is full of flavour. Make it up to 3 months ahead and freeze or make up to a week ahead and store in the fridge. Serve at room temperature or cold with a basic cracker.
Another Italian inspired addition to your charcuterie board! You can make this and sealed jars will keep 3 months in the fridge or 6 months in the freezer. Shrimp takes this antipasto over the top!
Spicy Turkey Pomegranate Meatballs
Pomegranate and turkey give a nod to Christmas in these flavourful appetizers. You can store cooked meatballs in the fridge for a couple of day or freeze up to 3 month. Reheat gently before serving.
Another unique addition to a charcuterie board or appetizer table! Serve on a cracker or over Brie. 3 ingredients and 15 minutes to make! The jelly will keep 3 months sealed in the fridge, up to a year frozen and indefinitely with a 10 minute water bath.
If you are a canner you will want to know about this bright little additions to a charcuterie board. You can make a batch and they are shelf stable up to a year!
MAKE AHEAD A COUPLE OF DAYS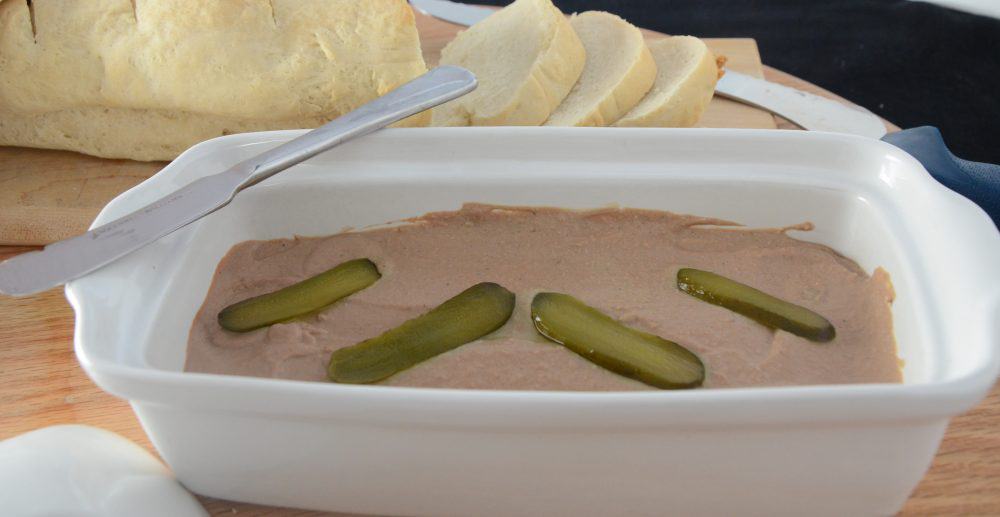 Another simple, 30 minute recipe that you can make 1-2 days ahead of time. Serve it over simple baguette slices for a real French experience!
Start 2 days ahead to make this Cured Salmon for bright savoury, citrus notes. Similar to smoked salmon but there is no smoke involved. Consider making your own if you are serving a crowd- it is better and cheaper! You can also make this 3 months ahead and freeze well sealed. If your party is a Brunch it will make the best Eggs Benedict!
Dill Cured Pork Crostini with Sweet Mustard Sauce
If you want a substantial say, après-ski kind of appetizer consider this delicious dill cured pork tenderloin on crostini. It is almost an open face sandwich! Make it the day before and garnish before serving cold.
You can make this creamy, delicious dip in under 10 minutes with 4 ingredients! The ingredients are so easy to keep on hand this may become an entertaining staple! Make a day ahead and let the flavours meld.
Make the most elegant Paté ever by adding Champagne! The Sparking will lend a light, bright refreshing note to your spread! Make 1-2 days ahead.
These addictive, simple marinated olives only take about 10 minutes to make. Can be made several days ahead and gently heated to serve warm.
Sweet, chewy dates support port-infused goat cheese and pistachio garnish. Your guests will never guess how easy these are to make.
Caviar doesn't have to be expensive! A little bit of this impressive yet simple holiday appetizer makes a big impact. Caviar is sprinkled over chopped hard boiled eggs and diced onions. Prep the base the day before and top with caviar just before serving.
Quick and easy to put together, stuffed dates may make the perfect finger food! Maked 1-2 days ahead
These flavourful individual cheese balls can be made a day or 2 ahead. The flavour actually improves! Insert pretzel sticks just before serving.
This stunning appetizer tree will be the centerpiece of your Christmas party. You can make this 1-2 days ahead. Juicy green grapes with cream cheese and nut coating make for a refreshing bite. (PS... you can serve the rolled grapes on a platter if you don't want to make the tree and they are just as delicious!)
Prosciutto and Cheese Appetizer
Make these simple, refreshing bites up to a day ahead of time. I used Gorgonzola with the Prosciutto for a strong flavour hit but you can choose any relatively soft flavourful cheese. The dieters or keto crowd will appreciate these!
Take a moment to turn your cheeseball into a whimsical Christmas ornament! This light and flavourful cheese ball is studded with refreshing vegetable flavours and can be made 1-2 days ahead. Serve on a plain cracker.
Getting near the end of the holidays? Those clever French have found a way to use up those leftover bits of expensive cheeses from your cheeseboard! This cheese and wine mixture can meld up to a week in your fridge before you serve it over baguette warm or cold!