Do the heavy lifting the day before your meal with this Make Ahead Holiday Turkey! Poached and roasted til crisp at the last minute keeps it moist and fresh!
And believe me –
It is ultra moist.
The skin is ultra crispy.
You end up with a ton of fantastic broth to use in your dressing, gravy or side dishes. You can get an early start on your gravy with the broth and the giblets you took out of the turkey before poaching. I made this Make Ahead Turkey Marsala Gravy and Brioche with Honey Garlic Sausage dressing using my poaching broth and I can totally vouch for how delicious it is!
You do the bulk of the work THE DAY BEFORE you serve it – so it is practially make ahead! It only needs about an hour in the oven before serving so your oven is free for all your other dishes.
And to be honest – the meat is so moist from the poaching that I did the last roast early in the day, carved the turkey and gently heated it through just before serving. ( I had that carcass cleaned and disposed of long before I sat down to the table!)
The only possible hitch is -you do need some specific equipment. If you have a turkey deep frying kit and a large cooler or cold garage – you are good to go here.
But a very large stock pot can work too.
Basically – you are going to bring water and some aromatics to a boil in your large stock pot or deep frying pot. Then you will submerge the turkey and poach it for about an hour. Then it sits with the heat off of a about 4 hours to allow it all to cool down.
At this point if you have a cold (fridge temperature) Canadian garage in winter you can just cover your pot and let it sit overnight. If not then you will have to transfer the turkey and some of the poaching liquid to a large cooler or clean container that you can keep iced. I have used the large sealable bags that you can get for brining a turkey in the past. You can seal the poached turkey and cooled poaching liquid in the bag and then lay the bag in a container large enough to put lots of ice all around it.
The next day – you can start using that poaching liquid in your other dishes. You are going to transfer the turkey to a low sided roasting pan on a rack and crisp up that skin. I doesn't look very appetizing when it is poached – all white and slack but believe me -that baby will end up crispy and mouth watering after an hour in a hot oven.
One of the secrets is that you have rubbed duck fat under the skin before you poached it. Don't worry if you heart just dropped because not all of us have duck fat stashed away. You can substitute Ghee, butter, extra virgin olive oil, chicken fat (schmaltz) or you can render some fat from the blobby turkey tail and use that.
The turkey has been fully cooked the day before so really all you are doing at the end is crisping the skin and heating the meat. And it has been bathing in the poaching broth all night long so it is nice and juicy and moist.
This takes so much day of stress out of your holiday meal – you know your turkey is fully cooked… all you are doing is crisping it up and heating it through. Since it is so moist it is very forgiving in the reheating.
And here is a delicious idea for those turkey leftovers – Turkey in Puff Pastry with Turkey Marsala Gravy. It is very elegant and very little effort if you have made this holiday menu. You just have those leftover bits laying around!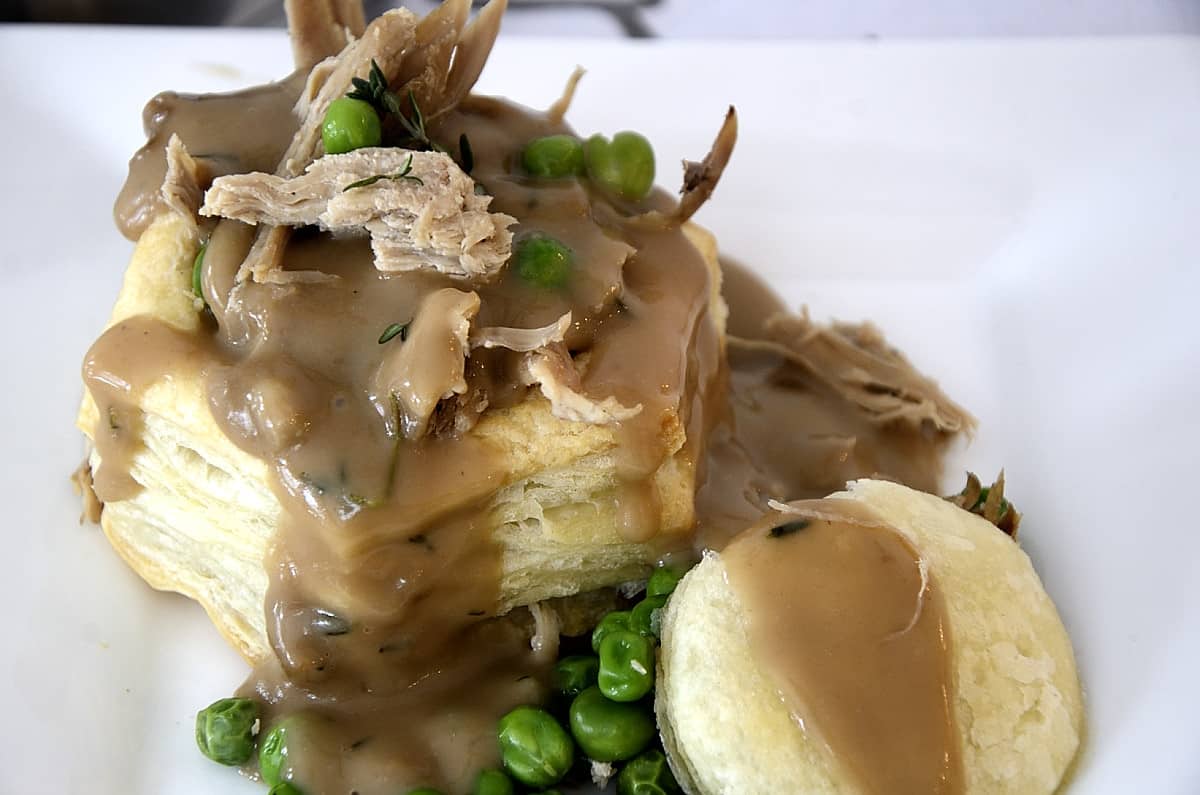 Wine Pairing for Make Ahead Holiday Turkey
Turkey is a very neutral flavour and with holiday meals where there are many side dishes they often say to pair your wine with the sides. If we are thinking dressing, gravy, turkey – basically poultry flavour with some savoury herbs you have lots of choices.
I love a rich Chardonnay with ripe orchard fruits and a bit of oak. But there are lots of other options – think a rich Riesling or Chenin Blanc. A White Grenache blend from Languedoc would work as well as an Italian Lugana or Soave Classico.
I would avoid very tannic reds but medium bodied lightly tannic reds like Pinot Noir, Rhone blends (GSM), a Merlot, Barbera would all work.
And.. don't overlook the possibility of a Rosé, especially a dry, herbal one from Provence. Some actually describe cranberry notes so the tart to tart note would be nice.
Equipment
Turkey deep frying kit ideally or large 20 quart stock pot

Strong tongs/lifters

Kitchen twine
Ingredients
1

14 to 16 lb

turkey

remove giblets
Poaching Liquid
3

medium

onions

peeled and cut in chunks

4

medium

carrot

peeled and in 3 " chunks

1

head

garlic

peeled

14

oz

duck or veal demi glace

best quality chicken or veal broth available

2

Tbsps

black pepper corns

3

Tbsps

kosher salt

3

oz

duck fat

can substitute Extra virgin olive oil. chicken or turkey fat or Ghee
Instructions
Remove giblets from turkey cavity. Wash and rinse turkey inside and out.

In order to determine the right amount of water needed – add the vegetables and aromatics to the stock pot. Stand the turkey up in the pot and fill with enough water to submerge the turkey. Remove the turkey to a platter and allow it to drain and dry.

Bring the water in the stock pot to a boil. The filled pot is going to be heavy so if you can heat it on the burner of a turkey deep frying kit or BBQ side burner consider doing that.

While the water is coming to a boil, pat the turkey dry on the outside. Gently take your fingers and starting at the neck, run them between the breast meat and the skin to separate them. Be careful not to tear the skin. Go as far around the breast and the thigh as you can.

Rub the fat all over the turkey – on the inside between the skin and the meat and on the outside of the skin all over.

Truss the turkey with kitchen twine ensuring legs and wings are well secured. This is important to help you handle the bird later. If you are using a deep frying kit – run the turkey stand through the middle of the bird so it will stand vertically on the stand.

When the water comes to a boil, submerge the turkey vertically in the boiling water. If you are using a deep frying rig you will have a hook tool to help you lift the turkey on the stand.

Allow the water to return to a sier. Cover the pot and simmer for 40 minutes, ensuring the turkey is submerged. After 40 minutes, remove the pot from the heat and allow it to sit to come to room temperature – up to 4 hours.

Refrigerate the turkey and the broth overnight. (You can use the poaching broth in your dressing recipe, gravy recipe to cook other vegetables or reserve for a soup broth.)

An hour or so before you plan to serve it – transfer the turkey from any remaining broth to a rack on a low sided roasting pan.

Preheat the oven to 475°F. Roast the turkey uncovered for 30 minutes. Turn off the oven and allow the turkey to rest in the oven another 20 minutes.

Remove from the oven, carve and serve.
Notes
Notes: 
 A turkey deep frying kit is ideal here.  You will have a pot the right size, a stand for the bird to stand vertically and lifting tools.  The accompanying burner is also low enough to make handling the pot and the turkey easier than on a stove top.  A BBQ burner may also be easier than a stove top since you can just turn off the burner and let the pot cool for up to 4 hours before having to handle it the turkey and the stock.
You can pack the deep frying kit pot with ice inside a large (clean garbage can).  If your garage is fridge cold in winter you can just cover the pot and leave it overnight.  Failing that you can transfer the cooled  turkey and enough poaching liquid to fill/surround it to a large sealable bag designed for brining a turkey.  Pack the brining bag in ice in a larger container. 
If keeping the turkey cold is a concern you can ice it for 8 hours of so and then drain off the poaching liquid and refrigerate the turkey until ready to roast it. 

Reserve the poaching liquid and use it as needed in your dressing, gravy or other vegetable dishes.  You can also strain out the solids and reserve it for use as soup broth.
Nutrition
Calories:
180
kcal
|
Carbohydrates:
15
g
|
Protein:
10
g
|
Fat:
9
g
|
Saturated Fat:
2
g
|
Polyunsaturated Fat:
1
g
|
Monounsaturated Fat:
4
g
|
Cholesterol:
7
mg
|
Sodium:
2422
mg
|
Potassium:
137
mg
|
Fiber:
2
g
|
Sugar:
5
g
|
Vitamin A:
3407
IU
|
Vitamin C:
4
mg
|
Calcium:
26
mg
|
Iron:
1
mg