If you make a batch of this Shrimp Antipasto you can amp up your charcuterie board with ease for months to come.
My Italian Foodie Friend gifted me with a jar of this antipasto. I often pick up the Costco Antipasto which is good- no tuna or shrimp involved. Well… I was sold from the first bite. The shrimp adds a hint of rich sweetness. It isn't really sweet overall but it isn't a savoury as the all-vegetable version.
You can make this antipasto any time of the year since you are using canned everything except cauliflower.
Chef's Tips for Shrimp Antipasto
The key to this recipe is the chopping.  Think of trying to mound a small amount on a cracker.  You don't want to end up with a honking cauliflower floret that is too big for the cracker or that won't allow for anyof the other ingredients to rest. So think of a fairly fine dice.  Some olive slices should remain intact, some should be rough chopped.  You can use a food processor but be careful not to overprocess.  You want the cauliflower to be a big bigger than cauliflower 'rice'.
The exact finished volume will depend will depend a bit on the size of your cauliflower, the size of your peppers, and the size of your dice.  Sterilize an extra pint jar to be on the safe side.
The canning discussion:  Recipes similar to this have been canned for generations. Some people swear that by simmering the jars for 20 minutes they can preserve the 'canned' jars in a cool, dark place for up to a year.  Others insist that the food safety guidelines suggest there is not enough acid in the recipe to allow it to be stored outside of the fridge or freezer.  So to be on the safe side- make sure that your jars 'pop' or seal as they cool.  Store in the fridge or freezer.
I chose to put mine in half pint sizes so that I could use it up within a few days of opening.  I don't keep it after opening any longer than I would store the tuna or shrimp in my fridge once they come out of the can.
This antipasto is a delicious addition to a charcuterie platter.  I also used it in this German Style Muffuletta for the olive salad part.  It is delicious and easy to make if you have a batch of this antipasto on hand!  It also makes a welcome hostess gift!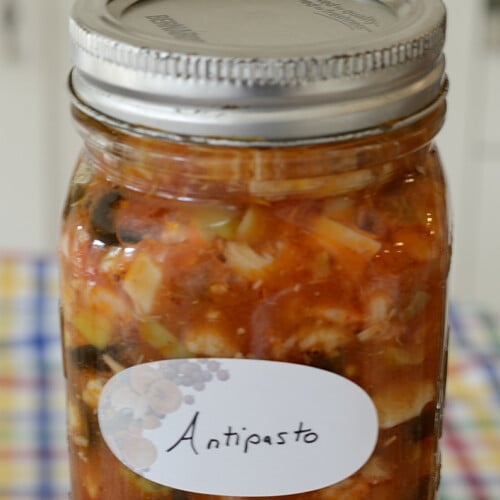 Shrimp Antipasto
Make up a batch of this Shrimp Antipasto and you can entertain often with ease.
Print
Pin
Rate
Ingredients
3/4

cup

olive oil

1

small

head cauliflower

2

medium

sweet onion

can substitute red onion

2

375 ml

jars sliced black olives

3 cups, rough chopped

2

375ml

jars manzanilla olives, sliced

3 cups, rough chopped

2

small

red peppers

2

284 ml

cans mushroom slices or pieces

2 1/2 cups

3

106 ml

cans cocktail shrimp

1 1/2 cups drained and rinsed

3

cans

tuna

drained and rinsed

3.5

cups

ketchup

1

cup

vinegar
Instructions
Chop cauliflower and onion into small pieces. (Think 1/4") If you use a food processor work in batches and do not over process. You want distinct pieces, not mush.

Combine the oil with the cauliflower and onion in a Dutch oven over medium heat. Stir often and cook the mixture for 5 minutes from the time it starts to bubble.

Rough chop olives. (Some olive slices may remain whole). Mince peppers and mushrooms. Break up the tuna.

Add all remaining ingredients to the cauliflower pot. Heat just until the mixture boils.

Sterilize 6 pint jars by heating your oven to 275 degrees. Place jars on a silicone mat on the rack of the oven. Allow jars to bake for at least 20 minutes. Cover your lids with boiling water for 5 minutes before ready to use.

Remove jars with tongs to a clean tea towel. Using a large mouth funnel fill the jars with hot antipasto mixture. Leave a 1/2" headspace. Run a knife around the mixture to ensure there are not air pockets. Position the lids and screw the bands on just finger tight.

Allow jars to cool at room temperature. (Overnight is good). Then refrigerate or freeze until ready to use. Jars will keep for 3 months in the fridge or 6 months in the freezer.

Serve over crackers, use in Muffuletta Sandwiches.
Notes
Nutrition is per Tablespoon
Nutrition
Calories:
17
kcal
|
Carbohydrates:
2
g
|
Protein:
1
g
|
Fat:
1
g
|
Saturated Fat:
1
g
|
Cholesterol:
1
mg
|
Sodium:
48
mg
|
Potassium:
28
mg
|
Fiber:
1
g
|
Sugar:
1
g
|
Vitamin A:
48
IU
|
Vitamin C:
2
mg
|
Calcium:
2
mg
|
Iron:
1
mg