Aren't Champagne Crackers the height of elegance? Or … decadence?
Many people may not be aware that Sparkling wine goes very well with salty chips or even salty popcorn and the cracked black pepper seems to fall in that category as well. Not an overwhelming flavour but offers a counterpoint to the liveliness the Sparkling wine adds to the cracker.
These are so simple to make in your food processor! And that makes it easy to clean up too!
The dough needs to be rolled out very thinly but it is a soft, oily dough so it rolls out very easily without having to add a lot of additional flour to your work surface.
I lightly dusted a piece of parchment paper the size of my baking sheet and rolled the dough out to a rectangle right on the paper. I scored it lightly with my bench scraper and when the crackers baked they mostly separated themselves along the scored lines. The ones that didn't quite come cleanly away were very easy to break apart neatly.
And – what do Champagne Crackers taste like you ask? Hmmm…. hard to describe – slightly lively, ever so slightly sweet and a hint of fruit or floral and a bit of bite from the pepper? You will have to decide. And of course it will vary slightly depending on what Sparkling you use.
I used a slightly off dry Sparkling Rosé that had hints of fruit and floral – Freixenet Rosé $18.95 LCBO#: 21623 which is regular listing and readily available.
I also made them with a regular Henkell Troken Sparkling. They were lively and the pepper really came through but the Rosé had more character.
For the pepper, black peppercorns crushed with a mortar and pestle are ideal. Next choice is using a pepper grinder (but it takes a long time to get a tsp churned out!). Failing that use the coarsest black pepper you have on hand.
Bread flour is also the ideal because it will give you a crisper cracker. You can use all purpose but your crackers will be slightly softer.
I made one batch that I rolled into a retangle and scored in to about 2″ square crackers. They mostly separated cleanly while they baked. Those that didn't snapped easily and cleanly. That way you get about 30 crackers.
I made another batch and used cute little Christmas cookie cutters of Christmas trees and holly leaves. They were about the size of Goldfish crackers- so great for popping in your mouth which was great but they weren't big enough to spread anything on.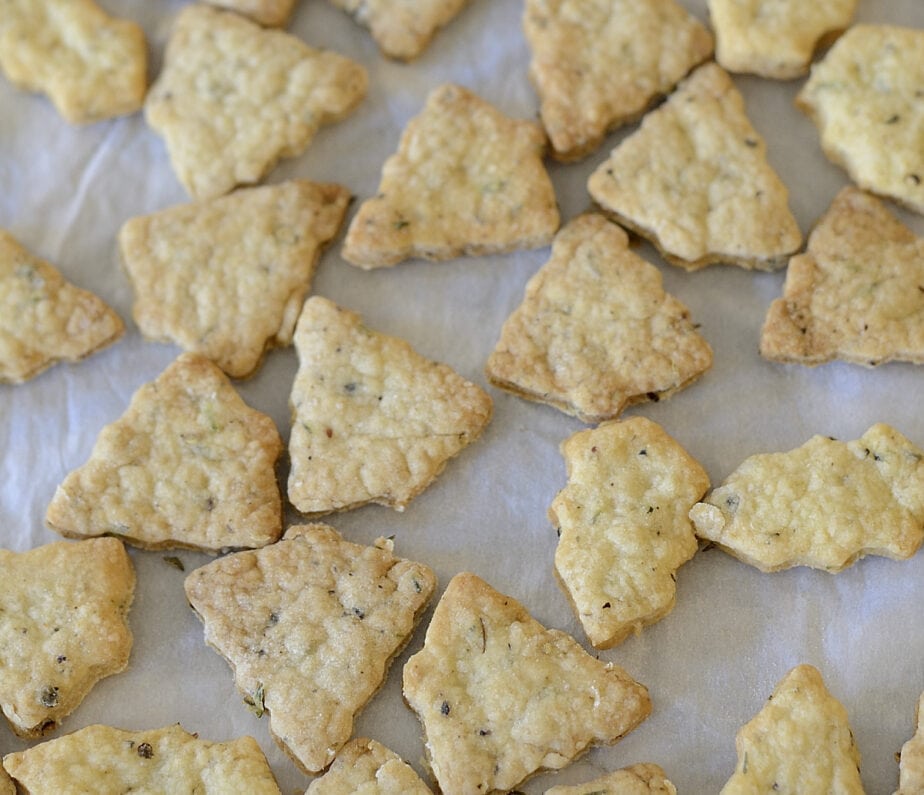 Either way they are delicious.
What To Serve with Champagne Crackers With Cracked Black Pepper
I made the crackers up to go with my idea for a Champagne Charcuterie! As part of that I also developed
Champagne Jelly and
Soft cheese such as Brie or Champfleury
mild blue cheese
Stilton with apricot or mango
I have to say – a tad of the Champagne Jelly on the cracker alone was delightful. I used the same Sparkling in the jelly, paté and crackers so they all went very well together.
Wine Pairing for Champagne Crackers
Well – I couldn't help sipping on another Sparkling Rosé that had all the same qualities as the one in the crackers and paté. So I would start with that recommendation. Whatever Sparkling you use in the recipe(s)… buy extra to sip along with them! Or choose one with similar characteristics.
An aromatic white such as a Riesling or Gewürztraminer would go nicely as well. If you used a Blanc de Blanc (Chardonnay) Sparkling then a Chardonnay would pair nicely. Getting the idea?
Having said that – a cracker is a cracker after all so use them the same as you would another other cracker you would serve.
Champagne Crackers with Cracked Black Pepper
Fast to make in your food processor and deliciously different
Print
Pin
Rate
Servings:
30
crackers 2″ X 2″
Ingredients
1/2

cup

Sparkling wine

I used an off dry Rosé

1

cup

bread flour

2

Tbsps

sugar

1

tsp

cracked black pepper

1/2

tsp

dried thyme

1/2

tsp

salt

1/2

tsp

baking powder

4

Tbsps

olive oil
Instructions
Pour wine in to a micorwave proof measuring cup. Heat on high until liquid reduces to 1/4 cup. This took about 6 minutes for my microwave.

Take a baking sheet and a piece of parchment paper that fits your baking sheet. Center parchment paper on your work surface.

Take about 3/4 tsp of black peppercorns and crush them with a mortar and pestle. Measure out 1 tsp of crushed pepper. Alternatively use a pepper mill or 1 tsp of the coarsest pepper you have on hand.

Combine the flour, sugar, pepper, thyme, salt and baking powder in the food processor. Pulse to mix well.

Add the olive oil to the reduced wine. With the food processor on low add the liquid in a slow steady drizzle. Process a minute or two until dough will hold together when pinched.

Lightly flour the parchment paper and your rolling pin. Turn the dough out on to the center of the paper and form a ball with your hands. Roll the dough out to 1/8" thick in the form of a rectangle.

Carefully score the dough with a bench scraper or straight knife in to 1 1/2 – 2" squares. You don't have to cut right through. A good indented line will allow for easy separation of the crackers. (If you want to be fancy you can use a cookie cutter 1 1/2" or so to make shapes. Reroll dough scraps and continue cutting as many crackers as you can. )

Slide the parchment paper on to the baking sheet. Bake 15 minutes and then turn the sheet front to back and bake another 15 minutes. (If you needed more than 1 baking tray to hold your crackers then use racks on upper and lower thrid of your oven and rotate trays at mid point as well as turning them front to back.)

Allow crackers to cool completely. Many crackers will have separated cleanly along the score lines. Gently seprate any that didn't. Crackers can be stored in an airtight tin for up to a month.
Notes
Nutrition is per 2″ square cracker.
Nutrition
Calories:
39
kcal
|
Carbohydrates:
4
g
|
Protein:
1
g
|
Fat:
2
g
|
Saturated Fat:
0.3
g
|
Polyunsaturated Fat:
0.2
g
|
Monounsaturated Fat:
1
g
|
Sodium:
46
mg
|
Potassium:
10
mg
|
Fiber:
0.1
g
|
Sugar:
1
g
|
Vitamin A:
2
IU
|
Vitamin C:
0.01
mg
|
Calcium:
6
mg
|
Iron:
0.1
mg