Had to forego your 2020 or 2021 cruise plans? Indulge yourself at home with this menu using Viking Cruise Ship Recipes - complete with wine pairing suggestions!
Dining on cruises is notoriously decandent so I was delighted when I found a number of actual recipes that ship's Chefs have release to the public.
The recipes I chose are a mixture of simple and elaborate so I was hoping they would balance each other out. (A l m o s t worked!) You may consider assigning a dish to the other guests to keep it do-able for everyone. Then it would fit in to the 'easy entertaining' category!
I ended up substituting a few ingredients based on what was in season at my wonderful local market. I will note in the recipe what the original ingredient was.
I also learned a couple of things in the making of the dishes. There were a couple of recipes steps that needed a bit of tweaking to make them turn out. So you will get the benefit of my foray into cruise ship meal preparation.
Our meal was delicious if I do say so myself! You can't go wrong with good friends, good food, good wine - all enjoyed al fresco on a lovely summer afternoon!
Amuse-gueule
You know when you go to a fancy restaurant and there is sometimes a small, complimentary appetizer bite delivered to you at the very beginning. Well that is called an amuse-gueule, (or amuse-bouche) which literally means to amuse the mouth. So I started our meal with Tomato Feta Basil Macarons.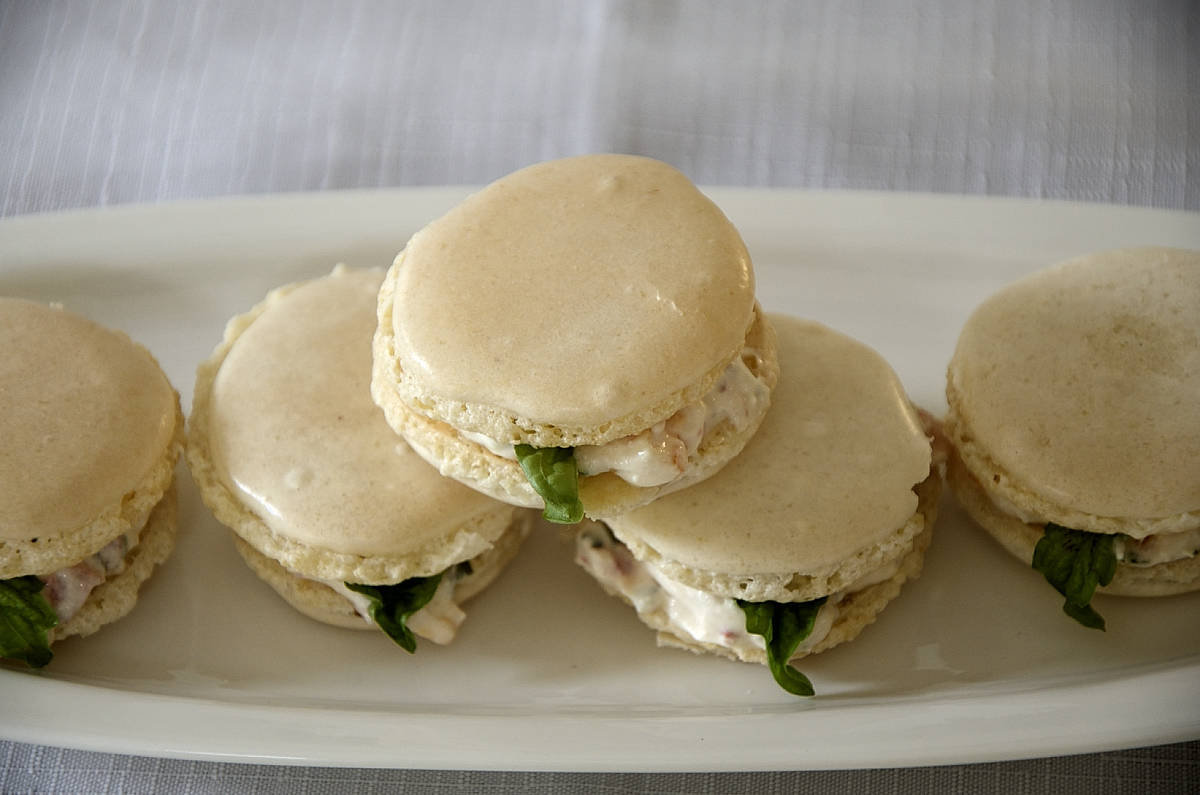 Things to note: Making macarons can be a bit fussy but there are a few considerations that if you follow them you should have success. I have given those tips with the recipe linked above. The good news is you can make them a number of days before and store them at room temperature in an airtight container. Room temperature and airtight are key here. You also need to handle them very gently. I stored mine in two layers with parchment paper between the layers. Fill them at least a few hours before serving time so the flavours can meld. Even when you are filling them you have to put the two sides together very gently or the macaron will crush a bit. The recipe makes quite a few though so you will have a few extra in case you smush any.
If you make the macarons ahead of time. You could also fix the filling a day ahead of time (or somewhat earlier) if you like. That way can you can assemble them shortly before serving without much fuss. They don't store very well. They taste ok but are noticeably softer the second day.
Fresh, they make an interesting sweet/savoury combination and have a delightful texture.
Wine Pairing:
I chose a Crémant de Bordeaux Sparkling to set a festive stage for our cruise menu! Bordeaux Sparkling can often be made from the regions traditional red grapes but I chose a blend of Sauvignon Blanc and Semillon. Crémant is the name given to sparkling wines made in the traditional method outside of the Champagne region. Choose any dry or extra dry sparkling for this course to set your festive tone. (You might want to buy extra since the Sparkling also goes well with the dessert course.)
Appetizer Course
I wanted to take advantage of the wonderful Heirloom tomatoes that we were in season. Note my Farm Boy carries them year round. This Beet and Burrata Salad With Heirloom Tomatoes was loosely inspired by a beet salad recipe. (Okay -they had beets and bacon but I wanted those Heirloom Tomatoes and I had recently seen a Burrata salad on a menu that had been very tempting!)
Things to note: This was one of the easy recipes! Simplest - you can buy pre-cooked beets at Costco. Or you can cook the beets well ahead and after that you are just slicing and plating. I chose to make a Basil Oil from my fresh basil but a drizzle of balsamic vinegar would work just as well. You can always sprinkle some chopped basil over the top of the salad. ( I should have said Basil 'Chiffonade' to go with our fancy cruise menu!)
I chose new baby beets and heirloom tomatoes to take advantage of the best ingredients of the season but regular tomatoes and beets would work too.
There is no cooking going on here and the ingredients are quite sturdy so you can definitely plate this ahead of time. You don't want to refrigerate those gorgeous tomatoes though so assemble it maybe an hour ahead of time and set your plates aside till ready to serve.
Wine Pairing
I served the salad with Francois Lurton Fumees Blanches Sauvignon Blanc France   LCBO#:  472555 $14.05 France. It is a dry, crisp, refreshing wine with subtle nut and grassy flavours. At 11.5% ABV it was a nice light wine to offset the creaminess of the Burrata and savoury basil and arugula notes. A Sancerre or Haut-Poitou Sauvignon Blanc would also be very nice with this course. However you could choose another dry white described as light and crisp like a Chardonnay or Pinot Grigio.
Main Course
Good news! The Main Course fell in to the easy category. Boy - you get a lot of return here on a limited time investment. Guests raved about the salmon and the sauce especially.
The Viking Cruise recipe is called Chairman's Choice because it is a favourite of Viking Chairman Hagen. Poached salmon with a Creamy Chive Sauce that also serves to enhance the creamy little new potatoes that abound this time of the year. I had fresh dill in my garden and my chives get sketchy at this time of the year so I substituted fresh dill for the chives.
The Viking menu serves it with this Quick Pickled Cucumber Salad. The salad is delicious but I found it detracted from the creamy flavours of the salmon and potatoes. Next time I would either serve it separately or skip it in favour of another vegetable. The good news here is that the Pickled Cucumber Salad is very easy and delicious so if you wanted to streamline the menu you could serve it ahead of the main instead of the Beet and Burrata Salad.
I also added some steamed heirloom carrots to this course, which worked well because I steamed the potatoes and carrots together and they took approximately the same time.
Things to note: The potatoes and carrots took about 20 minutes to steam. I steamed them for about 12 minutes ahead of time and let them rest. The salmon took about 8 minutes to poach so I brought the steaming water back up to a boil. That way I could finish steaming the vegetables while the salmon cooked so everything was ready and hot at the same time.
Wine Pairing
I fell back on one of my favourite wines - Muscadet de Sèvre et Maine - Le Fils des Gras Moutons Sur Lie Muscadet Sèvre-et-Maine 2019 VINTAGES#: 363150 $16.95 Loire, France. These wines are very consistent so any Muscadet de Sèvre et Maine available would be fine.
It is a light fairly neutral white wine (from Melon Blanc grape) with a somewhat round (smooth and less acidic) mouthfeel. It cut the creaminess of the sauce and paired well with the subtle sweetness of salmon. You could also choose an unoaked Cardonnay, a Viognier or a Chenin Blanc. Red lovers could get away with a dry Rosé here or a light Pinot Noir or Beaujolais.
Dessert
I thought the dessert Shortbread With Champagne Pastry Cream would fall into the easy category because it uses a cookie for a base.
I streamlined the original recipe significantly. The topping used two types of pastry cream -Champagne and Basic - so that got a bit fussy. And there was a bit of Champagne Mascarpone, some dulce de leche and some Kirsch involved. Since only a small bit of these ingredients were needed I switched (streamlined) this recipe up a fair bit.
The good news is -this is quite a sturdy dessert so you can make, assemble and plate it ahead of time and just bring out your plates for the last course.
The Champagne pastry cream intrigued me, as anything 'Champagne' does! It gives the pastry a bit of a savoury note and also sets up a bit of a sweet/savoury contrast. For streamlining purposes I would say go with the Champagne pastry cream for all of it. You may still have some left over so if you do you can either make extra cookies or serve the pastry cream as a dessert with some fruit topping and crumbled cookies.
The original recipe calls for sliced strawberries which I think would be divine. I was past local strawberry season so the cherries looked better at my market than the strawberrries did. (I think holding out for great strawberries would be worth it here!).
And... somehow... I couldn't resist adding as square of chocolate to the plate!
Wine Pairing
First choice is to use the Sparkling wine you used in the Champagne Pastry cream. Or if you have any bubbly left over from the appetizer course you could revisit it. Alternatively a dessert wine such as Tokaj Azu, Sauternes or Ice wine would work here. The key is that the wine should be sweeter than the dessert.
All in all this made for a lovely, leisurely afternoon lunch. There is enough make ahead in each course that you can enjoy your meal as much as your guests. There is a 10 minute break just before the main dish to finalize it but that just makes a nice break for conversation, more wine and a bit of digestion mid meal!
I hope you enjoy this as much as 'The Captain' and his 'First Mate' did along with the esteemed guests invited to 'The Captain's' table!