These Tomato Feta Basil Macarons were a delightful sweet/savour offering to kick off a Viking Cruise Ship Dinner menu.
Since cruise ship dining is so notoriously decadent I thought -Why not enjoy a cruise ship meal at home since many of us have had to cancel cruise plans in 2020 and 2021?
You can see the full Viking Cruise Ship Menu here, complete with wine pairing suggestions.
I have been intimedated at the thought of macarons and have admired those cute pastel cookie rounds from afar. And then I thought -how different from meringue can it be?
Similar to be sure with the main difference being the almond meal and drizzling in some sugar. Admittedly mine didn't get as round as I had hoped but I could see the stiff peak stage was not as stiff as I have had with just egg whites. It was also a very hot humid day so that could have been a factor.
You will need a large, plain round tip for piping out those cute little rounds. A piping bag is best but you can jerry rig one with a sandwich bag with a corner cut off. It is just a bit more awkward to squeeze the meringue mixture out uniformly.
Parchment paper is also key to line your baking sheet. Once baked these little clouds are very fragile. I used little tongs to move them around because at first, no matter how gently I tried to be I crushed a few of them.
The good news is you can make the macarons a few days ahead. They store well in an airtight container at room temperature. The operative words are underlined. If you refrigerate them or they are not air tight they get soft.
So.. if you make the macarons a head of time, the filling is just mixing up the ingredients. You want to only fill/assemble them a few hours before serving because this filling is fairly moist so you don't want the creamy filling to start to soften the macarons. I would say 30-60 minutes ahead max.
The sweetness of the macarons contrasts with the savoury filling. The combination has for a bit of a party-in your-mouth aspect to it.
Presentation-wise – they are so cute and enticing!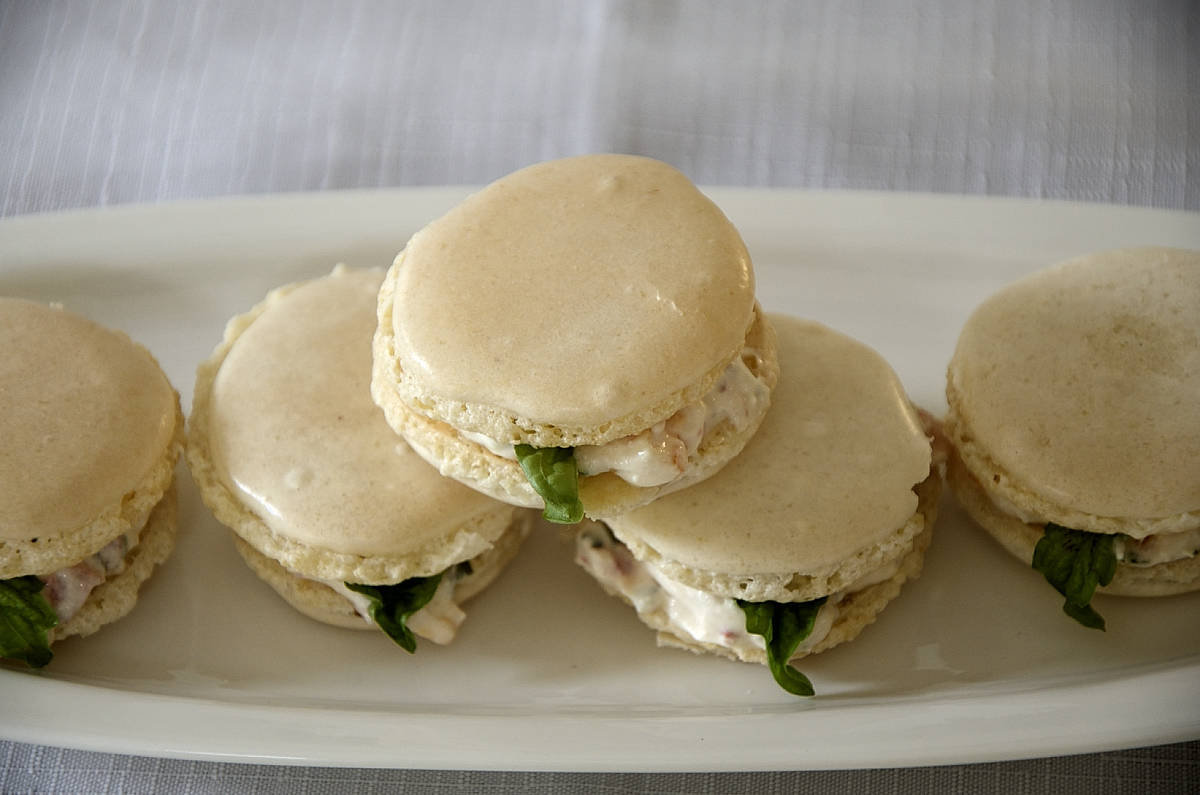 I served them with a Sparkling Crémant de Bordeaux and that made for a delicious combination. The sweet/savoury aspect makes wine pairing a bit of a challenge so I would suggest sticking with a dry or extra dry Sparkling – Champagne if it's in your budget! Otherwise any Sparkling including any Crémant (French traditional method Sparkling that is made outside of the Champagne AOC), a Cava, a Prosecco if dry or extra dry.
Viking Cruise Recipes: Tomato Feta Basil Macarons
An elegant French appetizer!
Print
Pin
Rate
Ingredients
Macarons
3/4

cup

almond meal

64 grams

3/4

cup

icing sugar

98 grams

2

large

egg whites

divided 1 + 1

3/4

cup

water

177 ml

3/4

cup

granulated sugar

144 grams
Filling
2

Tbsp

feta cheese

30 grams

2

Tbsp

cream cheese

30 grams

2

Tbsp

basil, minced plus 12 small whole leaves for garnish

5 grams

few drops lemon juice

1/4

tsp

each salt and pepper

2

medium

ripe tomatoes

seeded and finely diced. Allow juice to drain off.
Instructions
Macarons
Line a baking sheet with parchment paper. Dampen a clean tea towel and spread on counter.

Mix almond meal and icing sugar in a medium bowl.

Beat one of the egg whites in a clean medium bowl to firm shiny peaks stage. (Do not skimp on this step.) Gently fold the stiff egg white into the almond/sugar mixture.

Beat remaining egg white in a clean medium bowl and beat to soft peaks stage and reserve.

Heat granulated sugar and water in a small saucepan over medium/low heat until sugar dissolves, stirring often. Boil mixture to 245° on a candy thermometer. This took several minutes for me but do not increase the burner heat too much or risk ending up with caramel instead of sugar syrup.

Gradually (really gradually!) pour the sugar syrup into the remaining egg whipped white, beating constantly until shiny peaks form. Add almond mixture to this and fold gently in until evenly mixed.

Prepare a piping bag with a large round tip (or cut the corner off a baggie and insert the tip). Stand the bag in a tall cup with the top folded over the edge of the cup. Fill the piping bag with the almond mixture.

Preheat oven to 340°. Pipe 24 small disks about 2" wide on to the parchment paper. Leave about 1" between the piped disks. Allow to sit at room temperature about 20 minutes.

Bake 12 minutes. Carefully slide/lift the parchment paper with the macarons on it to the damp tea towel and allow to cool to room temperature.

If making ahead, once cooled completely you can store the macarons in an airtight container at room temperature a couple of days. Do not allow macarons to touch each other and use parchment paper to separate layers of macarons. Handle very gently since they will crush very easily. I used little tongs to gently transfer them to my airtight tin.
Filling
Beat all filling ingredients except tomatoes until evenly combined. Gently stir in tomatoes.
Assembly
Shortly before ready to serve (an hour or so), spread cheese filling gently on flat side of each of 12 macarons disks. Position a bit of basil leaf so it overhangs the edge as garnish. Top gently with the remaining 12 macaron disks. (Handle gently since the disks crush very easily!)

These are best served immediately. Once assembled they get soggy if refrigerated too long. If you have extra macarons disks or filling, store macarons airtight at room temperature another day or two but refrigerate filling separately and assemble before serving.
Notes
Nutrition is per macaron.
Nutrition
Calories:
139
kcal
|
Carbohydrates:
23
g
|
Protein:
3
g
|
Fat:
5
g
|
Saturated Fat:
1
g
|
Polyunsaturated Fat:
1
g
|
Monounsaturated Fat:
1
g
|
Cholesterol:
5
mg
|
Sodium:
99
mg
|
Potassium:
64
mg
|
Fiber:
1
g
|
Sugar:
21
g
|
Vitamin A:
233
IU
|
Vitamin C:
3
mg
|
Calcium:
35
mg
|
Iron:
1
mg