Slow Cooked Duck Broth simmers away to provide you with a rich, flavourful broth.
Broth is like free food! And it tastes way better than store bought You can also control the salt. Commercial broth is notorious for being high in sodium – even the 'reduced salt' ones
You do need some salt but we are talking maybe a teaspoon in 3 cups of broth. Homemade broth is so much richer than commercial you will never miss the salt. So if you have the time -which could mean you roast the carcass for an hour and since it is slow cooked you can let the broth bubble away in your slow cooker overnight or all day while you are at work- it is so worth it!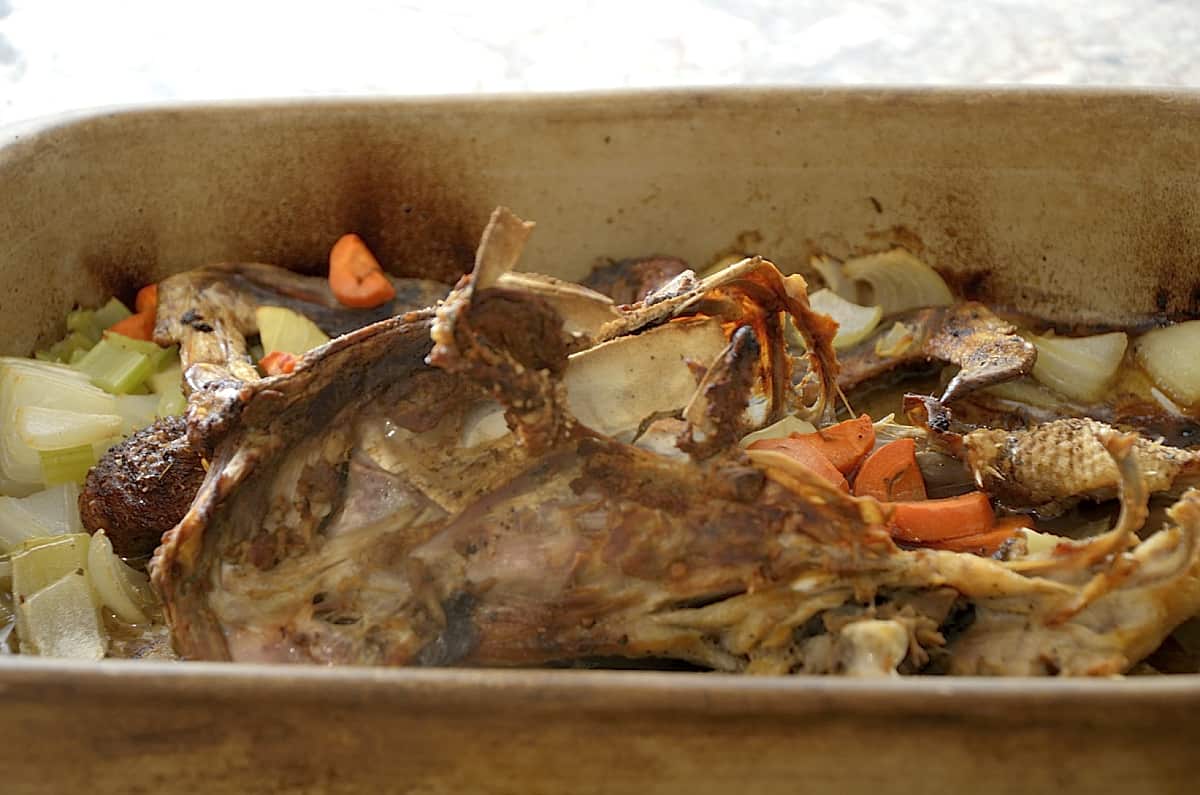 I bought a duck on sale… and then the fun began! I got a 5 lb duck for about $8. I made this Crispy Roast Duck. Serve the breast with this Cherry Port Sauce as an elegant meal.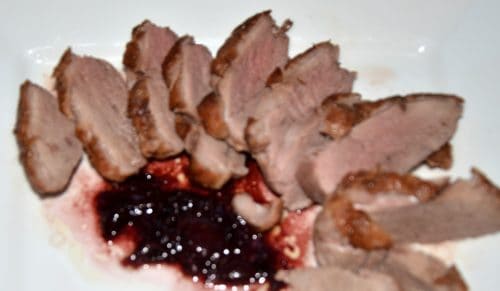 Shred the leg meat and use it in Duck Risotto or this delicious Chinese Duck Salad.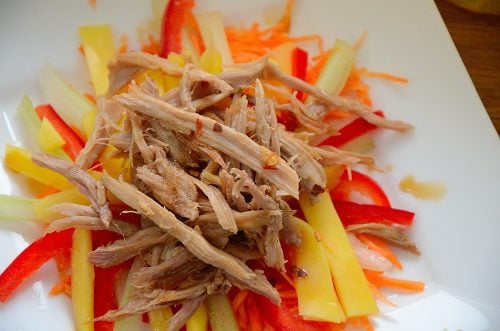 And now that I am obsessed with homemade broths and sauces there was no way I was letting that carcass go to waste.
So Duck Broth it is!
You can use duck broth in place of chicken broth. It is a bit richer so I would use it in a fairly robust sauce or soup (not like a vichysoisse or cucumber gazpacho).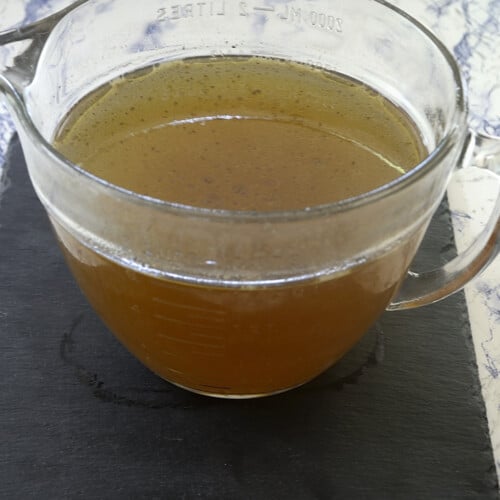 Equipment
6 Quart Slow Cooker or larger
Ingredients
1

duck carcass

breast and leg meat removed

1

carrot

peeled, cut in chunks

1

celery stalk

cut in chunks

1

onion

cut in chunks

2

cloves

garlic

1/2

oz

dried mushroom

6

black peppercorns

2

bay leaves

1

tsp

dried thyme

3

Tbsps

fresh parsley

stems and/or tops

2

tsp

Italian spice mix

optional
Instructions
Preheat oven to 400°. Salt and pepper the carcass and roast with the carrot, celery, onion and garlic ucovered for one hour.

Transfer roasting pan contents to the slow cooker being careful not to allow fat to go in. Remove the solids first, then you can carefully pour the juices and stop when the fat is about to go in. You want about 1 Tbsp of duck fat in the broth so just spoon it in. Drain fat to a separate container and reserve for another use. Scrape up all the browned bits from the roasting pan and add to the slow cooker. You will still have the dried mushroom and spices in reserve.

Fill the slow cooker with cold water ensuring the carcass is covered. Cook on low for 2 hours. Add the remaining dried mushrooms and spices and cook at least 4 hours and you can easily go 8-12 hours for richer stock.

Turn off heat and allow the broth to cool enough that you can work with it.

Strain out all the solids. Then pass the broth through a strainer lined with a couple of layers of cheese cloth or a coffee filter. Discard the residue collected. Some residue may settle at the bottom of the broth. When using the broth, omit that residue if you want a clear broth.

Adjust salt and pepper to taste and use as you would chicken broth.

If you plan to reduce the stock further for a sauce – do not add salt and pepper until you are finishing your sauce.

If you plan to reduce the stock further for a sauce – do not add salt and pepper until you are finishing your sauce. Simmer another 1-2 hours until the concentration is what you want for your sauce.

Broth will keep in the fridge up to a week or freeze up to 9 months. If you pressure can it you can store it up to a year.