Duck Risotto is rich enough to be star as a main course or it can make a flavourful side.
Duck confit or shredded duck meat when added with fresh herbs make this a rich meal on its own. For easy entertaining you can buy duck breasts and or duck confit at specialty markets. Farm Boy in Ontario regularly stocks duck in many forms- whole, breasts, legs, confit. T&T is also a good choice. I have bought duck breasts there for sure.
To be honest- this is a great recipe to use up the duck meat bits after you have cooked a duck. Duck broth is not that different from a good chicken broth so I would say you don't have to go out of your way to find duck broth specifically.
For this recipe you will need 3/4 cup duck meat, duck broth, fresh Parmesan and fresh herbs. Having said that the recipe is quite versatile. You can substitute turkey or chicken meat. Aim for darker, richer meat. Also a good quality chicken or turkey broth can stand in for the duck broth here and I don't think you would even notice the difference in the broth. I actually use grated Asiago sometimes instead of grated Parmesan.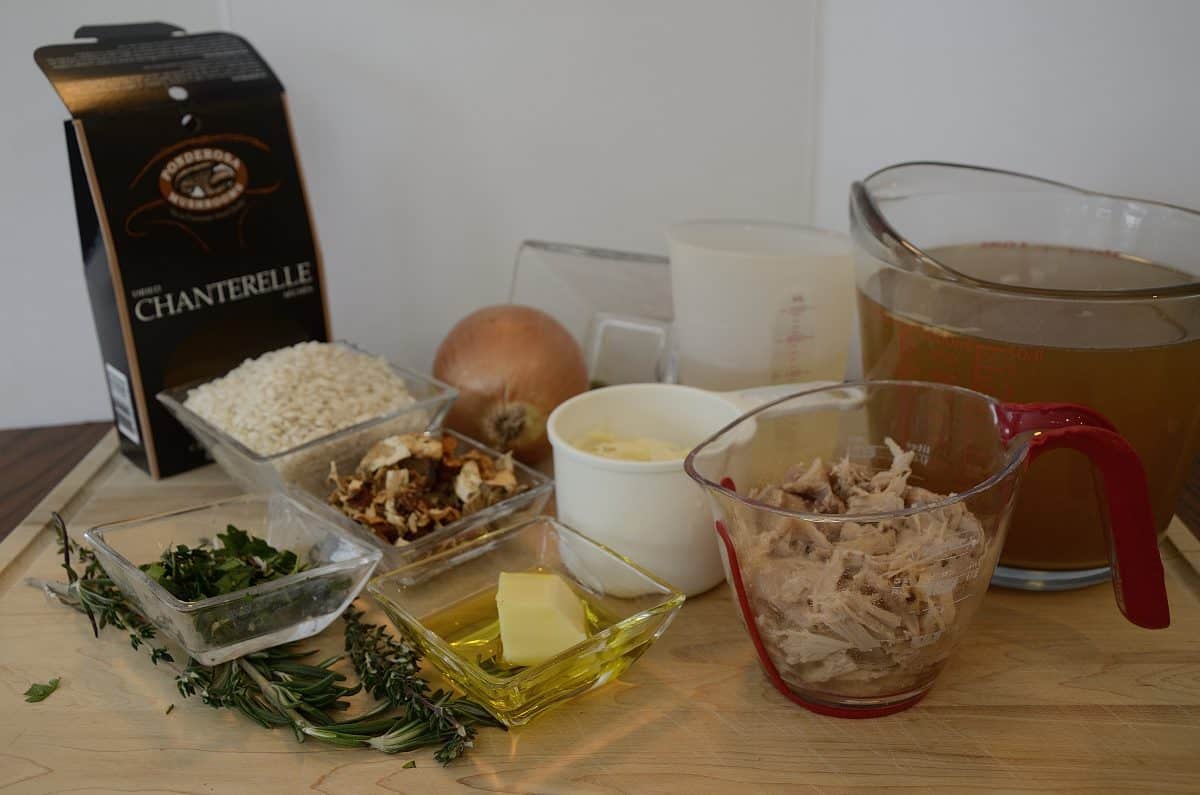 If you want to serve it as a side dish then you can skip the duck meat if you like. It is still a rich risotto that will complement mains like Italian Inspired Cod or Chicken Cutlets.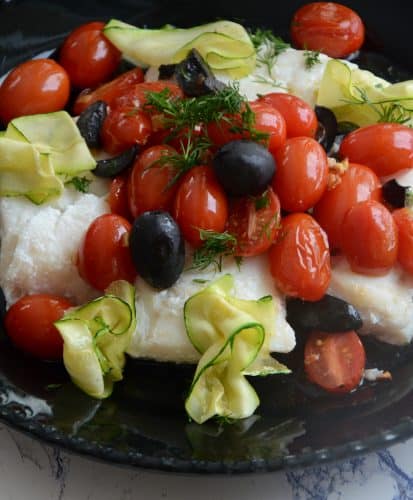 I tend to have a duck to roast in my freezer pretty much all the time but I realize many most people won't. I routinely roast a duck and I usually serve the breast meat as a meal on its own with the Cherry Port Sauce below. You could also just used cooked duck breast or meat in the Duck Salad with Pomegranate Molasses Vinaigrette. I shred the leg meat and use it in salads, like the Chinese Duck Salad below, or pasta or risotto.
And then I use that carcass to make a rich Duck Broth.
Wine Pairing for Duck Risotto
First choice here would be a dry white wine, preferably the one you used in the risotto. I used a Chardonnay but if you wanted to emphasize the Italian theme think Pinot Grigio, Soave or even Grillo.
On the red spectrum a Barbera or Pinot Noir would be nice. A Valpolicella or any low tannin red would work as well.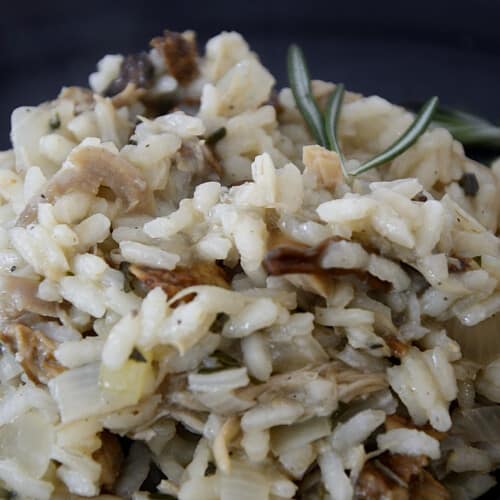 Duck Risotto
Rich enough for a main course or a flavourful side.
Print
Pin
Rate
Ingredients
1

Tbsp

olive oil

1

Tbsp

butter

1

medium

onion

finely diced

1/2

tsp

salt

1/2

tsp

pepper

3/4

cup

dry white wine

3/4

cup

cooked shredded duck or duck confit

1-2

Tbsp

Other fresh herbs, chopped finely if desired

ex sage, parsely, marjoram

4

cups

duck stock

can substitute good quality chicken stock

1/2

oz

dried mushrooms

chopped finely from dry

1

cup

arborio rice

or Carnaroli

3/4

cup

parmesan cheese, plus more for garnish

freshly grated
Instructions
Heat duck stock in microwave or stove top. Maintain heat to just below a simmer.

Melt butter and oil in a large saucepan over medium high heat.

Add onion and cook 8-10 minutes until it is translucent.

Add salt, pepper and rice and stir to coat the rice. Allow rice to cook 3-4 minutes.

Increase heat to high and add the dried mushroom pieces and wine. (Make sure the mushrooms are finely chopped so they will soften weel as the risotto cooks.) Cook and stir until wine has mostly disappeared. Reduce heat to medium high. Add the duck meat and fresh herbs.

Add hot broth 1/2 cup at a time and stir until broth is absorbed. Continue adding 1/2 cup of broth at a time until you have cooked rice for about 20 minutes and added at least 3 cups of the broth. Test a rice kernel to see if it is tender through. If not continue to add broth and cook until rice is cooked through.

When rice is tender add the parmesan cheese and stir until it is melted. Taste and adjust seasoning to taste.

Garnish with more fresh grated cheese and chopped h.erbs if desired.
Nutrition
Calories:
502
kcal
|
Carbohydrates:
50
g
|
Protein:
27
g
|
Fat:
18
g
|
Saturated Fat:
7
g
|
Polyunsaturated Fat:
2
g
|
Monounsaturated Fat:
8
g
|
Trans Fat:
1
g
|
Cholesterol:
71
mg
|
Sodium:
740
mg
|
Potassium:
390
mg
|
Fiber:
2
g
|
Sugar:
2
g
|
Vitamin A:
262
IU
|
Vitamin C:
3
mg
|
Calcium:
251
mg
|
Iron:
4
mg