Café de Paris Butter will take your steak from everyday to restaurant level. Using a compound butter to finish a grilled steak is an old restaurant secret.
And I'll wager no one is better at it than the Café de Paris in Geneva.
Jump to:
History of Cafe de Paris Butter
The secret recipe for 'beurre Cafe de Paris', as it is known in Europe, was created in 1931 by M. Boubier. He passed the recipe to his daughter whose husband was the owner of the orignal Café de Paris in Geneva, Switzerland. This compound butter is infused with a myriad of herbs and spices. It served as a bed of sauce for an 'entrecote' (steak) and its popularity was such that 'steak frites' with Cafe de Paris butter soon became the only entrée on the menu.
Today there are Café de Paris franchises in Geneva, Paris, Spain and the Middle East. In France there are hours long lineups to get a table at L'Entrecote restaurants who are also sanctioned to serve the original Cafe de Paris sauce with their only menu entrée- traditional grilled steak and French fries. And the brand promises to keep expanding.
But through all that for what is nearing a century... the recipe has remained a secret!
Many a chef has tried to duplicate it. Have they matched the original? I can't say ...
What is Cafe de Paris Butter?
Cafe de Paris butter simply put, is a compound butter. The concept of compound butter is not new. It is a flavoured butter and is often served with steak or other fish or meats. It may be known as Beurre Maitre d'Hotel. But Cafe de Paris butter has far more ingredients and a more complex flavour than a typical compound butter. Compound butters do not have to be savoury and others such as this Raspberry Butter are served with scones or muffins.
Ingredients
First, a note on the recipe. I made two versions of Café de Paris Butter. First I made what I will call the 'basic' Café de Paris Butter. For that I used the shorter list of ingredients that are common to many of the recipes I researched. And many recipes stop there. But I was curious so I made a second version that included additional ingredients found repeatedly in a number of recipes from French chefs.
Both versions are very good. If the long list of ingredients scares you off then definitely make the basic version with fewer and more common ingredients. But... if you have a well stocked pantry and have the some or all of the recommended additions - then go for the advanced version!
The ingredients that always appear are:
Butter (of course!)
Dijon mustard
shallots
garlic
parsley
tarragon
anchovies or Worcestershire sauce
curry
paprika
French chefs tend to add some Brandy and Madeira. Ketchup and capers are also commonly seen. Then there are the herb variations that include chives, marjoram, dill, thyme and rosemary. So in the recipe I have shown some recommended additions based on the version I made.
I have seen French sites that actually call this a 'green' sauce and if you look at the photo ... the butter is a pale green! So I have written the recipe with a basic Cafe de Paris butter and then a more elaborate and arguably more authentic version.
If you are intrigued by this unique steak sauce that has stood the test of time and shows no signs of stopping - read on.
If you look on the Cafe de Paris website, under the Boutique heading... you can buy the original Cafe de Paris butter! A 250 gram tub sells for 18.50 CHF... that is $28 CDN or $21 US!!
You can make 'beurre Cafe de Paris' at home for just a little more than the price of butter. And, you can impress your family or guests with a restaurant-quality meal!
Note: the recipe below is for Cafe de Paris butter which is used like a Maitre d'Hotel finishing compound butter. If you are envisioning your steak covered in sauce like the photo above then you want this Café de Paris Sauce.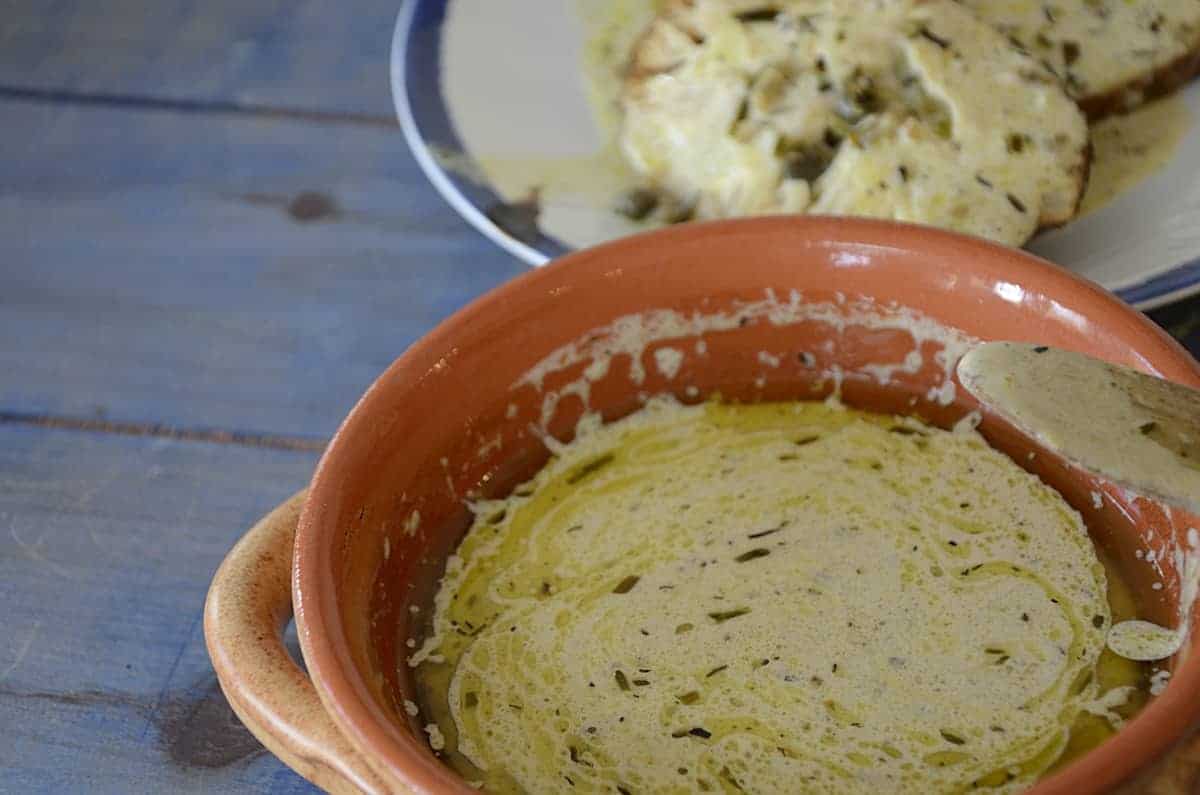 How Do I Make Café de Paris Butter?
It is not difficult to make this but there are a few recommendations that may save you some time and frustration.
Many recipes will tell you that you can make this in 10 minutes. 10 minutes hands on time is about right but they skip over the fact there is a fair bit of elapsed time.
First - you need to start with room temperature butter... really soft room temperature. You will start by whipping the butter - I used a mixmaster because you are looking for a smooth, light texture, similar to whipped butter consistency for shortbread.
Let the whipped butter sit and soften even more as you prep the other ingredients.
Finely chop the shallot, garlic, anchovies and herbs. But, in order to get them incorporated as finely as they need to be, you are going to move on to your blender. Get a tamping tool or fine spatula ready because there is going to be quite a bit of tamping to get everything evenly incorporated.
Transfer the whipped butter to the blender and then add all your other ingredients. I pulsed a bit to get the mixture going, but I had to stop and tamp and rearranged the ingredients a fair bit in the beginning. As the mixture got more uniform it started to draw the outer edges in naturally. Blend and tamp as needed until you get a very even mixture.
Traditionally, the mixture is now spread out in the shape of a log on a piece of parchment paper.
Pat and form the butter in to a log. Mine was about 12" long and 3 inches high. I used the long end of my chef's knife to align the butter evenly on the edges.
Wrap and secure the parchment paper. Transfer the butter logs to the fridge to firm up. This time will also help the flavours to meld.
When you are ready to serve it, it is traditionally cut in to a 1' slice. Top each grilled steak portion with a slice and allow it to melt over the steak.
Two Versions
As I said above I made a basic version with the ingredients always included in the recipe. Then, as you can see in the recipe card I added more flavour compounds like ketchup, brandy, capers etc for even more depth of flavour. Both are good. You can see how different they look below.
Recipe
Café de Paris Butter
A savoury compound butter that adds an amazing depth of flavour to your steak, fish or other meats and vegetables.
Print
Pin
Share on Facebook
Ingredients
Basic Cafe de Paris Butter
½

lb

unsalted butter

very soft at room temperature

1 ½

tsps

Dijon mustard

1

shallot

minced

½

teaspoon

Worcestershire sauce

½

teaspoon

curry powder

4

anchovy fillets

Can substitute 2" anchovy paste of 4 more tsps of Worcestershire sauce.

¼

teaspoon

paprika

½

teaspoon

cayenne pepper

½

cup

fresh parsley loosely packed

minced

¼

cup

tarragon leaves

minced
Recommended Addtions
2

teaspoon

chives

minced

1 ½

tsp

fresh marjoram

can substitute ½ teaspoon dried

2

Tbsps

ketchup

¼

oz

capers (about 1 tsp)

minced

1 ½

tsps

Brandy

1 ½

tsps

Madeira or Cognac

1 ½

teaspoon

fresh thyme

minced Can substitute ½ teaspoon dried

juice of ½ lemon

(I did not try this addition)
Instructions
Buttter must be very soft at room temperature but still solid. Use a mix master or hand blender to whip the butter until light and fluffy.

Transfer butter to a blender. Add all the other ingredients. Pulse the blender to start the mixture. You will have to scrape the sides and tamp the butter and ingredients often. Blend until all the ingredients are evenly incorporated. Herbs should just be flecks in the butter by the time you are done.

Use a spatula to transfer the mixture to the center of a piece of parchment paper. Use the long edge of a Chef's knife and with the help of the parchment paper, form the mixture in to a log. Mine as about 12" long and 3" high.

Close up the sides and ends of the parchment paper to seal the log.

Allow Cafe de Paris butter to chill in the fridge until firm. (30 - an hour minimum). Butter will keep 3-4 days in the fridge.

When ready to serve, slice off a 1" slice of cold butter and top a hot steak. Cafe de Paris butter can also be used to finish a fish fillet, chicken breast or entrée of your choice.

You can freeze Cafe de Paris butter, well sealed up to 6 months. Defrost and serve as above.
Nutrition
Calories:
150
kcal
|
Carbohydrates:
2
g
|
Protein:
1
g
|
Fat:
16
g
|
Saturated Fat:
10
g
|
Polyunsaturated Fat:
1
g
|
Monounsaturated Fat:
4
g
|
Trans Fat:
1
g
|
Cholesterol:
41
mg
|
Sodium:
55
mg
|
Potassium:
81
mg
|
Fiber:
0.4
g
|
Sugar:
1
g
|
Vitamin A:
819
IU
|
Vitamin C:
6
mg
|
Calcium:
26
mg
|
Iron:
1
mg
Wine Pairing for Steak with Café de Paris Butter
It is always fun to think about which wine goes with a delicious meal like Steak frites with Café de Paris Sauce. Sometimes if a sauce has a stong character you are advised to pair with the sauce. I think that will be a safe bet for pairing with Café de Paris Butter!
But let's explore - if you are serving this sauce with steak - then you can't go wrong with a Bordeaux blend or a Cabernet Sauvignon. Other wines that often have savoury, herbal characteristics are Malbecs and Carmenère or Primitivo.
If you are serving it on fish or pork then I would lean toward a full bodied, rich Chardonnay, a Gruner Veltliner or a Sauvignon Blanc would also work nicely.
FAQs
What is the Difference Between Cafe de Paris Butter and Sauce?
The ingredients for the Cafe de Paris Butter and Cafe de Paris Sauce are very similar. The addition of cream is what makes the 'beurre' became a 'sauce'. The other difference might be the texture. As you can see from the photos the amount of butter or sauce served with the steak frites is very generous! If that quantity is all butter then it will be a very rich meal. Cream is also rich but has a silkier, less oily texture.
How Do I Make Cafe de Paris Butter?
Once you get your ingredients gathered it is pretty easy! You need to make sure you start with very soft butter or it will be difficult to incorporate the other ingredients evenly. Whip the butter to make it creamy first and then you just basically blend all the ingredients together.
Traditionally you would roll the butter in to a log and wrap securely in parchment paper wrap.
How Long Does Cafe de Paris Last?
Well - here is the really good news... it will keep several days in the fridge. The fresh herbs will determine how long or well the butter stores. But...it freezes beautifully for 6 months or more if tightly sealed! So- once you have gathered all those ingredients -why not make a double batch and freeze some for future?
How Do I Serve Cafe de Paris Butter?
While it has traditionally been served with Entrecote or Rib Eye steak, a good dollop on beef tenderloin or sirloin will also elevate your dish to company-worth or Holiday entertaining status. As a matter of fact, finishing a grilled steak with a dollop of butter or compound butter has long been a restaurant technique. Finishing a steak with butter is one of the ways to tenderize a sirloin steak. I also serve it on a portion of Chateuabriand.
I will say however that today's dietary trends would have you only melt 1-2 oz of Cafe de Paris Butter per serving.
But don't stop there! Fish fillets like salmon, trout or cod would really come to life with a Cafe de Paris butter topping.
Vegetarians would welcome it on a cauliflower steak for sure!
I think it would also be great on Roasted Brussel Sprouts and Roasted Potatoes.
And... if some of it melted on to my green beans I think that would be a good thing!!