Once you have Candied Walnuts on hand you will find yourself adding them to salads, munching alone or topping desserts.
Spend a half hour now and you can enjoy these at a moment's notice for a long time. They will keep in a airtight container in the fridge for a week or two.
But they also freeze beautifully. Separate them as they cool and spread them out on a sheet to freeze separately. Once they are frozen you can pour them in to an air tight container and keep them for months.
Nuts will go rancid so refrigerating or freezing them if you are not using them immediately is the safest idea.
I found I was writing up how to make Candied Walnuts so often it needed to be its own recipe. So here it is.
I used them for this Balsamic Fig Cheesecake with Candied Walnuts. D.E.L.I.C.I.O.U.S.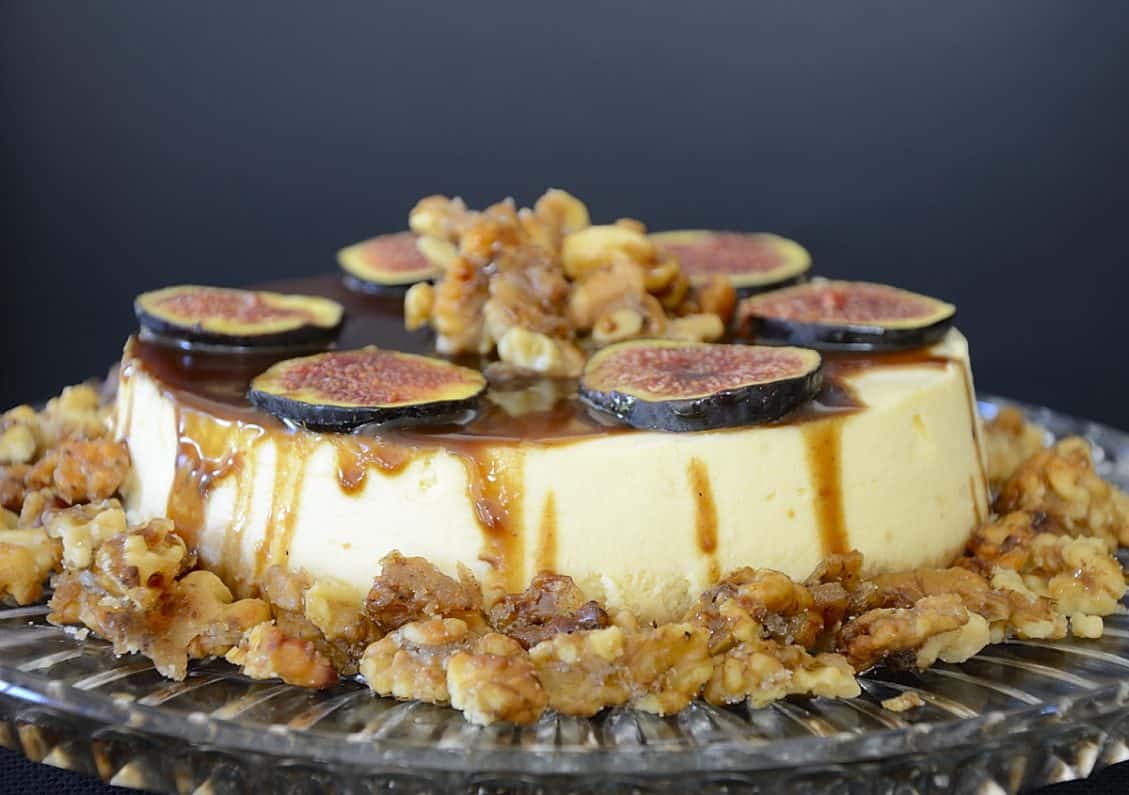 I also used the in this Pear Walnut Salad. Another treat that will take your winter salads out of the doldrums.
Ingredients
Candied Walnuts
1

cup

unsalted walnut

halves or pieces

1/4

cup

white sugar

1

Tbsp

unsalted butter

1/4

tsp

sea salt
Instructions
Candied Walnuts
Prepare a baking sheet with a sheet of parchment paper and set aside.

Melt butter and sugar in a non-stick pan over medium heat. Stir with a wooden spoon.

Add the walnuts and the salt and stir to coat the walnuts. Cook another 3 minutes or so, stirring until walnuts are evenly coated and sugar is fully melted.

Remove skillet from stove and pour on to the parchment paper.

Spread the nuts in one layer with the wooden spoon and separate as much as you can. As nuts cool and the coating gets stiffer take the wooden spoon to break apart any clumps or clusters.

Nuts can be refrigerated in an airtight container up to 3 weeks or frozen up to 2 months.
Notes
Nutrition is per Tablespoon
Nutrition
Calories:
66
kcal
|
Carbohydrates:
4
g
|
Protein:
1
g
|
Fat:
5
g
|
Saturated Fat:
1
g
|
Polyunsaturated Fat:
3
g
|
Monounsaturated Fat:
1
g
|
Trans Fat:
1
g
|
Cholesterol:
2
mg
|
Sodium:
37
mg
|
Potassium:
33
mg
|
Fiber:
1
g
|
Sugar:
3
g
|
Vitamin A:
23
IU
|
Vitamin C:
1
mg
|
Calcium:
7
mg
|
Iron:
1
mg