These Walnut Cream Cheese tea sandwiches would be a  welcome addition to an Afternoon Tea, Bridal shower or picnic.  Elegant and tasty!
[ultimate-recipe-jump text="Take Me to the Recipe!"]
These are part of our Royal Wedding Tea menu created to celebrate Prince Harry and Meghan's wedding!  If you want to get in on the Royal Festivities you can check out the full menu above.  This menu would also work for any Afternoon Tea or gal pal get together.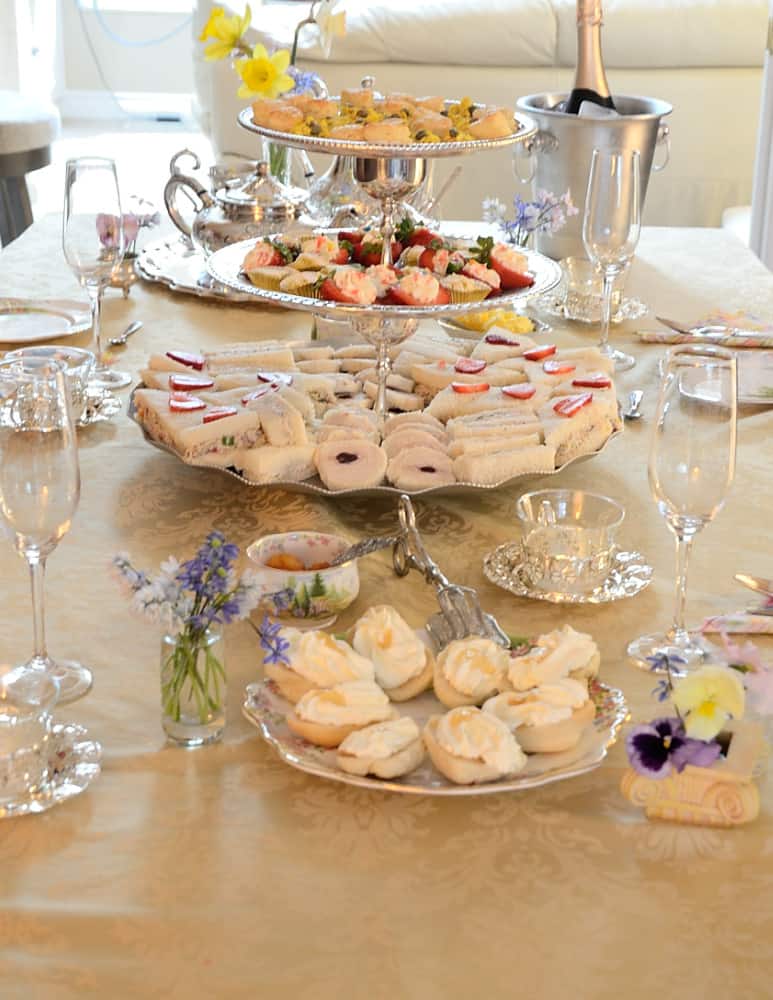 We started with Prosecco, which tasted even better because it was chilled in this fancy ice bucket with floral ice cubes!  These are so pretty and so easy to make!  It only takes a few minutes to raid your garden for tiny blossoms, fill an ice cube tray and float a blossom in the water! The trick is to use small blossoms. I used violas or Johnny Jump Ups. Regular pansy blossoms were too big and just made a coloured blob in the cube.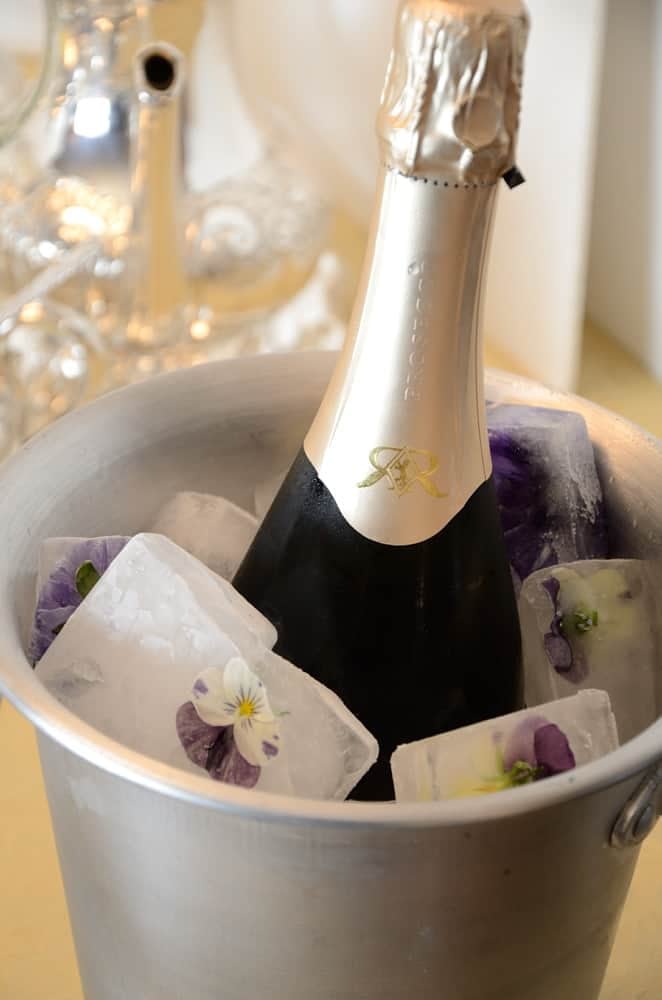 The sandwich tier of the tea stand also had Rolled Tea Sandwiches and Strawberry Chicken Salad Tea Sandwiches which were both delicious!
You could make these a day ahead which is a bonus, especially if you have a lot of menu items.  Just be sure to seal them very tightly in a container or plastic wrap so the bread doesn't get stale.
Ingredients
8

0z

light cream cheese

spreadable

¼

cup

toasted walnuts

finely chopped

1

tablespoon

minced fresh parsley

½

tablespoon

finely chopped sweet onion

like Vidalia or Walla Walla

1

teaspoon

fresh lemon juice

pinch

nutmeg

dash

salt and pepper

12

white sandwich bread slices
Instructions
Preheat oven to 375 degrees.

Place walnuts in a single layer in oven proof pan. Toast about 13 minutes until nuts are brown and you can smell them. Check often to ensure they don't burn.

Beat all ingredients except bread in a bowl until well blended.

Remove crusts from sandwich bread. Ensure you have square pieces of crustless bread.

Spread cream cheese filling over 6 pieces of bread ensuring you go right out to the edges. Top with remaining 6 slices of bread.

Cut lengthwise into ⅓rds. You will have 18 sandwiches. Store in sealed container or plastic wrap in the fridge up to 1 day.