Celebrate  Prince Harry and Meghan's wedding with this Royal Wedding Tea Party.  Or treat your Mom, a bride-to-be or your gal pals like royalty any time with these dainty scones, tea sandwiches and sweet bites!
In Canada you may be getting up early to watch the wedding live, in your pyjamas and fascinators!  Or you may record it and view later in the day.  I am invited for 6:30 am so it will definitely be nightie and fascinator for me!
Before attacking the tea trolley though you may want to pour a little Prosecco, which is a perfect dry, light bubbly for this type of occasion.  It looks so pretty in the ice bucket with 'floral' ice cubes!
They are a cinch to make. Select tiny flowers like Johnny Jump Ups (violas), or violets or blue bells.  I tried some regular size pansies and they 'over-filled' the ice cube section. They were just blobs of petals that you couldn't really make out what they were.  See how cut the tiny violas are?  They don't really sink into the water. Place them face side up in a ice cube tray section,  floating on top of the water and gently try to get some water over them.  Then freeze until you have ice cubes. For me that was about 4 hours but you can make them as far ahead as you like!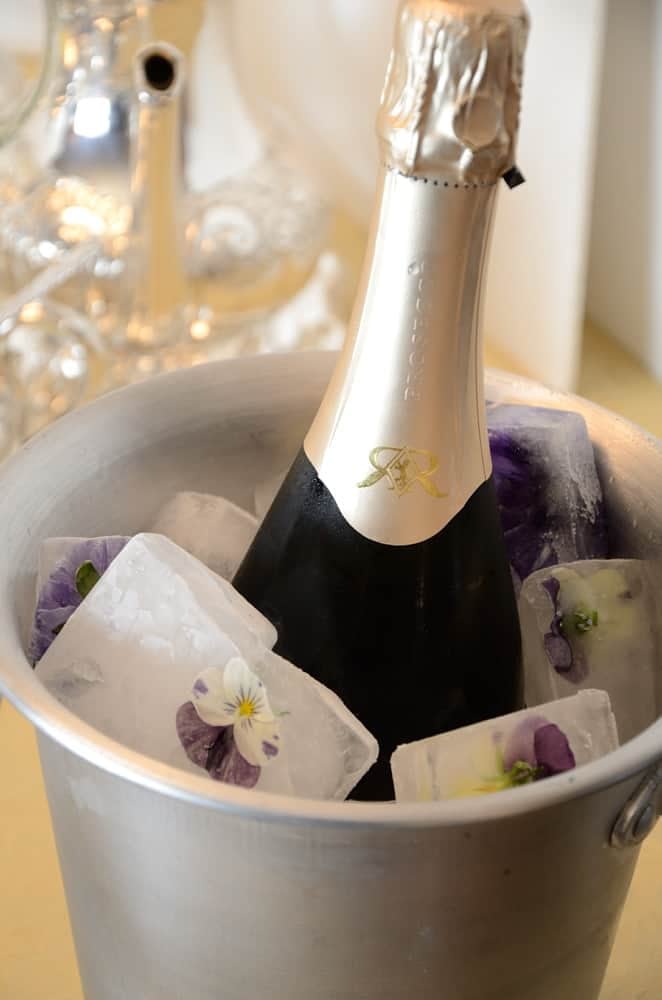 What an amazing touch that only takes a few minutes to put together!  This will become one of my new entertaining tricks!
Our Royal Wedding Tea features a starter course  of Tiny Tea Scones with Orange Butter  and selected jams.
Devonshire  Buns filled with Sweet Cream and Jelly
and Tea Time Curried Egg Drops.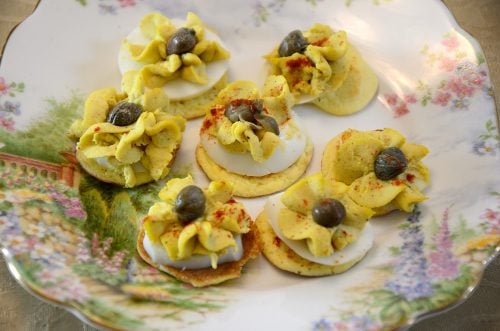 Then you can move on to Chicken Salad Tea Sandwiches with Strawberries and Mandarins
Walnut Cream Cheese Tea Sandwiches
Top your grazing off with these Simple Lemon Squares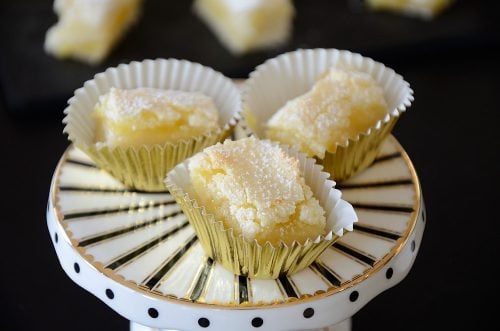 and Strawberries Cream Cheese Bites.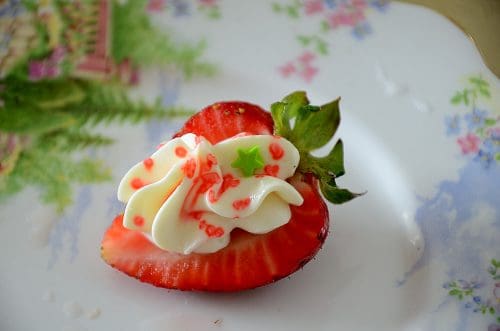 We gave a nod to the strawberry elements of this tea menu by serving White Strawberry Cream Tea that was delicious.  We also served Black Ginger Peach Tea.
Many of the menu elements can be made ahead.  The scones, Devonshire buns and crepe bases for the Curried Egg Drops can all be made ahead of time and frozen. You can hard boil the eggs for the Curried Egg Drops ahead of time as well.
The Rolled Tea Sandwiches are best made a day ahead and stored tightly wrapped in the refrigerator.
The Walnut Cream Cheese Tea Sandwiches can also be made a day ahead and stored air-tight in the fridge.
The filling for the Strawberry Chicken Salad Tea Sandwiches can be made the day before.
The Lemon Squares can be made ahead and they freeze beautifully so you can really get a jump on that one!  The Strawberry Cream Cheese Bites can be made the day before as well. Just don't garnish them with the coloured sugar until ready to serve.
If you have a dedicated space you can also prepare your tea table with cloth, flowers and dishes a day ahead.
It will take an hour or two on the day of to do the finally assembly and plating of the menu items.  But the good news is once it is all on the tea table you are not popping up and down like you are for a dinner service.  It is all there on the table and ready to go so you get to enjoy it as much as your guests.
If you try some or all of this menu I would love to hear how it went in the comments!