These dainty Rolled Tea Sandwiches are a throwback to the 60s but I think they stand the test of time. Great for Mother's Day, showers, garden parties or afternoon tea.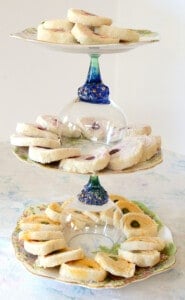 These are a tribute to my Mom in view of approaching Mother's Day.
The connection here is to her Bridge group. When I was a child I remember when my Mom would transform the living room with a few card tables and sets of four chairs. New playing cards (that were reserved only for the Bridge club) were laid out along with little bridge score pads, pencils and little dishes of - what else- Bridge mixture. They were chocolate covered nuts, jellies etc.
I was banished to the upstairs but could get away with sitting on the stair case if I was super quiet and still and stayed high enough up to not be too obvious. When the card playing was over, trays of these little rolled sandwiches appeared along with a variety of sweet gherkins, sweet pickled onions and green olives.
I could hardly contain myself by then because I knew I would get some of the leftovers. I just loved the cherry pink cream cheese ones with a cherry in the middle. The Cheese Whiz and sweet gherkin wasn't far behind either. And... sweet gherkin pickles in the relish tray... what a treat!
You can tell it made a huge impression on me because I still make these dainty little sandwiches to this day. I don't think they ever go out of style (although - reality check - I don't know anyone else who makes them and I have never been served them at an afternoon tea???)
At any rate - they don't deserve to fade into oblivion!
I made several variations from one 8 oz block of cream cheese. If you don't want so many variations you can just double the variety you want.
You can sometimes get white bread sliced horizontally from a bakery on special order. I have also recently seen and Italian version of white, crustless bread sliced horizontally called Tramezzini, which is perfect for these sandwiches. I have seen it at Zehr's and Food Basics in Canada.
But - it is still not difficult to make a long strip from regular white sandwich bread. I look for the square, thin sliced sandwich bread.
How to Make Rolled Tea Sandwiches With Bread
In today's world of infinite bread varieties plain old white bread takes a bit of a back bench. There are however a few times, such as this one, where only the softest, plainest white bread will do. (The other one is for Thanksgiving leftover turkey sandwiches -white breast meat, white bread, mayo and a coat of cranberries!) For the different sandwich varieties I used about 2 ½ loaves of white bread.
First you cut the crusts off the bread and lay 4 slices end to end with about ½" overlap. Pinch the overlap to seal the bread pieces together.

Then you spread your filling over the length and line up your center feature on one of the short ends.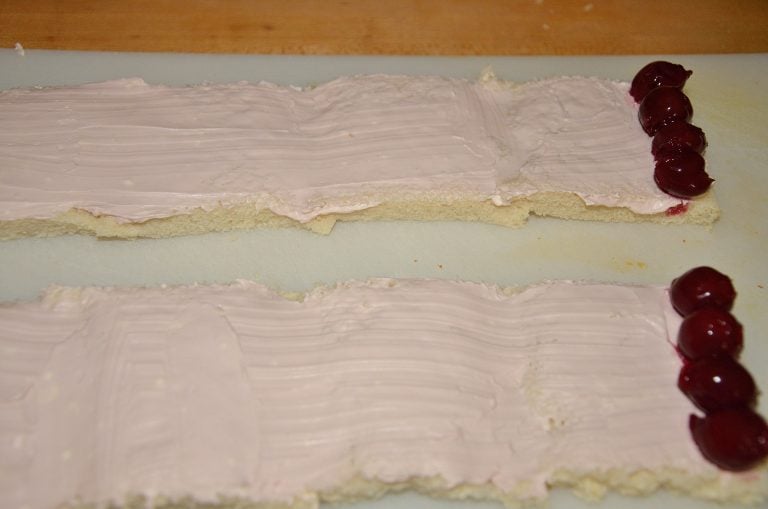 Next you roll them up starting at the short end with the center filling.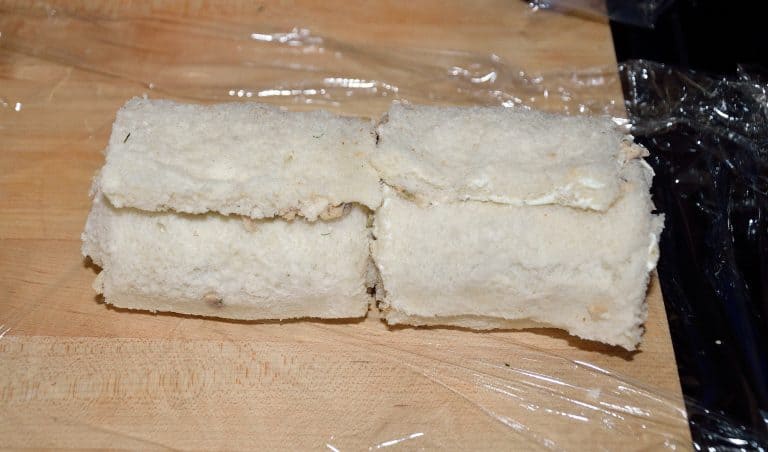 Then wrap them tightly in the plastic wrap to help seal the edges and firm up the roll.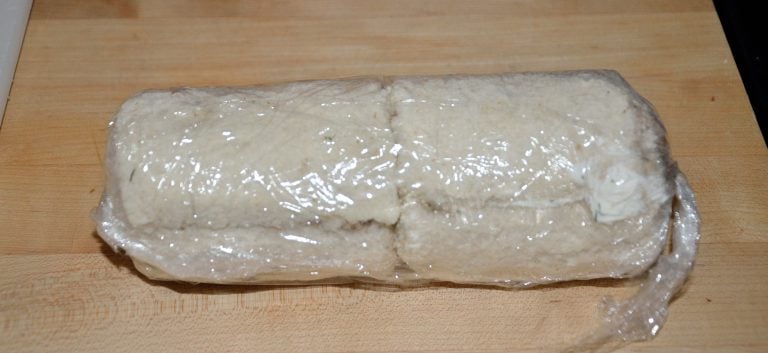 These need a few hours in the fridge to meld together - I would suggest at least 4 hours but overnight is even better. And... how good is that? If you are going to serve them for a festive occasion -like Mother's Day - you can do some of the prep work the day before. You know how I love that! Check out the Mother's Day Luncheon Buffet in full here!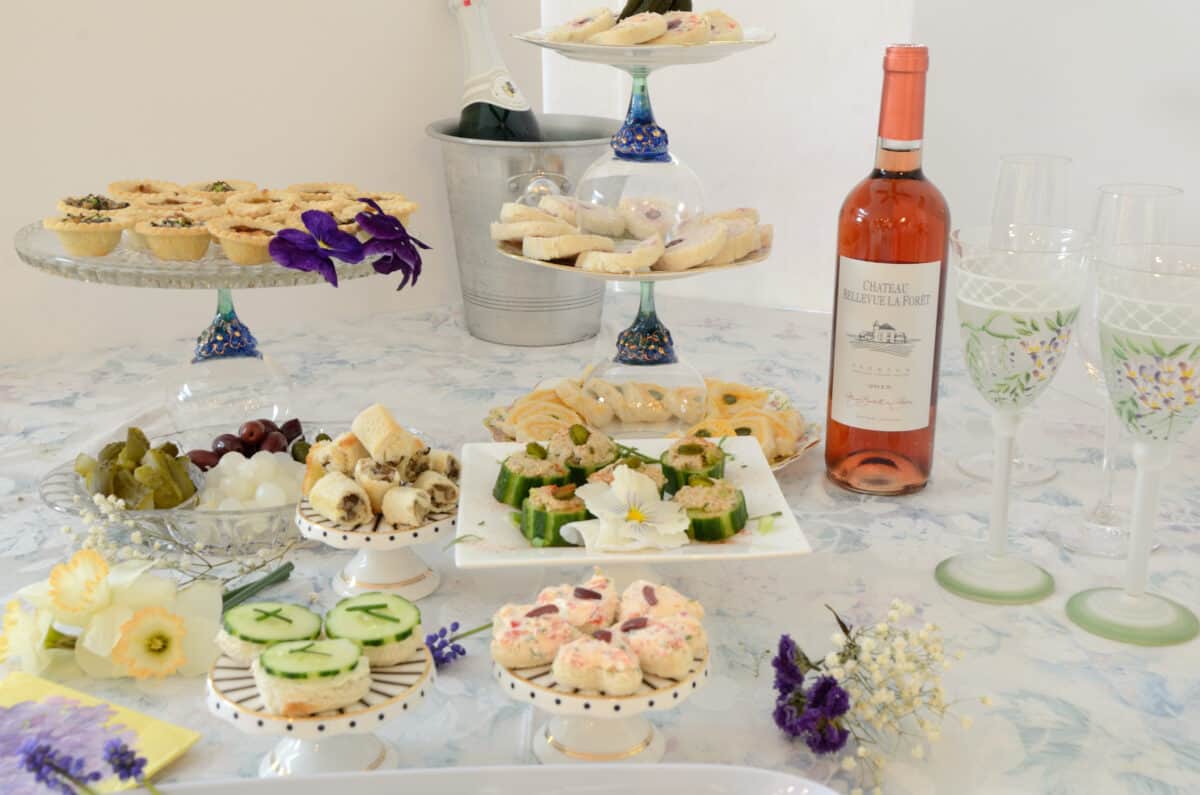 Wine Pairing
You want to match light wines with light foods so these dainty tea sandwiches would pair well with Prosecco, a dry Rosé, a dry or off-dry Riesling, an unoaked Chardonnay or a Pinot Grigio.
If you are red fan you will want to keep it light with a Beaujolais, Valpolicella or Grenache.
More Tea Recipes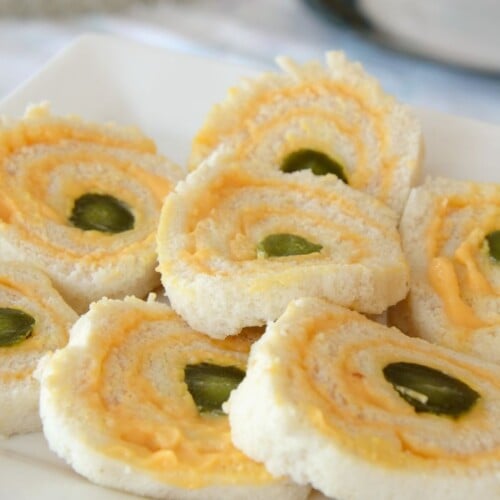 Rolled Tea Sandwiches
These dainty Rolled Tea Sandwiches are a throwback to the 60's but they never go out of style.
Print
Pin
Share on Facebook
Servings:
24
tea sandwiches
Ingredients
Cherry Cream Cheese Sandwiches
8

slices

white sandwich bread

4

oz

cream cheese

room temperature

2

Tbsps

sour cherry juice

16

sour cherries

pitted
Cheese Whiz Rolls
8

slices

white sandwich bread

⅓

cup

Cheese Whiz

4

sweet pickled gherkins
Creamy Goat Cheese Rolls
8

slices

white sandwich bread

2

oz

cream cheese

room temperature

2

oz

plain goat cheese

room temperature

6

grape tomatoes

seeded and finely minced

2

tablespoon

red onion

minced

½

tablespoon

dill weed

minced

1

tsp

mayonnnaise

8-10

black olives

pitted
Instructions
Cherry Cream Cheese Sandwiches
Remove crusts from bread. You should end up with 4 squares of bread. Lay out 4 pieces of bread end to end, overlapping about ½". Press the overlap to pinch the pieces together. You will end up with a long narrow length of bread.

Spread a thin layer of the cream cheese mixture over the length of bread. Be sure filling goes to all outer edges.

Position cherries tightly together on one of the short ends. Pack them closely together and make sure they reach the outer edges. If they extend over a bit that is better than being short.

Starting at the short end with the cherries roll the bread up tightly. Repeat with the other 4 pieces of bread.

Put the 2 sandwich rolls end to end and wrap tightly in plastic wrap. Twist the ends closed. Refrigerate at least 4 hours but overnight is even better.

To serve, slice horizontally into about ½' rounds. Plate and serve.
Cheese Whiz Rolls
Prepare bread as above. Spread thin layer of Cheese Whiz over the length of bread. Lay gherkins end to end on the short end being sure to extend to the outer edges. Roll up and wrap tightly in plastic. Refrigerate 4-24 hours, slice and serve.
Creamy Goat Cheese Rolls
Scrape the seeds and jelly from center of grape tomatoes. Fold in a paper towel and squeeze to remove as much juice as possible. Mince finely.

Mix goat cheese and cream cheese til blended smoothly. Stir in tomato, dill, onion and mayo and mix til evenly distributed.

Prepare bread as for Cherry Cream Cheese Sandwiches. Spread cheese mixture over the bread lengths. Line up enough pitted black olives on short end to completely cover the short end. Roll up bread, wrap tightly in plastic wrap and refrigerate 4-24 hours.
Notes
Nutrition is an average of the 3 variations, per sandwich.
Nutrition
Serving:
1
g
|
Calories:
163
kcal
|
Carbohydrates:
23.2
g
|
Protein:
4.4
g
|
Fat:
5.8
g
|
Saturated Fat:
2.4
g
|
Cholesterol:
11.4
mg
|
Sodium:
230.5
mg
|
Potassium:
87.3
mg
|
Fiber:
1
g
|
Sugar:
2
g