Salt Potatoes Raclette deserves to be Canada's next comfort food craze! You can entertain leisurely with only  2 main ingredients and a few condiments!
When your meal consists of only a few ingredients you will want to ensure they are the best possible quality.
Raclette means 'scraped cheese' from the French word  'racler'  It is a meal hundreds of years in the old when Swiss and French  cow herders would warm a block of cheese beside the camp fire and spread it onto bread.
Check here for details on How to Host a Raclette Dinner Party   and suggestions for wines to serve.
Nowadays Raclette is served in upscale restaurants, bistros, pubs and people's homes.  You will see Swiss and French Raclette wheels in your local cheese shops.  There is also a Canadian version available in Canada.  Lately I have even seen pre-sliced Raclette in the dairy case of my local supermarket!
Swiss raclette is notoriously aromatic.  While all versions taste nutty and creamy -the Swiss version is the strongest and smells like old socks (until you go nose blind!). Next comes the French and then Canadian in terms of strength of flavour and aroma.   The prices tend to follow the scale of Swiss, French, Canadian from highest to lowest.  Any one of the varieties is delicious so don't fret about which one is available or not available.
If you are not able to find raclette Jarlsberg, Emmentaler or Gruyere are good substitutes or aks your cheese vendor to point you to a semi-soft, nutty, creamy cheese that melts uniformly.
Gourmet potatoes that are bite-size or 2 bite size are perfect for this meal.  I like The Little Potato Company's Dynamic Duo potatoes.  They cook uniformly and are buttery and  ultra creamy.  They are also pre-washed so there is literally no prep required on your part!
The traditional meal consists of boiled gourmet potatoes, the melted raclette garnished with freshly ground black pepper.  French cornichons and sour pickled onion are traditional accompaniments.  You could also serve other pickled vegetables of your choice.
I like to add a side salad that diners can pick at while they are waiting for their cheese to melt.
If you have the raclette machine all you need to do is:
Set up the raclette machine in the center of the table.
Slice the cheese into ¼ inch thick slabs and arrange on platter.
Set up the place settings and set out the gherkins and onions or whatever condiments you are going to offer.
Cook the potatoes and transfer to a serving dish.
Heat  up the raclette machine as your guests gather at the table.
Choose and serve your wines.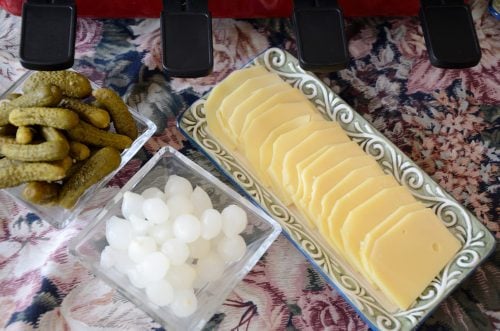 If you don't have a raclette machine:
When potatoes are done boiling transfer them to an oven proof casserole.  Set your oven to broil.  Keep the top rack around the second rung. Top the potatoes with the sliced raclette and broil until the cheese is melted and bubbly. It may begin to brown but don't let it get too brown or it will go stiff and grainy.
Serve guests at the table and allow them to select their condiments and side dishes.
Wine Recommendations
This meal is fairly neutral so honestly...whatever wine you like best would probably be okay with this meal.
However, if you are looking to enhance the wine and the meal I would suggest a substantial white such as Pinot Gris (Alsatian if possible); a fairly rich, buttery Chardonnay; Chenin Blanc or an older Riesling.
If you lean toward reds then a medium body Rhone, GSM would be nice.  A peppery Syrah or Shiraz or Grenache would also go well.
Ingredients
48

bite size

gourmet potatoes

about 3 lbs. (I use Dynamic Duo from The Little Potato Company)

1

cup

table salt

10

cups

water

2

Tbsps

butter

36

oz

raclette cheese

2

cups

French cornichons

can substitute sour gherkins (not sweet)

2

cups

sour pickled cocktail onions

or other pickled vegetables to taste

fresh ground black pepper
Instructions
Combine water and salt in a large pot. Add the potatoes and bring to a boil. Once water has boiled reduce heat and simmer about 20 minutes until potatoes are fork tender.

While potatoes are cooking slice cheese into ¼ thick slices.

If using a raclette machine transfer potatoes and cheese to serving dishes. Heat the raclette machine and allow diners to melt the cheese and pour over their potato servings. Pass pepper, gherkins and onions separately.

If not using a raclette machine, preheat your broiler. Transfer cooked potatoes to an oven proof casserole. Top with raclette slices and place under broiler on second level from broiler. Broil until cheese is uniformly melted. Watch carefully so it does not brown or burn. Divide among serving plates. Pass pepper, gherkins and onions separately.
Nutrition
Calories:
645
kcal
|
Carbohydrates:
11
g
|
Protein:
37
g
|
Fat:
51
g
|
Saturated Fat:
32
g
|
Polyunsaturated Fat:
2
g
|
Monounsaturated Fat:
15
g
|
Trans Fat:
1
g
|
Cholesterol:
180
mg
|
Sodium:
20613
mg
|
Potassium:
424
mg
|
Fiber:
2
g
|
Sugar:
5
g
|
Vitamin A:
1224
IU
|
Vitamin C:
8
mg
|
Calcium:
357
mg
|
Iron:
1
mg