Choco-holics! You will love this decadent Gluten Free Chocolate Cake.  Use the best quality chocolate for a divine dessert!
I made this to take to a Port tasting. We were spoiled with 10 , 20 and 30 year old ports... What an experience!  Chocolate and port go hand in hand beautifully.  This cake is rich so a little goes a long way.  Gluten free doesn't have to be boring!
I used President's Choice Dark Chocolate Bars that were 70% Cocoa.  Then you amp it up with a bit of Cocoa powder.  And... the secret ingredient is black coffee!  Black coffee enhances the chocolate flavour.  I don't know who figured that out but it is true!
I was making this Chocolate Salami.  Chocolate Salami is a thing in Europe.  I don't think I have seen  a commercial version here in North America.  But I tell you - it is deceptively simple to make and it is addictive!  I was experimenting with that recipe, which calls for black coffee.  I thought it would be fun to substitute various liqueurs.  They were ok but when I made it once for a family event and wanted to avoid the alcohol component I went back to the original coffee version.  I couldn't believe the difference.  That small addition of coffee makes a difference you won't believe unless you try it both ways.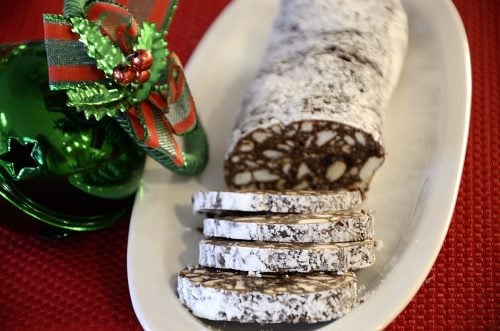 So... all that to say the coffee in this recipe plays a similar role!
I melt my chocolate in a heat proof bowl in a skillet with a few inches of water in the bottom.  I find this is the most forgiving way to melt large quantities of chocolate.  It doesn't take as long as a traditional bain-marie to heat up and it doesn't risk burning like the microwave.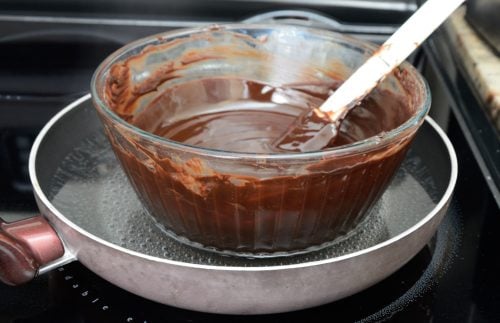 This cake needs to chill for at least 4 hours to allow the glaze to set.   That also means it is a great 'make ahead' recipe!  Just before serving sprinkle it lightly with icing sugar.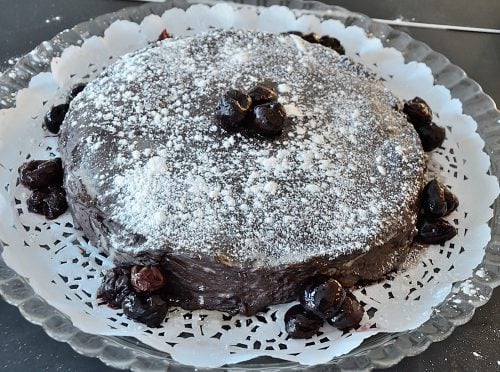 Because the body of this flourless chocolate cake is quite firm I like to use a bit of fruit to garnish it on the plate and provide a bit of moisture.  I like to use the frozen cherries from Costco.   Fresh raspberries, blueberries  or strawberries would also work well.
And - don't forget, you can serve this with  a nice glass of ruby or tawny port or an expresso. Either one will make a memorable combination!
Ingredients
Cake
1

12 oz

chocolate bars

(at least 70 % cocoa)

⅓

cup

sugar

¼

teaspoon

sea salt

1

teaspoon

vanilla

½

cup

cocoa

1

tablespoon

black coffee

cold

3

eggs

beaten

3

cups

fruit of your choice
Glaze
1

12 oz

chocolate bar

(at least 70 % cocoa)

½

cup

whipping cream

icing sugar for sprinkling
Instructions
Preheat oven to 375 degrees.

Spray an 8" cake pan with cooking spray and line bottom with parchment paper.

Place heat proof bowl in skillet with a couple of inches of water in the bottom. Melt 1 bar of the chocolate and the butter in a heat proof bowl in the skillet over medium heat.

When melted remove the bowl from the heat. Add sugar, salt, vanilla, coffee and cocoa. Stir well and then beat in the 3 eggs. Beat 1-2 minutes til batter is smooth.

Pour batter into the cake pan and bake 25 minutes.

Allow cake to cool completely.

Melt the other chocolate bar in a heat proof bowl as per above. Add the whipping cream and stir well to combine.

Turn the cake out onto a serving platter. Pour glaze over the cake allowing it to flow over the sides. Refrigerate cake at least 4 hours to let glaze set.

To serve, sprinkle with icing sugar. Add a spoonful of fruit to side of each piece when serving.
Nutrition
Calories:
361
kcal
|
Carbohydrates:
41
g
|
Protein:
5
g
|
Fat:
24
g
|
Saturated Fat:
13
g
|
Polyunsaturated Fat:
1
g
|
Monounsaturated Fat:
6
g
|
Cholesterol:
66
mg
|
Sodium:
78
mg
|
Potassium:
217
mg
|
Fiber:
5
g
|
Sugar:
35
g