No special equipment here folks for these Quick Spicy Pickled Tomatoes! Toss your ingredients in a bowl and some counter and fridge time and you are good to go!
All you need is a heatproof bowl big enough to hold all the ingredients so they can steep overnight. They need 3 days in the fridge to actual 'pickle'. You can leave them in the bowl and then tranfer to jars or you can jar right away and let them 'pickle' in the jars.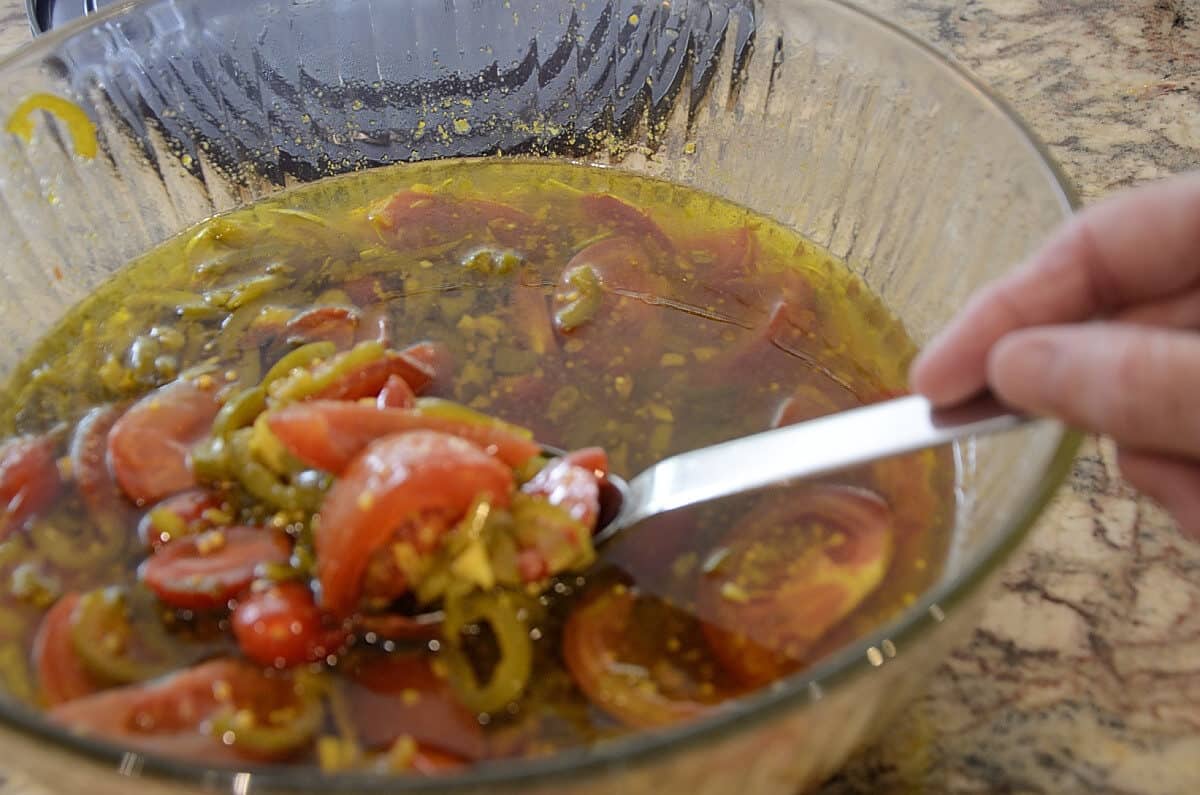 These come from a recipe Vivian Howard calls 'Red Weapons'. Mine were not hot enough to be considered a 'weapon' but I think that was a good thing. You can adjust the heat to your taste but I like the idea of an 'easy' side for omelettes or quesadillas. If you are using them with Mexican food like quesadillas or tacos treat them like salsa and you can add more green salsa or jalapeno for heat to your taste.
My girlfriend has used them beside her omelette and in a tofu stiry fry. I have used them in cheese quesadillas and scoops of the oil/juice and whatever solids came with it in a pasta salad. The salad was an immediate hit! I added a few fresh cherry tomatoes and onions etc and it was a good complement.
You could also garnish avocado toast, add some to a soup or stew for some oomph… just use your imagination. It would even be good drizzle on a hamburger!
Chef's Tips
Quantities are forgiving – you are basically going for a tomato with some spicy notes.
You can use any kind of tomato you have on hand or want to use up. Roma, salad tomatoes, cherry tomatoes.
Onions can be green, sweet, red or good old yellow.
Don't like ginger? Leave it out… (but it is good!)
These will keep sealed in the fridge for 3 months. Don't freeze them – they will turn mushy.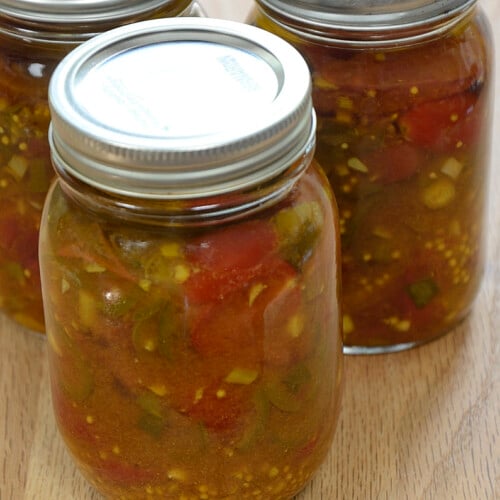 Equipment
1 large heatproof, non reactive bowl
Ingredients
2

lbs

tomatoes

of your choice

1

cup

onions

thinly sliced and quartered if large rounds

5

jalapenos

sliced thin, seeds removed See Note 3.

3

Tbsps

fresh ginger

minced or grated

3

Tbsps

garlic

minced

1 1/2

Tbps

mustard seeds

yellow or brown

1

Tbsp

ground cumin

4

tsps

coarse salt

1 1/2

tsp

cayenne pepper

1 1/2

tsp

turmeric

1/2

cup

unseasoned rice wine vinegar

3/4

cup

light brown sugar

packed

1 1/2

cups

olive oil
Instructions
Quarter tomatoes lengthwise. (Or halve cherry tomatoes). Put them in a large heat proof bowl big enough to hold all ingredients.

Bring all ingredients, EXCEPT tomatoes and olive oil, in a large Dutch oven to a boil over medium heat. Boil 1 minute. Add olive oil and return to a boil. Pour over the tomatoes and press them to make sure they are submerged.

Let the tomatoes come to room temperature, cover loosely and leave them on the counter overnight. Transfer bowl to the fridge for 3 days. See Note 1 if fridge space is an issue.

After 3 days, allow mixture to warm enough for oil to liquify. Stir well and transfer mixture to sterile jars, seal and refrigerate up to 3 months. See Note 2.
Notes
Note 1:  If fridge space is an issue you can jar the mixture once it has sat at room temperature.  Allow 3 days in the fridge before using.
Note 2:  To sterilize jars, heat oven to 275 degrees F.  Put jars on a baking sheet and bake 20 minutes.  Use tongs to handle hot jars and a wide mouth funnel to fill them.
Note 3:  Recipe as written is spicy but not hot.  Adjust amount of jalapenos to taste.
Nutrition is per Tablespoon.
Nutrition
Calories:
31
kcal
|
Carbohydrates:
2
g
|
Protein:
0.2
g
|
Fat:
3
g
|
Saturated Fat:
0.4
g
|
Polyunsaturated Fat:
0.3
g
|
Monounsaturated Fat:
2
g
|
Sodium:
74
mg
|
Potassium:
26
mg
|
Fiber:
0.2
g
|
Sugar:
2
g
|
Vitamin A:
75
IU
|
Vitamin C:
2
mg
|
Calcium:
4
mg
|
Iron:
0.1
mg