If you think Pickle Brine Chicken sounds good – do it in the Air Fryer and this is no longer a 'guilty' pleasure!! (Skillet instructions included.)
Time is your friend here even though hands on time is not that much. Timing is forgiving though. Best is to start brining the day before you plan to serve. Failing that start early in the day and plan on 4 hours brine time, 30 minutes marinate time (at least). You can skip the chill step if you don't have time but results are always a bit better if you can fit it in.
I have written the recipe with my timing which is generous for brining, marinating and chill time. My timing also means your chicken is all prepped well before you plan to serve it so when you are finalizing dinner you are only looking at 35-45 minutes cook time.
This is a mixture of several recipes I found on line but the basis of it is from Kardea Brown's recipe from the Food Channel from an episode called 'Southern Table'. I thought that lent a bit of authenticity to the approach.
I wish I could find all the right words to tell you how amazingly delicious this chicken is!!
The breading on the chicken is so full of flavour – crispy on the outside and tender and moist on the outside – every bite was to die for!
I experimented with skinless, bone-in chicken breasts and full skin on, bone in thighs. Both were absolutely delicious. For the health conscious the skinless breast is an abundance of moist white meat not lacking in flavour!
For the traditionalist – the crispy skin on the thighs (which held a bit more breading I would say) and the meaty, moist flesh will have you swearing never to go KFC again!!
I served my chicken with my new favourite Salt and Vinegar French Fries recipe, which, again – starts soaking overnight the day before. So the timing works well together besides being a match made in heaven taste wise!
Chef's Tips for Pickle Brine Chicken in the Air Fryer
You can use skinless, boneless chicken pieces, or any combination of skinless, boneless you like. The flavour will still be there.
The marinade covered 4 large chicken breasts and 8 thighs in a rectangular container for me.
The recipe is written using white vinegar and the standard pickling spice mix. You can substitute dill pickle juice if that is easier or handier.
I brined my chicken overnight, patted it dry, soaked it in buttermilk for a few more hours, patted the chicken dry and then tossed it in the breading mix. I then allowed the coated chicken to sit on a rack in the fridge for a few hours. I find chilling the meat after breading helps the breading firm up and it doesn't break off the meat. The other advantage here is that you can have your chicken prepped well ahead of time and then it only takes about 35 minutes in the Air Fryer.
I was aslo Air Frying home made Vinegar French Fries so I heated the oven to 325 degrees F. When the chicken was done I placed it on a rack over a pan so it would stay warm and not get soggy. (If you re-use the rack from the fridge chilling make sure it is thoroughly washed so you are not letting your cooked chicken sit on any raw chicken residue). The warming time in the oven certainly did not detract from the chicken in any way.
You can serve the chicken with Hot Honey Sauce if you like. I found that the chicken had so much flavour that I didn't need it bother others enjoyed it with the sauce. So – your choice!
Wine Pairing for Pickle Brine Chicken
You have a few wine choices here. There is so much flavour going on here your wine can be fairly robust.
For white, a spicy Gruner Veltliner would be a great summer accompaniment. Other whites with an herbal undertone like a Sauvignon Blanc or Soave would work too.
An herbal dry Rosé, Provence style would work well here.
On the red spectrum – a Burgundy or Beaujolais would go nicely.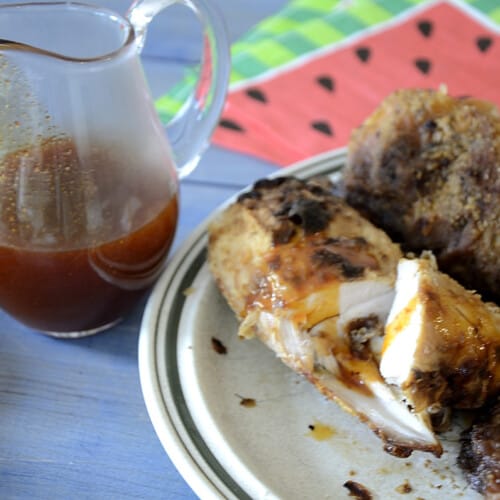 Pickle Brine Chicken – Air Fryer
Time is on your side here so plan ahead but with simple ingredients you will have Fried Chicken the whole family will love.
Print
Pin
Rate
Equipment
air fryer

Oven if working in batches

racks

Racks are preferred for breaded chicken to chill on and/or stay warm in the oven if working in batches. Platters or sheet pans will also work.
Ingredients
4

lbs

chicken pieces

See Note 1.

Olive oil for spraying
Brine
1/4

cup

sugar

See Note 2

3

Tbsps

white vinegar

See Note 2 to substitute dill pickle juice.

2

Tbsps

pickling spices

1

bay leaf

1/4

cup

kosher salt

Kosher salt is preferrred but if you have to use table salt reduce to 2 Tbps.

2

cups

water
Breading
3

cups

flour

1

Tbsp

dried dill

1

Tbsp

fresh cracked black pepper

2

tsps

garlic powder

2

tsps

onion powder

2

tsps

sweet paprika

1

tsp

table sea salt

Hot Honey Sauce

optional
Instructions
Brine
Combine all brine ingredients in a large pot and bring to a boil. Stir to dissolve salt and sugar. Allow mixure to cool to room temperature. (Set pot in cold water half way up if you want to speed this up).

Arrange chicken skin side down in a sealable container. Cover with brine. (If chicken is not completely covered add more water to ensure it is submerged. See Note 3.) Brine at least 4 hours or overnight is even better.
Marinate and Bread
A few hours before cooking – drain the brine off the chicken. Lightly rinse or brush off any residual pickling spices. Pour the buttermilk over the chicken in the same container you used to brine it. Marinate at least 20 minutes if at room temperature or 1-4 hours in the fridge. See Note 4.

At least 45 minutes before starting to cook – Mix all the breading ingredients in a large sealable bag. Drain the buttermilk from the chicken. Lay chicken out in one layer on paper towels. Cover with more paper towel and pat dry.

Toss the chicken pieces in the breading mix to coat liberally. You will have to work in batches with about 3 pieces of chicken at a time. When breaded arrange the chicken pieces on a wire rack in single layer – not touching. Optional-Allow breaded chicken to rest in the fridge at least 30 minutes or up to several hours. See Note 5.
Air Fryer
When ready to cook, spray the breaded chicken liberally with olive oil on all sides. Grease your air fryer racks according to your manufacturer's instructions. Cook on Air fryer setting. Timing will depend on size of your chicken breasts. Large breasts took about 35 minutes for me. Use a temperature probe to ensure chicken has reached 165° F internal temperature. See Note 6.

You may need to Air fry in batches. If so – transfer the cooked chicken to your oven at 325° to keep warm while the other batch cooks.
Skillet Fry
Heat enough oil in a heavy skillet to come about 1/3 of the side of the skillet. Oil should be enough to come half way up the chicken pieces. Heat oil to between 360°-375°. Watch oil carefully so it doesn't over heat. Add chicken in one layer and fry turning once until internal temp reaches 165°. This may take about 6 minutes per side. If working in batches transfer cooked chicken to an oven tray to keep warm. Return oil to temperature before adding each batch of chicken. Do not over crowd the skillet an you may need to adjust burner temperature if chicken is browning too quickly.

Serve with Hot Honey Sauce if desired.
Notes
Note 1:  You can use any combination of chicken pieces that you like. You can use skinless or boneless or any combination.  I used bone in, skinless breasts and full skin, bone in thighs.
Note 2:   You can just use dill pickle juice for the brine if you prefer. You will need at least 2 cups or more to ensure the chicken pieces are submerged. If using dill pickle juice you can reduce the brine time to 8 hours and have plenty  of flavour.
Note 3:  I prefer not to dilute the brine so choose a container that you can pack the chicken pieces in fairly tightly and cover with brine. If the brine just reaches the top of the chicken you can turn the chicken half way through the brining process.
Note 4:  Timing here is forgiving.  The pickle brine has served to tenderize the chicken so the buttermilk here is adding flavour and helping the texure of the breading.  20 minutes minimum at room temperture or several hours in the fridge will still be okay.
Note 5:  Chilling the breaded chicken is optional but I find it makes the breading sturdier and also means I can prep the chicken well ahead of serving time.  If you skip this step jut transfer the breaded chicken to a rack or platter and proceed to cook.
Note 6:  Timing will depend on the power of your machine, size of chicken pieces, skin on, skin off etc.   Large breasts skin off, and thighs skin on took about 35 minutes for me.  I have 2 racks in my Pampered Chef so I also switched the rack positions half way through.  Just make sure chicken reaches 165 Degrees internal temp.
Nutrition
Calories:
577
kcal
|
Carbohydrates:
48
g
|
Protein:
36
g
|
Fat:
26
g
|
Saturated Fat:
8
g
|
Polyunsaturated Fat:
5
g
|
Monounsaturated Fat:
10
g
|
Trans Fat:
0.1
g
|
Cholesterol:
122
mg
|
Sodium:
4006
mg
|
Potassium:
487
mg
|
Fiber:
2
g
|
Sugar:
9
g
|
Vitamin A:
596
IU
|
Vitamin C:
3
mg
|
Calcium:
121
mg
|
Iron:
4
mg