Salt and Vinegar French Fries are my new go to recipe for fries. Here is the step that guarantess perfection! (Skillet Instructions included.)
Perfection comes from an extra step -which is entirely worth in IMHO! You parboil the potato wedges for a bit before coating in oil and air frying.
No more shrivelled on the outside- barely cooked on the inside.
You also soak the raw potatoes in water. I have seen recipes that have you rinse them several times until the water runs clear. I think you could get away with a few hours if need be but I often find if I am entertaining, being able to prep the day before is a bonus - so I am going with the overnight approach.
Basically here are the steps -Peel; Slice; Soak, Parboil, Dry, Sprinkle, Toss Air Fry!
As part of the make ahead approach - I soak my cut potatoes overnight, then I parboil them early on the day I plan to serve them (because that usually suits me best), I dry them and sprinkle them with vinegar while they are still warm from the parboil. Then I toss them in vegetable oil, cover and return to the fridge until I am ready to cook them. I give them a good twist of fresh ground sea salt just before air frying and Voilà- the best French Fries I have ever made at home!
And... if that is too pernickety for you... I was in a hurry one day and just wanted some fries to go with our supper. I cut the potato wedges, soaked in cold water a few hours, changing the water once in the beginning to get rid of as much starch as possible. After they had soaked I cooked them in the soaking water in the microwave for 6 minutes, drained them, sprinkled them in vinegar and left them until just before cooking. I tossed them in oil, sprinkled them with salt and went on with the air frying. The texture wasn't quite as good as the longer process but it was better than if I had just cut the wedges, tossed in oil, salted, vinegared and cooked. So.. timing can be forgiving here.
I served these with my Pickle Brine Chicken which conveniently brines overnight so the timing on these 2 dishes work out perfectly to prep the day before serving!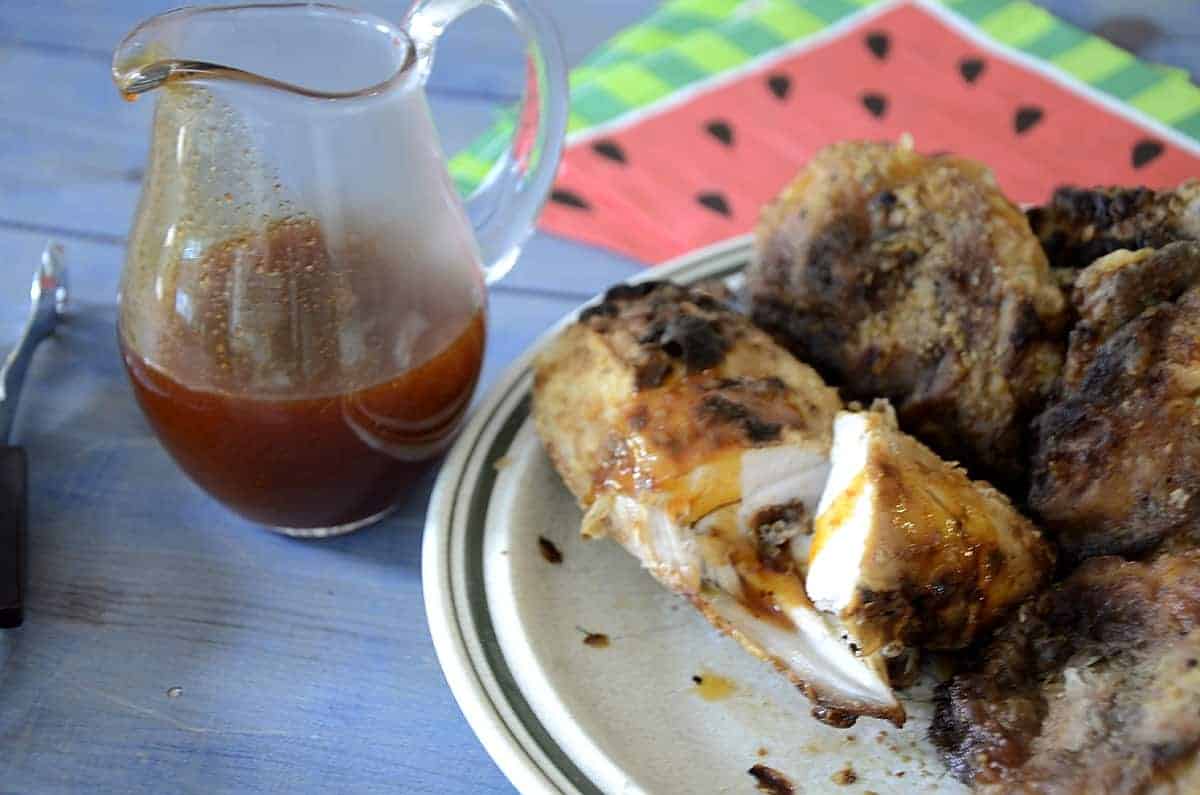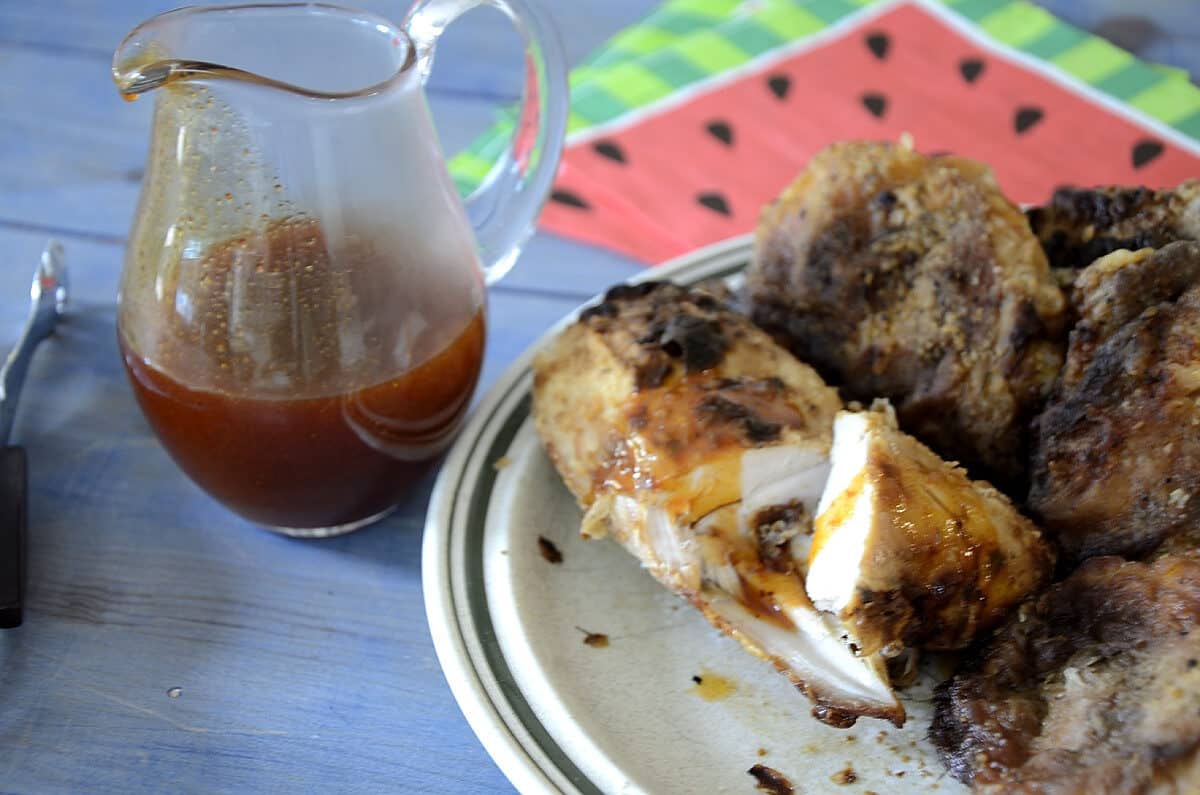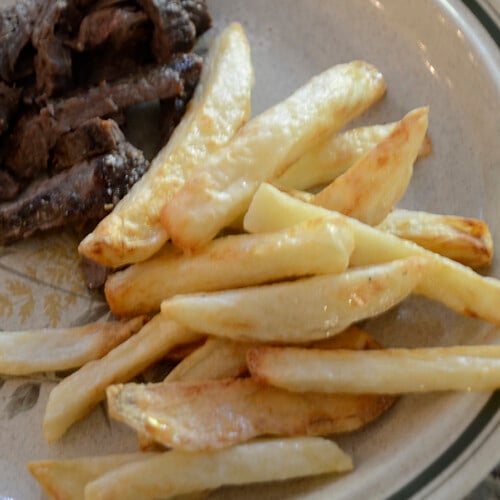 Salt and Vinegar French Fries -Air Fryer
A few steps but you can do them well ahead so you are not rushed at dinner time.
Print
Pin
Share on Facebook
Ingredients
4

large

baking potatoes

8

cups

water

¼

cup

fine sea salt plus more for sprinkling

¼

cup

white distilled vinegar plus more for sprinkling

1 ½

tablespoon

vegetable oil
Instructions
Peel potatoes and cut into generous slices lengthwise. Aim for an inch wide by ½ thick.

Cover slices in cold water while you are slicing. Drain water and cover finished slices again. Refrigerate 4 hours or overnight. Drain water off when ready to go to next step.

Bring 8 cups water to a boil in a large pot. Add ¼ cup sea salt and ¼ cup vinegar and then toss in potato slices.

Return water to a boil and parboil 3 minutes. Drain pot to a colander. Allow potatoes to sit a few minutes to air dry somewhat. Sprinkle with more white vinegar. Allow potatoes to cool to room temperature. (If you are going to Skillet Fry jump to those instructions).
Air Fryer
Toss potato slices with vegetable oil. You can either cook right away or return, covered to fridge until you are ready to cook.

Just before cooking, oil your Air Fryer rack, lay potatoes slices out in a single layer. Grind fresh sea salt over the slices.

Air fry about 20-25 minutes adjusting racks if necessary. (Depends on your Air Fryer configuration). If you need to work in batches transfer cooked french fries to a sheet pan and keep warm in an 325° oven until all batches are cooked.

Serve with additional salt, vinegar, ketchup or mayonnaise to taste.
Skillet Fry
Heat 2" of vegetable oil in a heavy skillet to 365°. Line a baking sheet with paper towel. Fry the potatoes for 1 minute stirring gently so they don't stick. Transfer to paper towel to drain off excess oil. Sprinkle with fresh sea salt. If working in batches, return oil to 365° before adding more potatoes. Keep cooked French Fries warm in a 325° oven on baking sheet.

Serve with additional salt, vinegar, ketchup or mayonnaise to taste.
Nutrition
Calories:
339
kcal
|
Carbohydrates:
67
g
|
Protein:
8
g
|
Fat:
5
g
|
Saturated Fat:
1
g
|
Polyunsaturated Fat:
3
g
|
Monounsaturated Fat:
1
g
|
Trans Fat:
0.04
g
|
Sodium:
7116
mg
|
Potassium:
1541
mg
|
Fiber:
5
g
|
Sugar:
2
g
|
Vitamin A:
4
IU
|
Vitamin C:
21
mg
|
Calcium:
68
mg
|
Iron:
3
mg