These simple Quick Pickled Persimmons make a tasty side to ham, poultry or even on a salad.
I had just a few persimmons left over from making Persimmon Chutney and Persimmon and Goat Cheese Salad so this was a perfect way to use them up.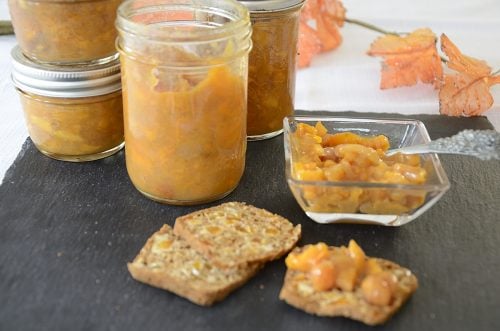 These are refrigerator pickles so you need to keep them refrigerated. I don't see with the vinegar content that they would go bad very quickly. They would be more likely to lose their texture I think if left too long.
It might not be a problem though....they will go quite quickly.
One thing to note is that there are 2 main types of persimmons. Fuyu are what you are looking for. They are sweet and can be eaten while they still have a texture like a peach. The other Hachiya are full of bitter tannins and can only be eaten when they are so ripe they are mush.
I understand that a fully ripe, mushy Hachiya can be heavenly (have not tried one myself) but they wouldn't work texture-wise in most recipes.
There is also a Spanish persimmon called Vanilla that is similar to a Fuyu and would be okay to use.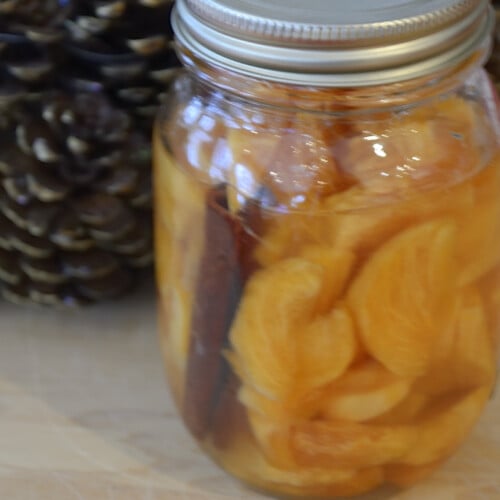 Ingredients
3

persimmons

Fuyu (NOT Hachiya) (about 2 cups) in

½

cup

apple cider vinegar

¼

cup

water

2 ½

Tbsps

sugar

⅛

teaspoon

salt

1

cinnamon stick
Instructions
Peel persimmons (removing top) and slice out any woody seam in the center. Cut persimmons vertically into small wedges.

Mix all other ingredients in a sauce pan on the stove. Bring to a simmer and stir until sugar is dissolved.

Place persimmon wedges and the cinnamon stick in a clean pint jar. Cover with brine.

Allow to come to room temperature before putting the lid on and refrigerating.

Refrigerate 24 hours before eating.

Pickles will keep in the fridge for a few weeks. Serve with ham, or on the side of sandwiches, or on a charcuterie board.