Demi-glace could also be called 'Black Gold!'   It adds a richness and depth of flavour that takes your dish up to professional levels.
I wish I had understood years ago what a difference demi-glace makes to a dish.
Demi-glace is expensive to buy if you can even find it.  To make it yourself is not difficult but it does take time.  You  start by making veal stock.  This involves about 8 hours of roasting bones and vegetables, and reducing the stock produced by half.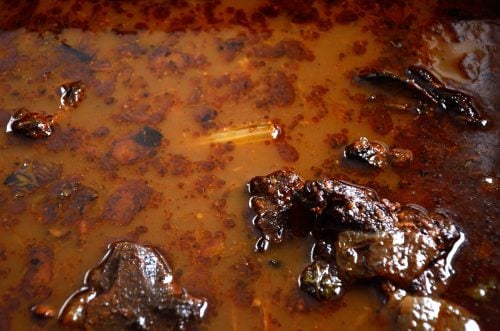 To make the demi-glace you reduce the veal stock by half again after the addition of red wine, herbs, garlic, shallots.  You can use wine and/or port, thyme, rosemary -whatever flavouring you want your final sauce to represent.  Here is a fairly simple demi-glace recipe that goes well with beef. I personally use thyme and bay leaves for beef and if I wanted it for lamb I would add a sprig of rosemary.
The reason it is expensive to buy is that you start with about 16 cups of water to make the veal stock and reduce it to about 8 cups of veal stock.  The demi-glass further reduces so the 8 cups of veal stock becomes about 4 cups of demi-glace.  The recipe below is based on 2 cups of stock reducing to about 1 cup of demi- glace.  That way you can save some stock to use in recipes like Classic French Short Ribs or Slow Cooker Tuscan Sausage Tortellini Soup.
The good news is it is flavourful a little goes a LONG way!
As a sauce for beef dishes a little pool under or on the meat serving goes a long way because the flavour is so intense.  A little drizzle over potatoes or around the plate will also add a punch of flavour.
I sometimes add a cup to a soup broth.  A 1:3 ratio- 1 cup of demi-glace to 3 cups of broth is enough to add incredible richness to a soup.  You can't quite put your finger on what it is but you know it is there!
Both the stock and demi-glace freeze well so go ahead and make up a batch.
Check out some of these recipes that will shine with a the addition of a bit of demi-glace
Pistachio, Black Olive Crusted Steak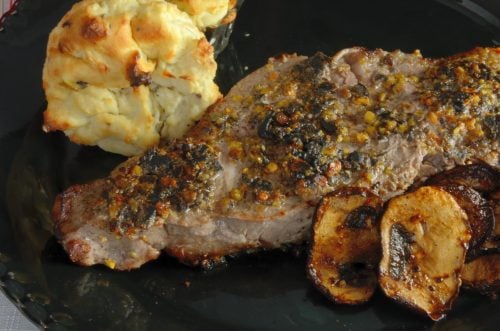 This is admittedly a labour of love. But the handson time is not so significant – you just have to be around the house. Trust me – if you get used to real demi-glace or veal stock the store bought just doesn't cut it anymore. So… make a big batch and fill your freezer!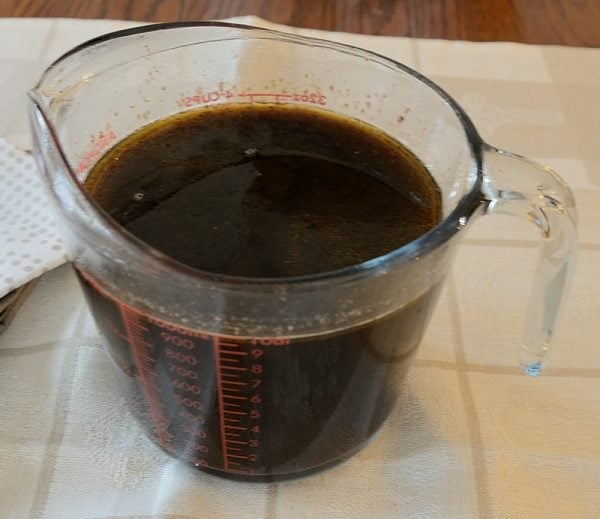 Ingredients
olive oil

for sauteeing

1

shallot

finely minced

1

clove

garlic

finely minced

1/4

cup

red wine

good quality

2

cups

veal stock

1 1/2

tsp

black pepper

1/2

tsp

salt

1

sprig

fresh thyme

(optional)

1

bay leaf

(optional)
Instructions
Heat small amount of olive oil in small saucepan. Sautee shallot and garlic until shallot is translucent. Add red wine and bring to a boil. Add veal stock, salt and pepper. Simmer until reduced to about half or desired consistency. (This can take 30-40 minutes depending on size of pan and heat level). Adjust seasonings and serve with meat.