This fantastic Brandied Beef Bourguignon is a make-ahead dish that is easy yet elegant enough for a holiday meal. It is meant to sit overnight after you cook it to let the flavor develop. How perfect for an entertaining recipe!  Serve this  French classic with mashed potatoes or rice. The brandy flambé gives this an additional flavor hit beyond the red wine sauce.
Of course you don't have to make this a fancy meal.  It is also perfect for winter cottage weekends, entertaining a crowd, après ski.  In short – it is fantastic any time!
The fact that is make ahead allows you to serve an outstanding meal with no fuss so you can enjoy the day's activity!  It also freezes and reheats beautifully.
I have been making this recipe for many, many years.  It came in a recipe booklet I received as a wedding shower gift called appropriately The Brides First Cookbook.  How quaint n'est-ce pas?
I have tried other beef bourguignon recipes over the years.  I would sometimes be seduced by the promise of a flavorful slow cooker type stew or some twist or another.  But I have to say – once you have this one it will become the gold standard of beef bourguignon!
This recipe calls for small white button mushrooms.  You add them whole at the end of the cooking so they keep their shape.
You also add pearl onions at the end.  The uniform round onions and mushrooms add to the presentation.  I can't find frozen pearl onions very often. I scoop them up when I do find them.  Fresh pearl onions are a pain for me. (Funny – I can fritter around for a few hours with some cooking jobs but pearl onions do me in!) I find cooking and peeling them a real pain.  So- if I can't find frozen when I am ready to make this I buy Amsterdam onions in jars.  They are small and sweet/sour pickled.  They add an interesting twist to this dish.
Wine Pairing For Brandied Beef Bourguignon
The name of this dish in English is Beef Burgundy.  In keeping with the recipe I would use a  Burgundy Pinot Noir.
A Rhone blend would also be nice in the dish.  You could serve the same Cote du Rhone at your holiday meal.  Here is  a suggestion from  the October LCBO release,  La Ferme du Mont |Le Ponnant Cotes du Rhone-Village 2014, #171371 Score 90-92  $19.95. See the tasting notes here.
Or try  Perrin Coudoulet de Beaucastel Cotes-Du-Rhone 2014, # 48884  $29.95. See the tasting notes here.
If you are not into French wine then a Syrah would go nicely as well.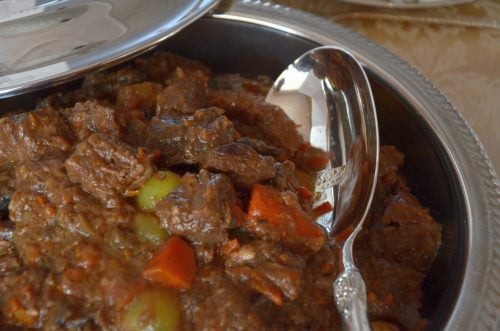 Ingredients
3

lbs

good quality stewing beef

1/4

cup

flour or cornstarch

salt and pepper to season

2

Tbsps

butter

3

Tbsps

vegetable oil

3

Tbsps

brandy

2

Tbsps

vegetable oil

2

Tbsps

butter

2

large

carrots

finely chopped

2

cloves

garlic

minced

1

medium

yellow onion

minced

1

Tbsp

tomato paste

2

Tbsps

flour or corn starch

4

sprigs

parsley, stem only

4"

piece

celery

2

bay leaves

2

sprigs

fresh thyme

2

cups

beef broth

1

cup

good red wine

8

oz

white buttom mushrooms

1 1/2

cups

pearl onions

or preserved Amsterdam onions
Instructions
Preheat oven to 350 degrees.

Heat the oil and butter in a large skillet. Shake the beef with the flour or cornstarch in a bag to coat the beef.

Brown the beef in one layer in the skillet. Season with salt and pepper as it is browning. Do not over crowd the meat. You may have to brown the beef in batches. Remove beef to a dish while you brown each batch.

When all the beef is browned return it all to the hot skillet. Pour the brandy over the beef and light it with a match. Shake the pan over the burner until the flames subside. Transfer the beef to a dutch oven.

Scrape up any brown bits from the bottom of the pan. Add butter and oil to the pan. Sauté the carrots and minced onion about 5 minutes. Stir in the tomato paste and cook another 3 minutes. Sprinkle vegetable mixture with flour.

Make a bouquet garni by wrapping the thyme, bay leaves, celery and parsley in cheesecloth to make a pouch and secure with string.

Add the vegetable mixture to the beef in the dutch oven. Put dutch oven over the heat on the stove. Add the broth and wine to the dutch oven. Submerge the bouquet garni in the broth. Stir well.

Bake in the oven uncovered for 2 hours. Add the onions and mushrooms and return to the oven for 1 hour more.

Remove from the oven and allow to cool. Remove the bouquet garni. Store in refrigerator overnight.

Gently reheat in the oven (about 1 hour at 350 degrees) the next day.

Serve with mashed potatoes or rice.
Notes
If you freeze this ahead of time it can defrost throughout the day you plan to cook . Reheat at 350 degrees up to 2 hours depending on how thawed or frozen it is.  Check periodically to see if it is heated through.
Nutrition
Calories:
407
kcal
|
Carbohydrates:
16
g
|
Protein:
36.4
g
|
Fat:
18
g
|
Saturated Fat:
7.2
g
|
Cholesterol:
95.3
mg
|
Sodium:
332
mg
|
Potassium:
552
mg
|
Fiber:
1
g
|
Sugar:
10.4
g