Veal Stock – liquid gold! I wish I had understood the value of a real veal stock much earlier in my cooking career! I am in love with real stock.
Let's face it – we put a lot of time and effort into many of the dishes we create for friends and family. I was often irritated that I couldn't quite get that same umami level you get in a good restaurant. Well-I finally learned – it is the veal stock!!
I know – who has time for that? And many people don't….but I have decided it is worth the effort to make on any stormy day that I am housebound. It is crazy expensive to buy veal stock if you can even find it in a gourmet shop. But..you can make a big batch for about $20 and your time. The hands on time is minimal- it is the cook time – but hey, if you are home anyway it is worth the effort.
It is important to roast the bones for at least 2 hours. This is where a lot of the flavour concentrates and caramelizes.
I like to make it in the winter time while my Canadian garage is colder than my fridge. I can store the stock overnight before reducing if I want. Then I reduce it and freeze in 2 cup containers. Then I can use it in any demi-glace recipe.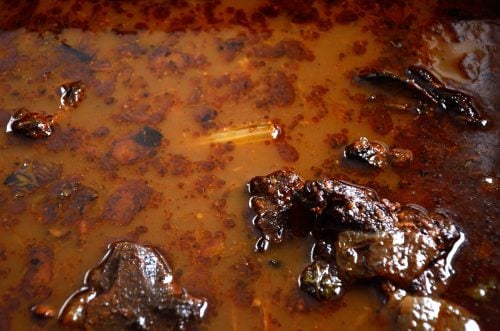 The reduction is important because veal bones naturally contain gelatin. When using veal stock reduction you can avoid using thickeners like flour or corn starch. I don't know about you but I have found that once I use a thickener, flour in particular, I lose the rich silkiness of the sauce.
Now that you have veal stock see how it enhances these delicious Classic French Short Ribs.
or this amazing Slow Cooker Tuscan Sausage Tortellini Soup
Convinced yet? Believe me… if you can plan ahead for a lazy day around the house you can make up a batch of this 'liquid gold' to make and freeze. You will be glad you did!
Update 20 February 2021
I don't know why I never thought of this before! But this time when I was making up a batch of veal stock I started thinking about bone broth. So when I strained the veal stock into a pan I kept all the bones and solids and transferred them to my crock pot. Filled it up with water and let it simmer another 10 hours or so. And voilà! I have another 8 cups of beef broth- I can tell it is far richer than store bought! So while the veal stock is gelatinous and will make lovely silken sauces the second batch of broth will be perfect for soups and adding to braising dishes. …..wish I had thought of this years ago (??)
Ingredients
7

lbs

veal bones

salt and pepper

olive oil

for drizzling

1

cup

dry red wine

(good quality)

1

cups

carrots

2 " coins

1

cup

celery

2" lengths

2

cups

onions

rough chopped

1

bulb

garlic cloves

peeled, whole

1/3

cup

tomato

paste

16

cups

cold water

2

bay leaves

1/4

tsp

dried thyme

or 4 sprigs fresh

1/2

tsp

black peppercorns

6

sprigs

parsley
Instructions
Preheat oven to 450 degrees. Lay veal bones in a large roasting pan. Drizzle with olive oil and season with salt and pepper. Ideally the bones would be in a single layer but that is tough to do with this many bones. Roast bones for 1 hour stirring 1-2 times to ensure even browning. After 1 hour reduce the oven temperature to 375, smear the tomato paste over the bones, add the vegetables and roast for 1 hour more. Stir 1-2 times. (do not add water at this time)

Remove roasting pan from the oven to stove top over medium heat for a couple of minutes. Transfer the bones, vegetables to a large stock pot. Use 1 cup of wine to deglaze the bottom of the roasting pan. Then add the deglazed liquid and the other 15 cups of water to the stock pot. Add the bay leaves, peppercorns and parsley at this time. Simmer for approximately 8 hours. During the first hour or so skim off any froth that rises to the top. (Note: I remove the bones and solids to the lid of my roasting pan, deglaze the bottom of the roasting pan. Then I put the solids and the 15 cups of water back into the bottom roasting pan. I simmer in the roasting pan gently over 2 burners for the next 8 hours stirring occasionally. I put the lid on loosely since the roasting pan surface is larger than the stock pot. If the liquid goes below the level of the bones top it up. I check it at the 4 hour stage and adjust if necessary. I don't like to add water more than half way through the simmer period.)

Pour the stock in batches through a sieve, discarding all the solids. This is the point I put the stock in my freezing garage, covered overnight so I can chip off any fat that congeals on the surface the next morning. Alternatively you can skim off any fat while it is still warm and go on to the next steps.

Once fat has been removed, continue to gently simmer the stock about another hour. At this point you may have only about 4-6 cups. (I just go with whatever quantity is left at this point.) Remove from heat and cool uncovered about an hour.

Stock will keep about 1 week in the fridge well sealed or 3 months frozen. You can freeze it in ice cube trays and then seal if you want to add a cube or two to various pan sauces. I use 2 cup containers to freeze it in.

At this point you have veal stock. You can use it in recipes that call for veal stock or eventually season and reduce it further to demi-glace.
Nutrition
Calories:
104
kcal
|
Carbohydrates:
14
g
|
Protein:
2
g
|
Fat:
1
g
|
Saturated Fat:
1
g
|
Sodium:
94
mg
|
Potassium:
332
mg
|
Fiber:
3
g
|
Sugar:
6
g
|
Vitamin A:
5699
IU
|
Vitamin C:
12
mg
|
Calcium:
75
mg
|
Iron:
1
mg