Yes... you read right! You make this Blueberry Jam in your Bread Machine! This is so easy I might never buy jam again! And it is absolutely delicious!
The fresh fruit really comes through. Jams with a lot of sugar I find taste like sugar with a hint of the flavour... not this one!
I was so surprised when I was leafing through my bread machine manual and at the end of the recipe section was a recipe for jam!
4 ingredients... an hour and a bit and you have blueberry jam.
You put the hot jam into sterilized jars and there is no water bath processing so this jam will keep for a month in the fridge. Longer than that you will want to freeze it.
And the best thing about this jam? There is only 1 cup of sugar! I put off making jam for years because the ratio of sugar to fruit was about 1:1. Just couldn't bring myself to make jam with 12 cups of sugar!
You could obviously do the same thing on your stove top. Those recipes call for you to stir your fruit and ingredients constantly while coming to a boil and then boil for 1 minute. But that means you have to stand there for up to 20 minutes or so for that 1 minute boil!
The beauty of this is the bread machine takes more time but it is completely hands off. It does all the stirring, resting and temperature control. I kinda like that idea!
Aside: I feel like one of those joke diagrams where someone starts to do one thing, gets distracted and starts something else and that goes on forever so the the trail they leave looks like a scribbled mess! I had no idea when I woke up this morning that I was going to make jam. In fact we are in the middle of a massive heat wave!
But I saw the recipe and was so intrigued... and I had all these fresh blueberries in my fridge... and the pectin in the cupboard... so it seemed like it was meant to be!
This makes 3 half pints so it is no big ordeal. I simmered 4 half pint jars in a dutch oven on my stove top for 15 minutes, add the covers for 5 minutes at the end and timed it so the jars were ready when the jam was ready. The extra jar is to have a Plan B if you have just over the 3 half pints!
Chef's Tips for Bread Machine Blueberry Jam
The recipe says you can substitute other fruits. I have only tried the blueberry so far. The pectin insert says to add lemon juice to strawberry, raspberry and blueberry jam. If you are making rhubarb, peach, pear or pineapple you don't need the lemon juice.
You can use fresh or frozen and thawed fruit so you can make this any time of the year.
This is a low sugar jam and does not include any water bath processing. Sugar is a preservative as is the water bath processing. That means you need to treat this jam like a freezer jam. It will keep in the fridge for 30 days but more than that it needs to be frozen.
My pectin package was 54 grams or 1.9 ounces so I had to weigh it to get 1.5 ounces.
The jam is VERY hot when it is done in the bread machine. So use gloves to remove the little pail. I set my jars on parchment paper (I usually use a tea towel) because blueberry stains so badly if you have any drips or spills -which I did! So, clean up was a cinch.
You can use a funnel to fill your jars but mine is white plastic and I was afraid it would turn 'blueberry' forever so I used a stainless steel ladle to pour it.
Leave a ½" from the top of the jar to allow for expansion during freezing.
I served my Blueberry Jam with this delicious Bagel Bread.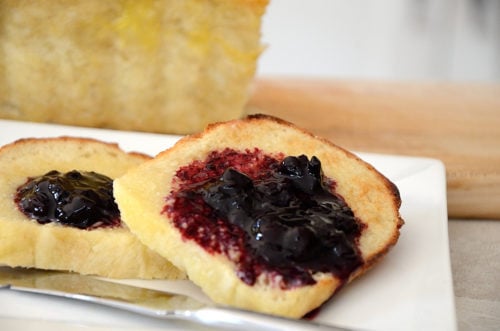 I think it would awesome with pancakes too. And...I am also going to try it as a topping for a cheesecake. The taste is so fresh and fruity. I love that it is not cloyingly sweet! It is rather fluid though so it would end up being a kind of drizzle affair down the sides but I can work with that!
Equipment
3 sealable jars

such as Mason jars
Ingredients
4

cups

fruit

crushed (thaw and crush if using frozen) See Note 2 below for other fruit recommendations.

1

cup

sugar

2

tablespoon

lemon juice

1.5

oz

powdered pectin

see Note 1 below.
Instructions
Rinse and remove any stems from blueberries. (Or defrost if using frozen). Crush fruit roughly. I used a potato masher.

Add the sugar and lemon juice and allow berries to sit for 10 minutes.

Stir in the pectin till evenly mixed.

Add berries to bread machine and start jam cycle. (This cycle is basically 15 minutes of stirring berries constantly in high heat. The mixture stews for 50 minutes being stirred occasionally. The heat seems to increase during last 5 minutes or so.) If your bread machine doesn't have a jam cycle you can cook on your stove top, preferably in a non-stick pan.

While berries are simmering heat 3 half pint jars (you may want to add an extra in case you fill slightly more than 3) on a silicone lined baking sheet in your oven at 275° for 20 minutes. Use tongs to handle hot jars and covers. Cover jar lids and bands with boiling water 5 minutes before you are ready to fill your jars.

Carefully remove the pan fromthe bread machine. Mixture is VERY hot. Ladle jam into jars, clean jar rims and sides. Position the lid and screw the band on finger tight. Dry the jars and lids.

Allow jars to sit at room temperature for 24 hours. You will hear the lids pop as they seal.

Tighten the bands by hand and refrigerate for up to 30 days or store in freezer if you won't use it in 30 days.
Notes
Note 1:  This jam is fairly loose so after making it a few times I increased the pectin to 1.75 oz.
Note 2:  You can use strawberries or raspberries instead of blueberries as written.  If you want to use rhubarb, peach, pear or pineapple you don't need to add the lemon juice.
Nutrition is per tablespoon.
Nutrition
Calories:
30
kcal
|
Carbohydrates:
8
g
|
Protein:
1
g
|
Fat:
1
g
|
Saturated Fat:
1
g
|
Polyunsaturated Fat:
1
g
|
Sodium:
3
mg
|
Potassium:
18
mg
|
Fiber:
1
g
|
Sugar:
6
g
|
Vitamin A:
60
IU
|
Vitamin C:
1
mg
|
Calcium:
1
mg
|
Iron:
1
mg