This Wine Braised Oxtail Stew is a perfect make ahead dish- it improves with flavor if you cook it one day and serve the next. You can make it and serve it same day if you like though. 
Same day -you will need about 7 hours start to finish. It is only about 30 + 30 minutes of hands on time to prep it for the oven and then strip the meat and reduce the sauce. Or you can prep and braise it one day and strip and reheat heat the next.
Campbell's Oxtail soup was one of the original condensed soups offered when the Joseph Campbell Company first started developing condensed soup recipes in 1897. The idea was so novel that the company won the Gold Medal Award of Excellence at the 1900 Paris Exhibition!
I recall Oxtail soup being in the cupboard as a child and eating it regularly.  I never once really thought about what 'oxtail' was.  Well – as it turns out it is not from an ox… but it is made from beef tails. It is thought the 'ox' reference is an archaic language carry over and that oxtail soup may have been first made by French Huguenot and Flemish immigrants to England in the late 17th century.  I read into that 'peasant-food-not-to-waste-one-bit-of-an-animal'.
Nowadays many cultures including Indonesian, Creole and French still have their own version of oxtail soup or stew.
So they must have been on to something because Oxtail soup and stews are still around 400 years later.  When you think of the the current fascination with 'bone broths' you realize the bone broth movement is really just  a return to rustic, basic cooking.  I think the 'bone-broth-marketing-board' has done a good job since the best stock recipes have always been based on simmering bones for hours. I guess the difference lies in the simmering time – bone broth simmers for 24 -48 hours while most stocks simmer  3-8 hours. (See the veal stock recipe I love if you are interested in more.)
Now I am intrigued and will have to investigate the value of extra simmering time!
Chief's Tips
So – all this to say that an oxtail stew is somewhere in between a bone broth/stock and short rib stew. You roast the oxtail sections for hours and let the marrow and gelatin release into the sauce.  The flavor improves as it sits and when it cools you can skim off the fat to leave a lovely silky, nutrient dense sauce.  Because of the natural gelatin in the oxtail you don't need to add any thickeners to the sauce which makes it gluten free!
This recipe is a great make ahead recipe.  For maximum flavor, it can be a 3 day process if you marinate the oxtails for a day, cook for a day and serve the following. It is possible to make and serve the same day if you marinate the oxtail for a few hours only, braise and then separate the fat while the stew is still warm. For that you would need one of those fat separating pourers and you may want to thicken the sauce with corn starch rather than reducing on the stove top.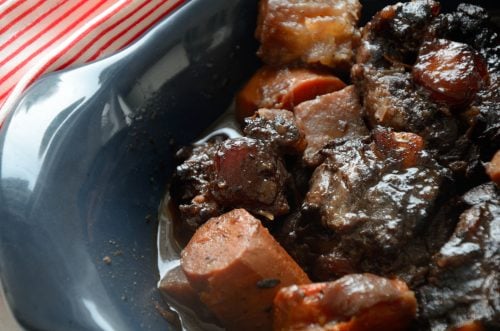 You can switch this recipe up as well.  This one calls for celeriac and carrots in the stew. I would definitely keep the carrots as an essential ingredient but you could add onions, rutabaga, celery, mushrooms -whatever you have on hand that you might normally add to a stew.
You can serve this delicious stew over pasta or mashed potatoes. You can vary the herbs to suit your taste – dried bay leaf and garlic for sure, thyme is pretty much a must, rosemary would be optional I think.
There seems to be a raging controversy on-line about whether to remove the meat from the bone. When done braising the oxtail was not fall off the bone and there was still quite a gelatinous quality so I think serving the whole oxtail portion would be a bit of an acquired taste.  I ultimately chose to strip the meat, reduce the sauce and serve over pasta. But -presentation is your choice!
So the next wintery day when you are comfy, cozy at home -consider making this wine braised oxtail stew and having a delicious, rustic comfort food to serve the next!
Wine Pairing
The recipe calls for a dry, full-bodied red wine in the sauce.  My first choices would a Cabernet Sauvignon, Cabernet Franc or Malbec. Chianti or  Merlot would also work.  If possible, serve the dish with the same wine or at least grape variety of the one you put in the sauce.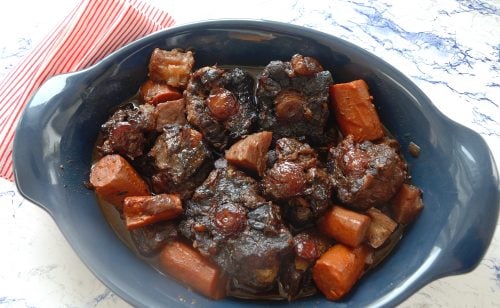 Wine Braised Oxtail Stew
Braised in wine for hours in wine, the bone marrow melts to create a rich, flavourful stew.
Print
Pin
Rate
Ingredients
4

lbs

beef oxtails

2

tsps

coarse sea salt

2

tsps

black pepper

1/2

tsp

all spice

2

Tbsps

olive oil

4

large

shallots

rough chopped

4

large

carrots

cut into 3 inch lengths

1

medium

celeriac

peeled and cut into 2" dice

2

Tbsps

tomato paste

6

cloves

garlic

rough chopped

1

bottle

dry full bodied red wine

(750 ml) I used a Cabernet Franc

1

cup

beef broth

5

parsely sprigs

2

bay leaves

2

tsp

dried thyme

2

rosemary sprigs

optional
Instructions
Rub salt, pepper and all spice over oxtail pieces. Let sit at least 2 hours and up to 24 hours.

Heat oven to 325 degrees.

Heat olive oil in a dutch oven over medium high heat. Brown the oxtail pieces in a single layer. Sear on all sides and remove to a plate when all are thoroughly browned.

Add shallots to the pan and cook about 10 minutes. Add carrot and celery root and cook another 5 minutes or so.

Add tomato paste and garlic. Cook 1 minute more.

Add the wine and beef broth to the pot. Add the herbs and simmer about 15 minutes.

Return the oxtail to the pot and bring back to a simmer. Cover the pot and transfer to the oven.

Cook about 4 hours until the meat is tender, stirring occasionally.

Allow casserole to cool slightly. Strain through a colander, reserving the solids and the liquid. Remove the herbs from the meat and vegetable mixture. Refrigerate separately. The fat will solidify and rise to the top of the sauce. Scoop off fat and discard.

In order to serve, pick the meat off the oxtail bones and set aside. Discard any bones and grizzle. Reheat the shredded meat and vegetables in a 350 degree oven 30 minutes or so till heated through. While the meat is reheating simmer the sauce on the stove over medium heat to reduce it further.

Taste the sauce in order to adjust seasonings. Add salt, pepper to taste.

Serve the stew over pasta or mashed potatoes. Pour the sauce over the dish or pass separately.
Nutrition
Calories:
326
kcal
|
Carbohydrates:
13
g
|
Protein:
22
g
|
Fat:
13
g
|
Saturated Fat:
4
g
|
Polyunsaturated Fat:
0.4
g
|
Monounsaturated Fat:
4
g
|
Cholesterol:
64
mg
|
Sodium:
826
mg
|
Potassium:
477
mg
|
Fiber:
3
g
|
Sugar:
4
g