Curious about Port wine but not sure how to get started? Here is a beginner's guide to the types of Port wine and how to serve them.
While Port is delicious any time of the year it is particularly appealing on a cold, winter evening when you can curl up beside a fire with a glass of beautiful Port and some interesting cheeses, nuts and/or chocolate!
Port has a bit of a posh aspect to it – think British libraries with the Lord of the Manor beside a cozy fire with a glass of port! Once you are familiar with Port wines you will see that it makes a greatly appreciated gift. It is also a very easy way to entertain elegantly.
What is Port Wine?
Fun Facts About Port
Port is a fortified wine produced in the Douro Valley of Portugal. Only Port from this region can legally be sold as 'port'.
Still red wine is fortified with a grape spirit known as aguardente that stops the fermentation, resulting in a sweet wine 19-22% Alcohol by Volume.
Port is typically a sweet red wine usually served as a dessert wine, although there are white ports and semi-dry styles of Port. Port may also be served as an aperitif.
Port is typically a blend of mainly 5 grapes –Touriga Nacional, Touriga Francesa, Tinta Barroca, Tinto C~ao and Tinta Roriz (Tempranillo), although over 100 varities are authorized for use in Port wine.
White Port is a blend of Codega, Malvasia Fina, Rabitgato and Vioshinho grapes and can be dry to sweet. Served chilled as an aperitif or mixed with tonic it is a refreshing summer drink.
Main Types of Port
Inexpensive
Ruby – Blends 1-3 years old, stored in stainless steel or concrete to retain its bright colour and fruity character. Premium Ruby Ports may be aged in wood 4-6 years.
Tawny (No age specified) – a brownish tinged blend 1-3 years old that has been manipulated to exhibit the tawny shade by adding white port, accelerating maturation in the Douro region, less skin contact or heavy fining (filtering) to remove colour.
Reserva – Label can be applied to Ruby or Tawny designating higher than the basic quality and complexity. Reserva qualification is determined by an official tasting panel. Reserve Tawny must be aged a minimum of 6 years in wood.
Ruby, Tawny and Reserva are ready to drink upon release.
White Port- usually bottled young although some can be wood aged similar to tawny Ports. Can be dry to sweet. Ready to drink upon release.
Ports of Distinction
Single Quinta Vintage Ports– Ports produced from a single estate. High quality but generally less prestigious than a Vintage Port. Best examples though not quite good enough to declared a Vintage.
Tawny with an Indication of Age – typically 10, 20, 30 or 40 years. These blends undergo a long period of maturation in wood. The age on the label is the average of the blend. The label must state the year of bottling because these ports start to lose their freshness after bottling. These ports are considered the best due to their complexity and concentration.
Vintage Port – not declared every year. On average vintage ports are only declared about 3 times per decade. Vintage ports are a blend of the finest wines from the producer's best vineyards. Each individual producer can choose to declare a vintage or not.
Vintage Ports if unfiltered and unfined on release will benefit from bottle aging for years if not decades. These wines will throw a heavy sediment and will require careful decanting prior to drinking.
Late Bottled Vintage (LBV) – Vintage ports that have been aged 4-6 years before bottling. Generally ready to be consumed on release.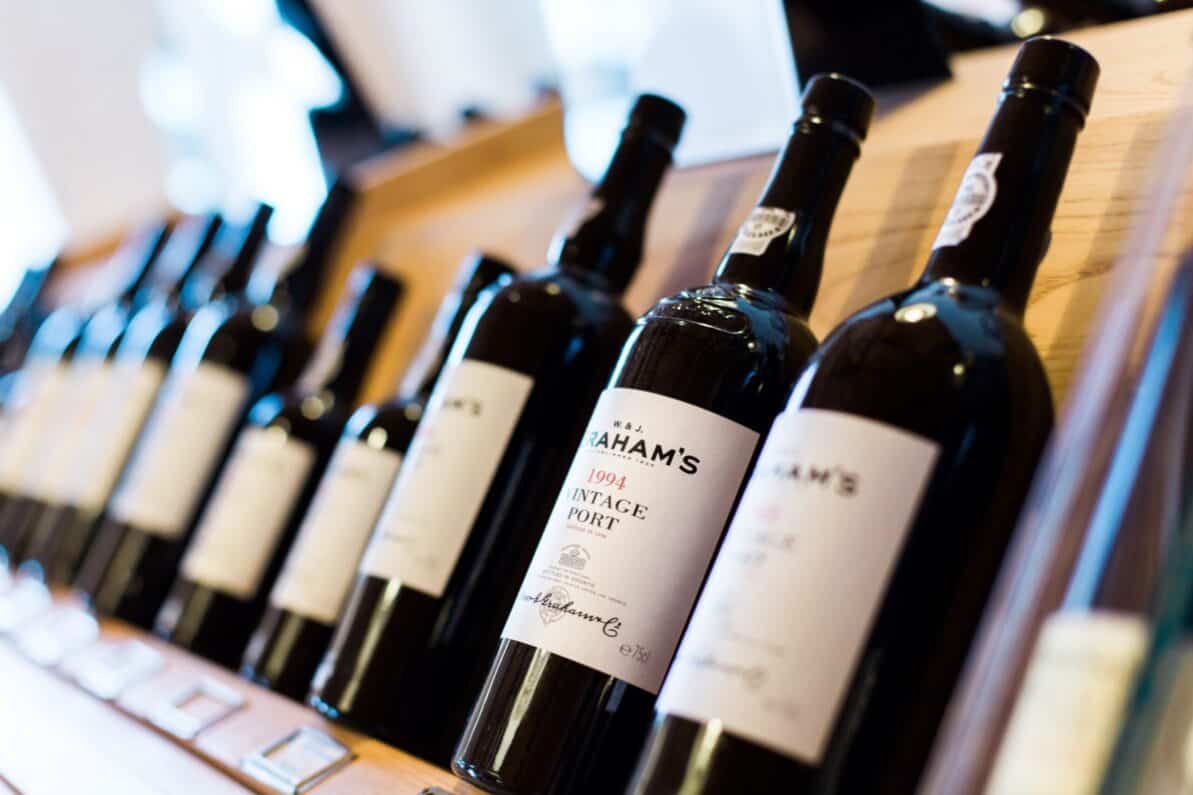 How Do They Decide if a Port is Vintage?
The decision to declare a Vintage or not lies with each and every Port producer or shipper individually, every year. Producers assess the quality of that year's port production for the first 15 months. Essentially they are looking for outstanding taste and structure that will ensure the Port will age well for 50 years or more!
A Vintage assessment must be made by the second January after harvest. A sample must then be sent to the Port and Douro Wines Institute (IVDP) who will make a ruling by late April or May. If sale as a Vintage port is approved producer will launch the vintage with cask samples. Bottling must be completed by the end of July of the third year but many producers bottle earlier.
Port Producers
Some of the most prestigious Port houses are:
Broadbent, Cockburn, Quinta do Noval, Ferreira, Graham's, Taylor's and Warre's, Dow's, Smith-Woodhouse
Having said that – Port production is so well regulated and has such wide blending options I have to say I don't think I have ever had a bad or truly disappointing Port. Sure – some are better than others but I believe Port, in general, offers some of the best 'bang for your buck' as far as a satisfying pour goes!
How Much Does Port Cost?
Inexpensive Ports tend to run in the $20-35 range. There are many fine Ports in the $20-$25 range. (All prices are $CDN).
Premium Ports can start in the $30 range and go up with the quality and/or aging.
So a Quinta Port tends to be less expensive than an Vintage Port. A Vintage Port price will be determined by the quality of the year in question and how old it is. If you buy a Vintage Port as soon as it is released and cellar it yourself you will save a lot of money! If you (can find and) buy an older Vintage Port you will be paying a premium for each year it has been commercially stored.
Tawny Port prices are commensurate with the age indication on the bottle. A 10 year old Tawny may start in the mid $30 range while 30 and 40 year olds are easily in the hundreds of dollars.
As an example the Average price of Dow's Vintage Port 2011 now in 2022 is in the $200+ range. Taylor Fladgate 40-Year-Old Tawny Port is currently $235.00
Port Quality by Year
| | | | | |
| --- | --- | --- | --- | --- |
| Universally Declared- Outstanding | Widely Declared- Magnificent | Limited Declaration Good | Mostly Single Quinta | Challenging Year |
| 2000 2011 | 2003 2007 2016 2017 2018 2019 | 2009 2020 | 1998 2004 2005 2006 2008 2012 2013 2014 2015 | 1999 2001 2002 2010 |
Storage
Ruby, Tawny and Late Bottled Vintage Ports are ready to be drunk upon release.
Tawny Port with Age Indicator is ready to drink on release but will keep well for years. However –note that the date of bottling is a requirement for these ports because they technically start to deteriorate after bottling.
Vintage Ports are the stuff of collector's dreams. Unfiltered are best cellared often for 20 years. These are the only ports that actually benefit from cellar aging after bottling.
While many unopened Ports will keep for years or decades due to the concentration  of sugar, high alcohol and good quality,  unless unfiltered is specified on the bottle don't expect the port to improve with bottle age.
And… how long can you keep Port after it has been opened? Due to its richness, unless you are having a party chances are good you will be dipping in to that bottle of Port over the course of a few evenings or weeks. Opened Port will keep well if tightly sealed and refrigerated for up to a month or so. If you use a tool to remove the oxygen from the bottle then you have a bit of extra insurance but unless you are talking about an extra special Port you probably won't see much difference between a tight seal and the oxygen extraction.
Remove Port from the fridge about 1/2 hour before you plan to serve it.
How to Serve Port
Port is ideally served in about a 3 oz portion due to its high sugar and alcohol content. The glass is proportionately smaller with a small bowl and a smaller lip. See the photo below.
Port Pairings
| | | | | | |
| --- | --- | --- | --- | --- | --- |
| Port | Ruby | Late Bottled Vintage | Vintage Port | Tawny | White Port |
| Flavour | Bright, ripe red raspberry, black cherry with some plum and dates. Smooth with very subtle tannins. | Black currants, cherry, chocolate with some prune or raisin flavour. Some leather, earthiness flavour and moderate tannins. | Concentrated black berry, black cherry, raspberry, chocolate, fig, coffee and smokiness. Tannins will be smooth after aging. | Nutty, caramelized toffee with smoky vanilla, orange, fig and coffee notes. | Citrus and stone fruit with nutty, honeyed raisin. Often dry or semi-sweet. |
| Pairing | Soft cheeses, Blue cheese, rich chocolate. | Dark chocolate, strong cheeses such as aged Parmesan or Stilton. | Blue cheese, chocolate, dried figs, nuts. | Dried apricots, dried figs, almonds, spiced nuts, dates. Aged cheeses – Manchego, Pecorino, Mango Stilton. | Salted almonds. Smoked salmon, sushi. Charcuterie including olives, medium cheeses like Gruyere, medium cheddar. |
| Serving and Storing | Serve slightly chilled (55-65 degrees). Will keep several weeks after opening if well sealed in the fridge. | Serve slightly chilled (55-65 degrees). Will keep a few weeks after opening if well sealed in the fridge. | Serve at 65 degrees. Vintage ports will develop heavy sediment during cellaring so decant carefully before pouring. | Serve slightly chilled (55-65 degrees). Decanting is not required. Will keep a month after opening if well sealed in the fridge. | Serve chilled at 45-50 degrees. Decanting is not required. Will keep a few weeks after opening if well sealed in the fridge |