You know the ones...those artisanal crackers with cranberries and pistachios, or various seeds and nuts.  You may be happy to know you can make all kinds of variations with just a few ingredients at a fraction of the cost.
I love those crackers but I always shudder when I see the price at almost $8.00 for one sleeve of crackers.   Now I don't have to!
I was so excited when Nagi from Recipe Tin Eats shared her version that I got up from my chair immediately and made a couple of batches.
The ingredients are relatively simple, although there are a lot of them!  It is easy to dump them all in a bowl, kind of like making muffins but with more ingredients.  The cooking is a double bake similar to biscotti so they get nice and dry and crisp.
Freezing the little loafs helps to slice them cracker thin.  So it takes a bit of elapsed time to make, bake, freeze and re-bake but trust me... it is worth it!  The freezing means you can make them ahead, store them frozen and do the second bake whenever you need them.  They also keep in and air tight container for up to four weeks.
I have mini loaf pans 6" X 3" by 2 ¾" deep.  They make a great finished cracker size.  You don't have to invest in mini pans- you can buy disposable ones in foil or cardboard.  I get the heavy cardboard mini moulds from the Bulk Barn and/or the Dollar Store.
When I served them to guests  they looked up in surprise on the.very.first.bite and asked what they were and where they came from!
The other bonus is you can switch up any dried fruit and nut or seed combination that you like.
I made a batch with cranberry and pistachio nuts and another with dried apricots and almonds.  I am planning to make a batch with dried figs and pistachio and another with raisins and sunflower seeds.  I am also wondering about getting a combo together with pine nuts.  I will update this post when I have made the other combinations.
In the meantime I can confirm that the apricot/almond cracker was delicious with Stilton Cheese with Mango and Ginger.  And they both were to die for with creamy Brie.  The Brie just acted as a foil for all the savouriness of the crackers.
You may also like my Gluten Free Nut Bread Crackers!
I am so excited to share this find with you!  Enoy!
Pin it for later!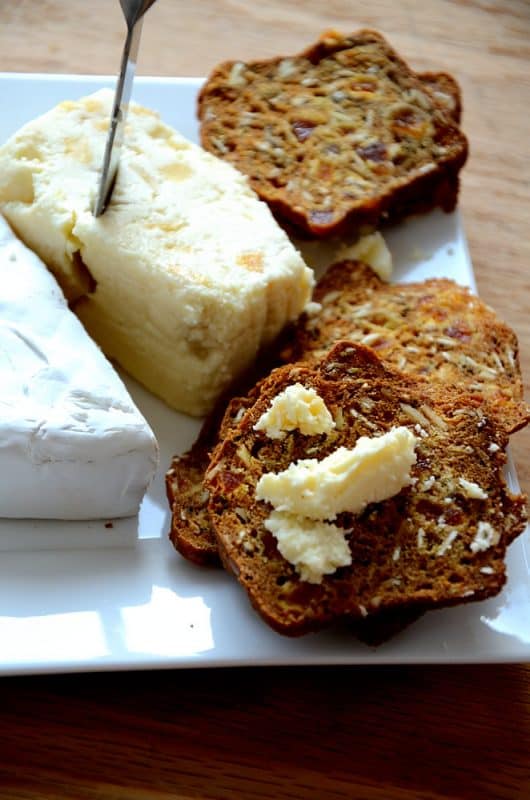 Ingredients
1

cup

milk

¼

cup

packed brown sugar

¼

cup

plain yogurt

1

cup

all purpose flour

(or ½ cup white/1/2 cup whole wheat)

½

cup

dried cranberries

roughly chopped

1

teaspoon

baking soda

½

cup

rolled oats

¼

cup

pistachio

shelled and roughly chopped
Spices
½

teaspoon

turmeric

optional

½

teaspoon

cinnamon

¼

teaspoon

nutmeg

¼

dried thyme

1

teaspoon

dried rosemary

(or dried Italian spices)

¼

teaspoon

salt

⅛

tsp

black pepper
Instructions
Preheat oven to 350 degrees. Spray your loaf tins with cooking spray. Line with parchment paper if you are concerned with removing them from the pan.

Mix the milk, sugar and yogurt in a bowl.

Mix the flour and cranberries in a separate bowl. Stir it up so the cranberries are coated.

Add the remaining ingredients to the dry mix. Stir to mix evenly and then stir in the milk mixture. Don't over mix. (It should look similar to a muffin batter).

Divide batter evenly among your loaf pans. Bake 25-30 minutes until a toothpick in the middle comes out clean.

Cool on a rack. When completely cool wrap in plastic wrap and freeze. Freeze at least 2 hours or up to 3 months.

Remove loaves from freezer at least 90 minutes before serving. Defrost loaves about 20-30 minutes before you slice them. (They are easier to cut very thinly if semi-frozen).

Preheat oven to 250 degrees. Line 2 baking sheets with parchment paper. Separate oven racks to lower and middle of the oven.

Using a very sharp, serrate bread knife slice loaves into thin slices about ¼ inch thick. (Err on the thin side of slicing rather than thicker.)

Arrange slices on the baking sheets. They will not change shape so you can pack them closely together.

Bake for 50 minutes, switching the trays half way through.

Crackers should be golden brown when done baking. Allow crackers to cool on the trays. They will harden as they cool.

Store in an airtight container for up to four weeks.
Nutrition
Calories:
27
kcal
|
Carbohydrates:
5
g
|
Protein:
1
g
|
Fat:
0.4
g
|
Saturated Fat:
0.1
g
|
Polyunsaturated Fat:
0.1
g
|
Monounsaturated Fat:
0.2
g
|
Cholesterol:
0.5
mg
|
Sodium:
30
mg
|
Potassium:
24
mg
|
Fiber:
0.4
g
|
Sugar:
2
g