You can't find any easier way than classic Bordelaise Sauce to enhance your Sunday roast or Saturday BBQ.
There are only a few ingredients so searching out the best of them is essential to ending up with a great sauce.
The traditional wine is a dry, red Bordeaux (Bordelaise means 'from Bordeaux'). Use a quality of wine you would drink. As a matter of fact - use the same wine you intend to serve with your meal if possible.
Any dry red wine will work - so go back to the 'use the wine you intend to serve with your dinner' approach if not using a Bordeaux.
The second crucial thing is to use the best quality stock you can access. I make my own beef and veal stock and freeze or preserve it so I have this covered perfectly at short notice. Failing that look for veal stock sold in gourmet shops or the best quality stock you can find, I don't suggest trying this sauce with dissolving cubes - they are just too salty and not rich enough.
Add in the pan juices from the beef you are cooking is not traditional but I can't bear not to take advantage of that extra flavour! the good news though is - if you are making steaks or tenderloin where there is little to no pan juices to be had the sauce will still be rich and flavourful.
I served it on this Sirloin Tip Roast and it was delicious!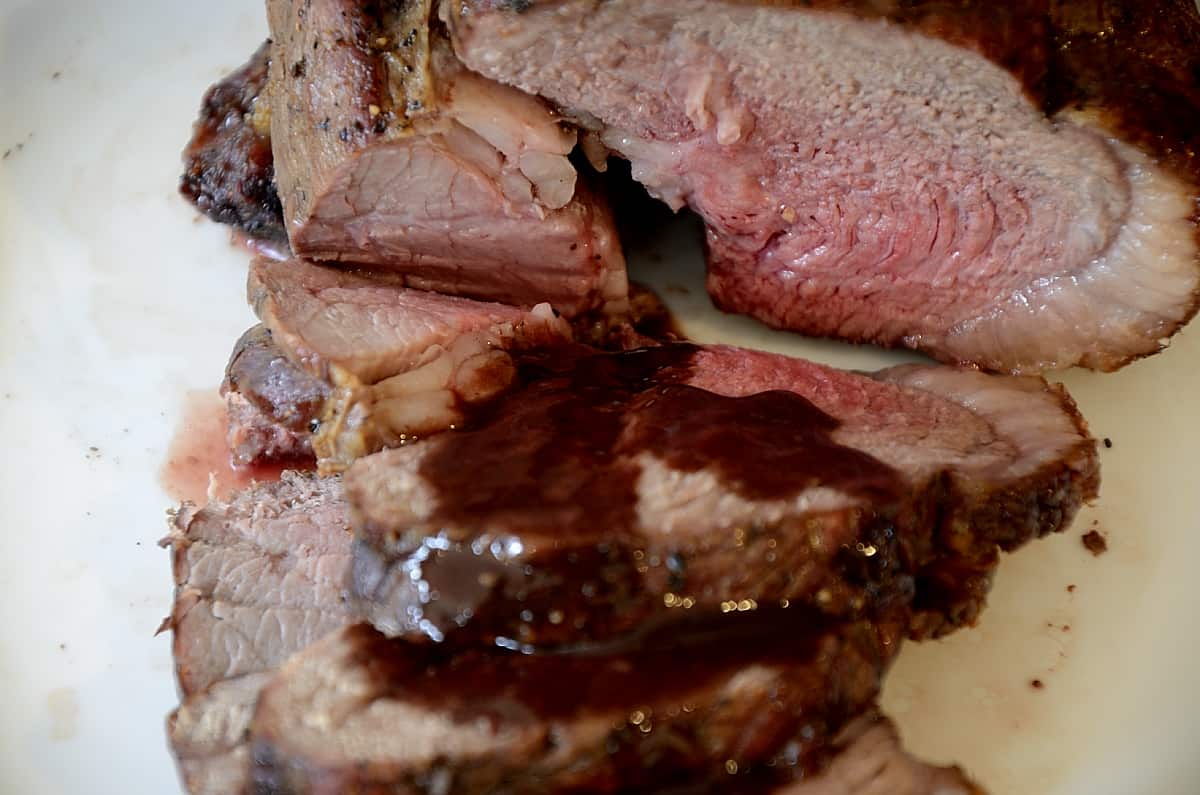 Honestly - the reduction time is in the 20-35 minute time frame but it is not really active time. You just have to be near by to stir occasionally and watch it doesn't boil away.
Wine Pairing for Bordelaise Sauce
Well - this is easy. The traditional wine is a red Bordeaux since this recipe is a signature Bordeaux recipe. Use good quality and plan t serve the rest of the bottle with your meal. (Or sip on it while you are cooking and open another the same at dinner!).
Next best- use a Bordeaux in the sauce and open another Bordeaux at dinner. You may choose to do this if you are serving a special and/or expensive dinner wine. You don't have to cook with 'the best' but it should be good quality.
Having said that- any dry full-bodied red wine will work. You could use a Cabernet Sauvignon, a Merlot or a Malbec. Just remember to match the wine in the sauce to what you are serving with the dinner.
Ingredients
¾

cup

dry red wine

Bordeaux is the traditional wine used. Try to use the same wine you intend to serve with the meal.

2

medium

shallots

¼

teaspoon

dried thyme

1

bay leaf

2

cups

beef or veal stock

pan juices

optional - See Note 3

¼

teaspoon

salt

See Note 1

¼

tsp

ground black pepper
Optional Thickener
1

tablespoon

unsalted butter

See Note 2

1

tablespoon

flour
Instructions
Cominbe red wine, shallots, thyme and bay leaf in a small sauce pan. Boil over medium heat until reduced to about half. You should have between ⅓ and ½ cup.

Add the beef or veal stock and return to a boil. Boil until reduced to about 1 ⅓ cups. This may take 15-20 minutes depending on the size of your saucepan and the level of heat. If you are cooking a roast and have pan juices you can add them in to the sauce as it is reducing. Avoid adding a lot of fat with the pan juices. The sauce should reduce to coat the back of a metal spoon.

Pour the sauce through a seive to remove solids. If there is any visible fat on the surface skim it off.

Return sauce to the pan, add salt and pepper and taste test. Adjust salt and pepper to taste.

Note this sauce is thinner than gravy. If you want it a bit thicker - cream the butter and flour together and melt one teaspoon at a time in to the sauce. Continue to simmer and add the remaining butter/flour mixture. The sauce will not (should not be as thick as a traditional gravy).
Notes
Note 1 - Do not add salt until after the sauce has reduced or it will be too concentrated and salty.
Note 2- The traditional method is to not use any thickening agent in the sauce.  I use a thickener when I want to ensure I have a generous amount of sauce and the straight reduction method leaves a lesser amount of sauce.  The sauce is rich so you don't need a lot- only a few tablespoons per serving.
Note 3 - Pan juices are not a traditional addition.  I just can't bear to let any of the amazing flavour go to waste.  Just be sure not to introduce a lot of fat from the juices.  The final sauce should be silky and 'clean'.
Nutrition is per Tablespoon and does not include pan juices.
Nutrition
Calories:
16
kcal
|
Carbohydrates:
1
g
|
Protein:
1
g
|
Fat:
1
g
|
Saturated Fat:
1
g
|
Polyunsaturated Fat:
1
g
|
Monounsaturated Fat:
1
g
|
Trans Fat:
1
g
|
Cholesterol:
1
mg
|
Sodium:
64
mg
|
Potassium:
45
mg
|
Fiber:
1
g
|
Sugar:
1
g
|
Vitamin A:
15
IU
|
Vitamin C:
1
mg
|
Calcium:
3
mg
|
Iron:
1
mg