These Serrano Ham with Fig and Walnut Tapas have a lot of salty, sweet flavour going on!  And they are so simple to make.
[ultimate-recipe-jump text="Take Me to the Recipe!"]
These are definitely the kind of appetizers or canapés you want to know about!  They are very quick to make.
The number of pieces will vary depending on the length of your baguette.  You will have to vary the rest of the toppings accordingly if you have more or less than 16 slices.
We had these at a wine tasting where Rioja wines were being showcased.  They were chosen because the serrano ham from Spain, figs and walnuts are classic pairings with Rioja wine.  Thank you Rita and Barb! We were not disappointed!
These were the hit of the appetizers!
Other Tapas
If you are interested in experimenting with Rioja wines and other types of tapas check out Everything You Need to Host a Tapas and Rioja Wine Tasting.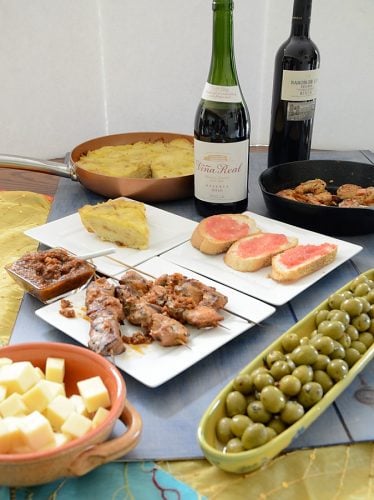 You might also like these Sherry Tapas Meatballs.  The picture does not do these justice.  When I served them people wanted to drink the sauce and carefully partitioned out leftovers so we could all have another taste of them the following day.  Yes- they are that good!
I love the whole aspect of tapas where you get to try small, sample size portions of many dishes.  My husband is a 'non-sharer' when it comes to food.  I have learned not to ask to sample a bite of this or that.  Nor does he like to split dishes. If he is havin' it , he's havin' it all!  So...tapas build in the chance for me  to sample various small dishes.
Interestingly enough, some of the best tapas I have had outside of Spain were in Copenhagen.  We finished off our tapas meal with a non-Spanish-like dessert, but rather a Danish favourite.  I think they called it the Emperor's Warm Pudding or something.  It was the most divine, warm, caramel, cinnamon-y bread pudding I have ever had.  I tried to recreate it with this Caramel Bread Pudding.  It is a cinch to make if you use Cinnamon Bread and store bought Caramel Sauce.
Ingredients
1

16"

French baguette

sliced 1" thick

4

oz

cream cheese

4

slices

serrano ham

You may substitute prosciutto

32

walnut halves

4

dried figs

quartered vertically

Balsamic fig glaze

optional
Instructions
Spread cream cheese thinly on each slice of baguette.

Divide serrano ham slices into 4 equal pieces. Top cream cheese with a piece of ham. Crimp ham so it is scrunched up a bit and leaves some cream cheese surface open.

Secure 1 dried fig piece and 2 walnut halves on top of the open cream cheese surface and in the folds of the ham.

Drizzle lightly with Balsamic Fig Glaze if using.