This Pork Osso Buco may well be the most flavourful version of Osso Buco you will every try.
A half hour of prep and you are free to move on with your chores while this braises in the oven. It is hard to describe how rewarding this dish is …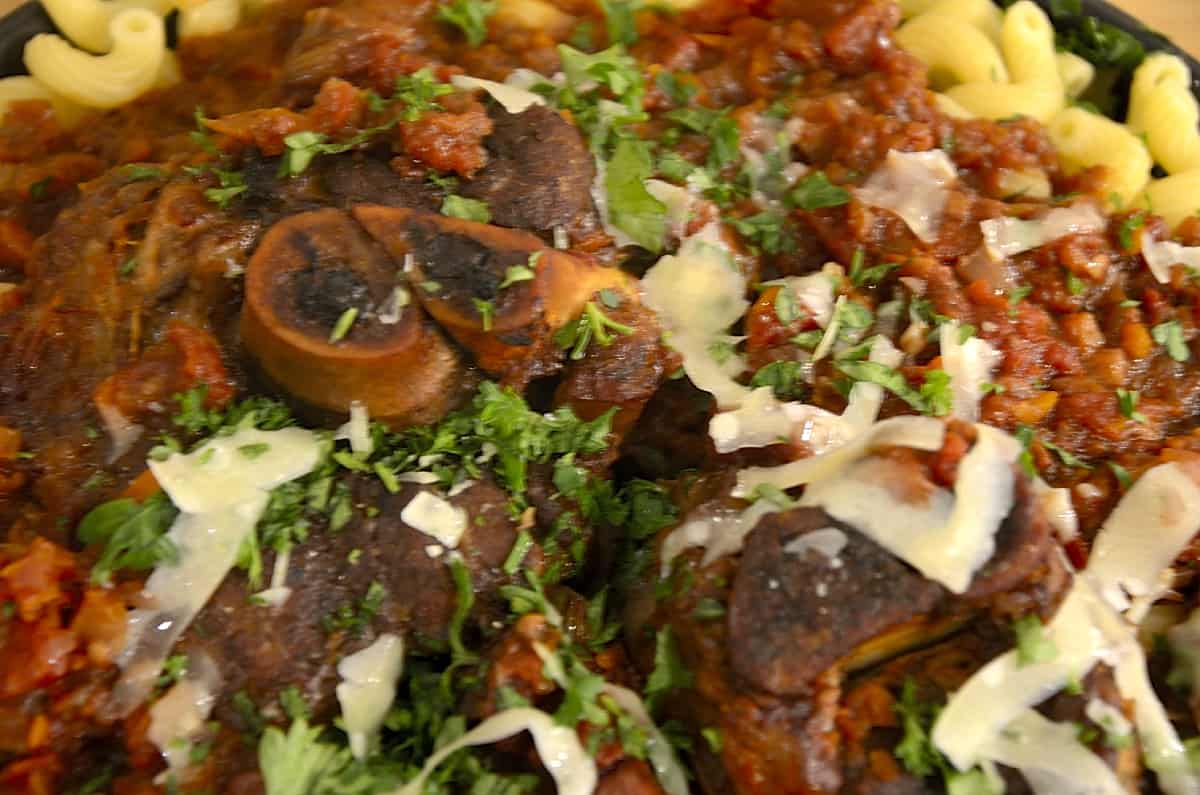 I have to admit that the idea of actually cooking with pork shank, I found off putting. It reminds me of meals served in taverns to rowdy patrons. (Not sure why??? but there you go!)
But – I must have been a peasant in a previous life because I am a sure fire candidate to love any potato based meal, cheese and bread, soup etc.
So – I decided to give this a try – partly because I absolutely loved the Veal Osso Buco I made a while back and have been dreaming of ever since.
I can't quite decide which I like better but the price difference between pork shanks ($1.99 vs $10.99 is pretty compelling!)
I highly recommend removing the thick skin/fat layer that circles the shank. That way you won't have to skim fat off your sauce at the end. You will need to tie the shank with kitchen twine to encircle the meat so it doesn't fall apart trying to serve it. Tie that twine tightly becauce the meat will shrink during the cooking.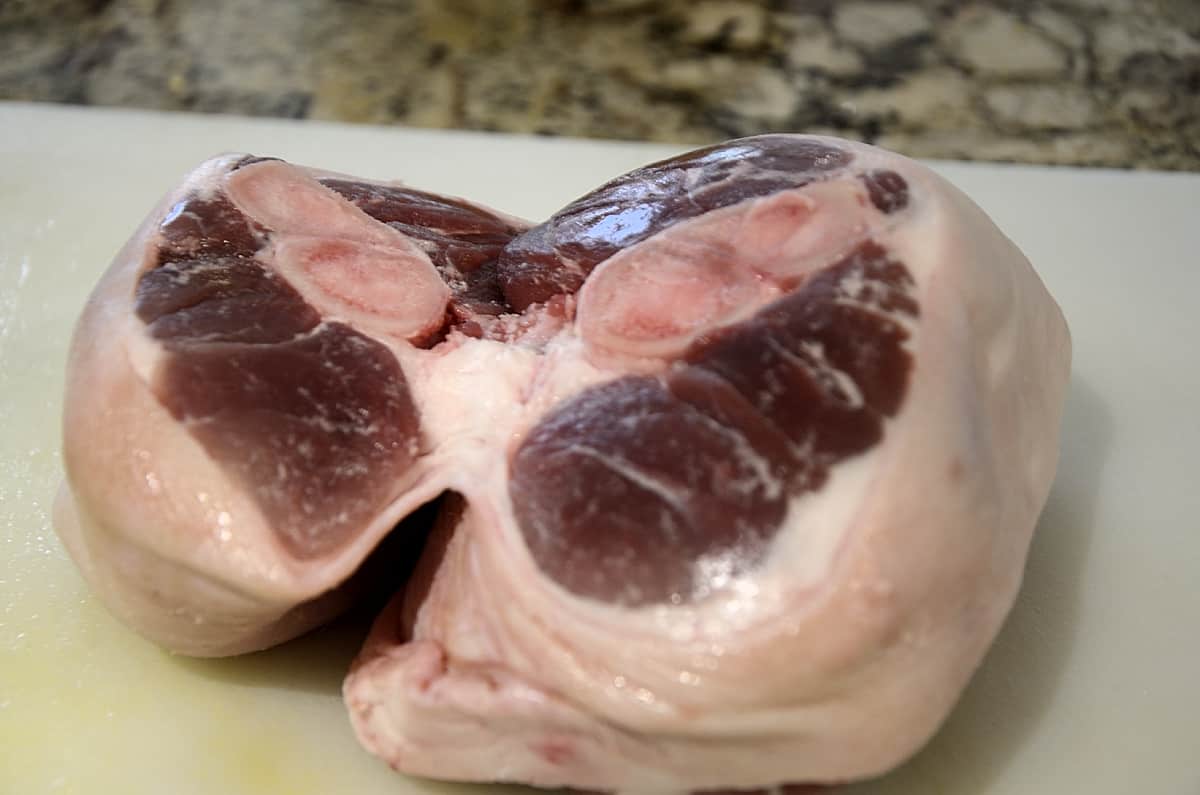 I had lots of sauce left over – what a happy bonus!! I saved it and used it as a pasta sauce another time. It is so flavourful your pasta doesn't really need anything else but you could add meat balls or a side cut of meat if you want to round out a meal.
It will also make an awesome base for a soup- thin it with a bit of broth to a consistency you like and add some rice or veggies.
I am so excited about this dish – I can't wait to make it again. So- if you are a bet leery of pork shanks I encourage you respectfully to 'get over it' and give this a try. I promise you won't be sorry.
Wine Pairing for Pork Osso Buco
The default for this dish would be red – a medium to full- bodied one with medium tannins. Think Chianti, Barbera, Sangiovese to honour the Italian roots of this dish.
A Tempranillo, Merlot or GSM blend would also work.
Use the same wine in the sauce that you plan to serve it with if possible. Or at least the same varietal. Example if you are planning on serving a premium Chianti with this choose a cheaper Chianti or Sangiovese in the sauce.
White – think of matching the acid in the wine to the acidity of the tomato sauce. A Pinot Grigio, Soave Classico. Avoid oaky whites that will clash with the acidity of the sauce.
Ingredients
4

pork shanks

1/4

cup

flour

salt and pepper for seasoning

3

Tbsps

olive oil

1

large

onion

chopped

2

large

carrots

peeled and chopped

4

stalks

celery

trimmed and choppped

3

clovers

garlic

minced

1/2

tsp

crushed red pepper

28

oz

crushed tomatoes

1

cup

red wine

2

Tbsps

tomato paste

or ketchup

1 1/2

cups

chicken stock

4

sprigs

thyme

4

sprigs

rosemary

parsley for garnish

optional
Instructions
Trim the skin/fat layer from around the pork shank with a very sharp knife. Tie the shank with kitchen twine to hold it together during cooking.

Dredge pork shanks in the flour till evenly coated and season all over with salt and pepper.

Sear shanks over medium high heat about 2 minutes per side. Remove shanks to a platter and set aside.

If the oil is burnt, wipe the dutch oven with a paper towel but leave the brown bits on the bottom. If it looks too dry add a Tbsp of butter or oil and melt before adding the onions, carrots and celery to the dutch oven.

Cook over medium heat about 5 minutes. Add the garlic and cook 1 minute more. Then add the red wine, reduce the heat and scrape up all the brown bits from the bottom of the Dutch oven.

Add the stock, tomatoes, tomato paste and red pepper flakes and herbs to the pan. Return the shanks to the pot and simmer about 5 minutes.

Preheat oven to 325° F while sauce is simmering.

Cover and allow shanks to braise 3 hours in the oven.

If there is fat floating on top of the sauce skim some off but leave some because it holds incredile flavour. (I didn't have much because the skin/fat layer has been removed.) Stir sauce well.

Transfer shanks to a platter and spoon sauce over it generously. Garnish with parsely if desired.

Serve over pasta, polenta or potatoes.
Notes
Note:  You may have sauce left over.  It is delicious over pasta on its own or thin it down to make broth for a soup.
Nutrition
Calories:
315
kcal
|
Carbohydrates:
36
g
|
Protein:
8
g
|
Fat:
13
g
|
Saturated Fat:
2
g
|
Polyunsaturated Fat:
2
g
|
Monounsaturated Fat:
8
g
|
Cholesterol:
3
mg
|
Sodium:
520
mg
|
Potassium:
1134
mg
|
Fiber:
7
g
|
Sugar:
16
g
|
Vitamin A:
6872
IU
|
Vitamin C:
28
mg
|
Calcium:
123
mg
|
Iron:
4
mg