You can celebrate Oktoberfest with this Oktoberfest Schnitzel no matter where you are!
We are coming up to Oktoberfest here in Kitchener-Waterloo which is always a fun time of year.  The city fills up with tourists and locals out enjoying the singing, dancing, festhalls and yes the beer!
The famous keg tapping takes place at noon on the Friday before Thanksgiving every year.  Oktoberfest officials complete in lederhosen (leather shorts) and jaunty feathered hats officially tap the keg of beer while polka bands play for the crowd. Vendors in dirndls prepare sauerkraut and sausages on a bun, or schnitzel on a bun.
And that is just the beginning!  The Festhalls – 17 official ones this year- are alive every afternoon and evening for 9 days with games, bands, singing, dancing. But the truth is every pub and legion halls gets in on the act with German food and bands.
The Oktoberfest parade takes place on Thanksgiving Monday every year.  The route is about 5 kilometers long and it takes about 1 1/2 hours to view in full.  There are floats and marching bands and Oktoberfest characters to animate the young and old along the route.
What Else to Serve with Oktoberfest Schnitzel
So, in honour of Oktoberfest I am offering up some of our favourite German recipes – Schnitzel, red cabbage, potato salads, and sauerkraut and sausages!
We have restaurants in Kitchener that have pages and pages of schnitzel varieties.  The traditional schnitzel is usually Wiener Schnitzel (ie from Vienna) and is made with veal. In a restaurant they can literally cover the entire plate.
In my husband's family, as in many German families, we always use pork for our schnitzel.  In a grocery store in this region a schnitzel cut would most likely be an escalope from pork leg.  I cut my own using a pork center loin roast (so boneless and very lean except for the fat cap).  I remove the fat cap and then slice it about 1/2″ thick, then pound it to 1/4″.
My mother-in-law used to use pork tenderloin slices and then pounded the slice to 1/4″ which made for a rather small but tasty, tender schnitzel!
Whichever you use – I use a double layer of plastic wrap top and bottom and a meat mallet to pound the cutlets.  This stops the bits of meat from becoming lodged in the meat mallet and it is a lot easier to clean up.
Once your cutlets have been pounded you will need 3 shallow dishes to dredge the cutlets, first in flour, then in whisked eggs, then in bread crumbs.
I dredge each cutlet and put them on a fresh platter.  You don't have to but I find if I refrigerate them for at least 30 minutes the coating doesn't fall off when you are handling and frying them.  This also means they are very easy to make ahead.  I have prepared the breaded cutlets a day ahead of time, sealed them well on the platter and cooked them the following day.
Serve traditional schnitzel with lemon slices to drizzle over the cutlet. This goes well with Slow Cooker Red Cabbage and Warm Beer Potato Salad or Creamy Warm Potato Salad.
I have also discovered a Mushroom Brandy Cream Sauce that is delicious as a topping as well.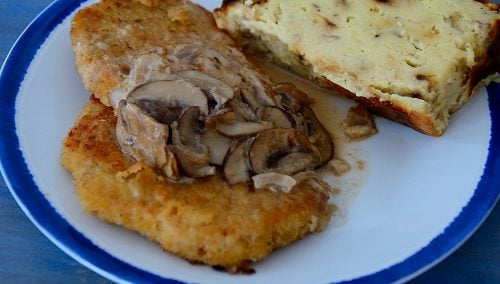 Ingredients
2

lbs

pork center loin roast

all visible fat removed

1

cup

flour

more if needed

1

tsp

salt

1/2

tsp

pepper

3

eggs

whisked with 1 Tbsp water

2

cups

fine bread crumbs

more if needed

canola oil for frying

lemon wedges
Instructions
Trim fat cap off loin roast and slice into slices about 1/2" thick. You should get about 12 slices.

Put meat one slice at a time between 2 pieces of heavy plastic wrap or in a zip lock type bag. Pound with a meat mallet all over until cutlet is about 1/4" thick and evenly texturized.

Put flour, salt and pepper in a re-sealable bag (use a shallow bowl if you want). Place 2 or 3 slices of meat in the bag and shake to coat. Make sure the cutlet is completely covered in flour but shake off any excess. Repeat until all slices are coated with flour and seasoning.

Set up a station with a wide bowl for each of the egg and bread crumbs.

Dredge each floured escalope first in the egg then the breadcrumbs. Let any excess egg wash drip off before moving on to breadcrumbs. Make sure the cutlet is completely coated (no bare finger marks).

Place on a platter until all escalopes are breaded.

Heat canola oil in a heavy skillet over high heat.

Have an oven proof platter or dish ready. Preheat oven to about 300 degrees.

Reduce heat to medium, then place 1 -2 schnitzels in the pan at a time. Do not over crowd- each schnitzel should lay flat without touching the other. Oil should sizzle when you add schnitzel.

Fry about 3 minutes on first side, then flip and fry another 1-2 minutes. Remove from pan, lay on a paper towel to soak up any excess oil. Then move to the oven proof dish and keep warm in the oven until all schnitzels are done.

Add fresh oil to the pan as needed.
Nutrition
Calories:
460
kcal
|
Carbohydrates:
44
g
|
Protein:
44
g
|
Fat:
11
g
|
Saturated Fat:
3
g
|
Cholesterol:
177
mg
|
Sodium:
1028
mg
|
Potassium:
711
mg
|
Fiber:
3
g
|
Sugar:
2
g
|
Vitamin A:
196
IU
|
Vitamin C:
1
mg
|
Calcium:
96
mg
|
Iron:
4
mg