Why not spoil Mom and your guests with this elegant and tasty Mother's Day Luncheon Buffet of tea sandwiches and other delectable, dainty bites?  Pull out the china and raid the garden for daffodils and pansies and you are well on your way!
The flavours in this throwback buffet are rather delicate and they complement each other nicely. Many of the recipes would also work well for a picnic or shower.
Set your table with fresh flowers as accents.  If you are fortunate you may have daffodils, narcissus, violets, hyacinths or grape hyacinths or pansies in your garden. You might have cherry blossoms, magnolia or forsythia branches you could incorporate into your tablescape as well.
I used my mother's china to display the tea sandwiches. I took a serving plate, a dinner plate and a dessert plate from my mother's china set and built a graded 3 tiered tree using pretty wine glasses to separate the tiers.  I used fairly squat wine glasses with a medium size bowl and base so the layers would be sturdy.  Position it to the back of the buffet against the wall if you are worried about sturdiness (or spring for a 3 -tiered serving tray!).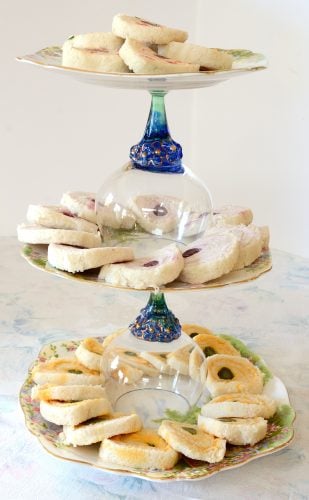 Here are the recipes for the  Rolled Tea Sandwich Tree with  Cherry Cream Cheese Sandwiches,  Cheese Whiz Rolls and Creamy Goat Cheese Rolls.

I also served some dainty Open Faced Cucumber Tea Sandwiches and Creamy Goat Cheese Open Face Sandwiches. There is a also a relish tray with Sweet Gherkins left over from the Cheese Whiz Rolls, Sweet Pickled Onions and Dill Pickles.  I have a soft spot for sweet gherkins and sweet pickled onions... they just feel like a party!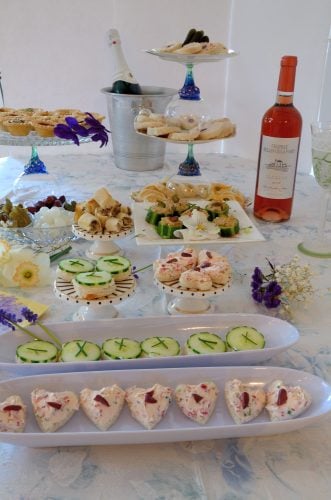 To up the veggie quotient I added in some Cucumber Tuna Bites.  These are low carb, low calorie and overall good for you!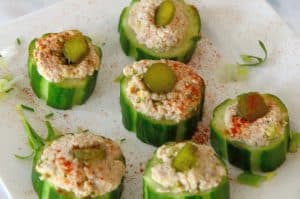 Some savoury tartlets added a bit of warmth and weight to the luncheon offering.  Get the recipes for these Creamy Mushroom Rolls and Balsamic Pear Tartlets.

And last but not least - serve a light, refreshing Sparkling or Rosé to complement the buffet.
Here are few ideas:
Sparkling
Vieni Momenti Extra Dry Sparkling Rosé (Ontario,Canada) 486357  $16.95  Released April 29, 2017. This bubbly is made in the Charmat method, same as Prosecco.  This one is extra dry which I know I like based of the Torresella Prosecco (Italy) #400440 @ $14.95 from the April 1 release.  The description of strawberry, cherry and baked bread with a touch of dried cranberry on the finish suggest a nice lunch wine to me.
Update May 12, 201:  We tasted the Vieni Momenti at the winery.  Their sparkling wines are one of their strengths in my opinion.  They have a fine, lively mousse and are very reasonably priced.  You could pay a lot more for a less enjoyable sparkling moment.  This one has a bit of candy on the nose, is easy drinking and refreshingly lively on the palate.
Flat Rock Cellars Riddled Sparkling 2010  (Niagara Escarpment, Ont, Canada) 383315  Score 91 $29.95 Released 13 May, 2017. I got to taste this at Taste Ontario and it was a standout. The traditional method, attention to detail, and 5 years on the lees is paying off with this sparkling. Ontario should be proud of this lively, subtly yeasty sparkling. A creamy palate with an acid backbone. A very elegant sipper. Think puff pastry hors d'oevres and paté with toast points. (I gave it a 92). Micheal Godel of winealign.com says it won't get much better than this. Great length.
Rosé
Featherstone Rosé 2015 (Ontario, Canada) 117861  $15.95 Released April 29, 2017. Susan Desjardins of winecurrent.com describes this as having aromas focused on wild red berry fruit with earthier notes and roasted red pepper; fruity on the palate; clean texture, tasting of juicy red cherries and strawberry-rhubarb jam with savoury earthy notes to add character.
Carte Noire Rosé 2016 (Provence, France) 319384    $18.95 Released April 29, 2017.Vintage notes highlight this blend of Grenache and Cinsault as a long time customer favourite with zippy personality, ripe red berry, raspberry and Provencal garrigue tones.