These Nutty Baked Mushrooms make for an interesting side.  Lots of spices and nutty, toasty goodness make a great side for a steak or lamb chop.
[ultimate-recipe-jump text="Take Me to the Recipe!"]
These are low carb, gluten free, and make a fairly substantial dish with the nut meal. They would be a great addition to a vegetarian menu.
One quarter of this recipe weighs in at 2 Weight Watcher Smart Points. Depending  on the size of your mushrooms that would be 2-3 mushrooms.
These have an Italian combination of flavours with walnut meal, pine nuts and Italian spices.  You could adjust them to make all kinds of ethnic variations.  You could use chili powder and cumin instead of the Italian spices.  You could use Chinese Five Spice for an oriental flare but in that case I would only use 1 teaspoon. (I find Five Spice to be really strong). You could use Thyme and Tarragon for a French flare.
You could switch the walnuts for pecan or almond meal.  They will still be nicely toasted an nutty when they come out of the oven!
You will blend the nut meal and the pine nuts, all the spices and parmesan in your blender.  Pulse until there are no visible chunks of any one nut. Be careful not to over process or you will end up with nut butter.
The combination is quite 'pasty' and sticky so it will make a fairly thick covering for the mushrooms.
You can clean the mushrooms and coat them early in the day if you like and refrigerate until you are ready to cook them.
They cook at a high temperature so they actually cook well on the BBQ grill if you are BBQing your meat. In that case I didn't finish the off with a top broil but they were nice and toasty.
I put some parchment paper in the bottom of the pan when cooking so the juices don't run and stick them to the bottom of the pan.  They are fairly fragile while they are really hot so give them 5 minutes or so before you move them to a serving dish or plate them.
I served the with these Grilled Lamb Chops and they made a delicious combination.  Pair that with full bodied red like a Malbec, Cabernet Sauvinon or Shiraz and you will have a meal worthy of entertaining .  The cute little Sweet Potato Roses also make for a company-worthy presentation!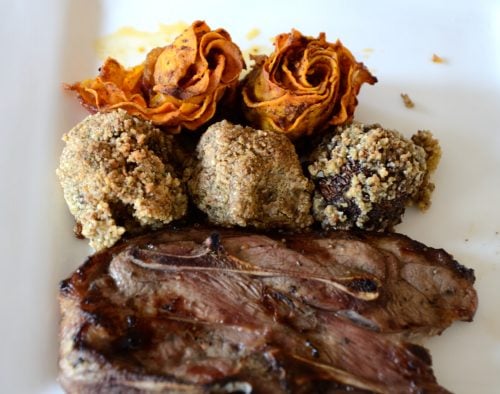 Ingredients
8

oz

whole mushrooms

you should get 8-13 depending on size.

2/3

cup

wlanut meal

2/3

cup

pine nuts

2

tsp

garlic powder

1/2

tsp

salt

1

tsp

paprika

2

tsps

Italian spices

(or mix dried thyme, oregano and basil in equal parts)

2

Tbsps

ground parmesan

2

large

eggs
Instructions
Clean mushrooms and trim the stems. Allow mushrooms to dry before coating them.

Preheat oven or BBQ to 400 degrees.

Line a baking pan with parchment paper.

Mix the nut meal, pine nuts, parmesan and spices in the blender. Stop as soon as there are no visible pieces of nuts. Be careful not to over process or you will get a nut butter.

Whisk the eggs in a bowl.

Dip each mushroom in the egg and allow excess to drip off. Roll the mushroom in the nut and spice mixture until evenly coated.

Place mushrooms on the baking sheet. Do not crowd them. The hot air should be able to flow between each mushroom.

Bake mushrooms for 20 minutes. Turn oven to broil and toast the tops for about 3 minutes. (This is not necessary on the BBQ because of the dry heat).

Allow to sit for about 5 minutes before serving.
Nutrition
Calories:
326
kcal
|
Carbohydrates:
7
g
|
Protein:
13
g
|
Fat:
28
g
|
Saturated Fat:
4
g
|
Polyunsaturated Fat:
13
g
|
Monounsaturated Fat:
8
g
|
Cholesterol:
108
mg
|
Sodium:
158
mg
|
Potassium:
393
mg
|
Fiber:
2
g
|
Sugar:
2
g