These Ham and Asparagus Crepes make a nice light lunch. If you make the crepes ahead, they come together really quickly using deli ham and cheese slices and fresh asparagus.
[ultimate-recipe-jump text="Take Me to the Recipe!"]
You do need to make some basic crepes. You can reduce the recipe to only make as many as you need for lunch but they do freeze and reheat really well. So…. you might want to make a batch while you are at it to have some on hand.
Think of basic crepes kind of like today's tortilla wraps but a bit more elegant. You can fill them with all kinds of things – scrambled eggs and cheese with cheese sauce, left over meat with cheese and condiments.
For these we are using deli ham, which is pre-cooked and swiss cheese slices. You can microwave the asparagus for 3 or 4 minutes to pre-cook them and then you just need the oven time enough to heat them through.
If you are only doing a couple of crepes you could do them in the microwave but if you are doing more than 4 then they will heat more uniformly in the oven.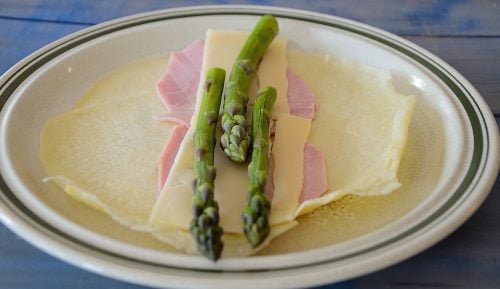 The other good thing is, once the crepes are made, these become Make Ahead! You can assemble the ham and cheese slices in the center of the crepe, center about 3 asparagus spears and roll them up. You can fill your oven proof pan and hold them overnight.
While the crepes are heating you can make the Béarnaise mix in the microwave in about 3 minutes. I use McCormick's like the one below. I can't bring myself to use all the butter that the package calls for (although it is rich and delicious!) I replace the butter with low fat sour cream and just add a Tablespoon of butter to add a bit of richness.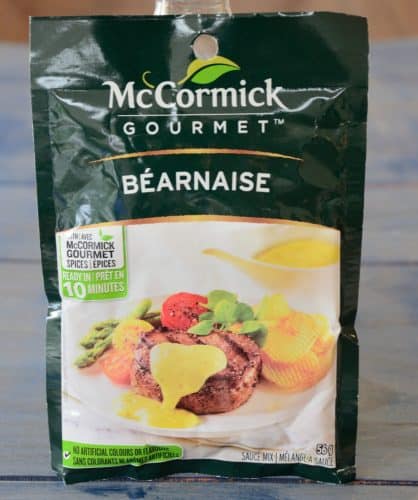 You could also substitute a package of Hollandaise sauce. The difference is that Béarnaise has a few more herbs in it and uses vinegar instead of lemon juice. Either one would be good.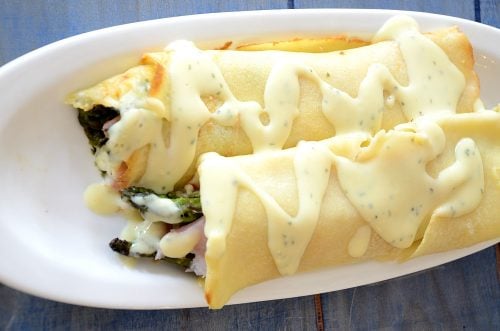 Ingredients
1

recipe

French Crepes

8

slices

deli ham

(I like Schneider's Black Forest Ham)

8

slices

Swiss cheese

24

spears

fresh asparagus

1

pkg

Bearnaise mix

(I use McCormicks) 56 grams or about 2 oz

1

cup

low fat sour cream

1/4

cup

water

1

Tbsp

butter
Instructions
Preheat oven to 350 degrees. Spray an oven proof dish with cooking spray.

Microwave the asparagus spears on a platter with a Tbsp of water for about 3 minutes on high. Center a slice of ham and cheese on the crepe. Top with 3 asparagus spears.

Roll up the crepe and transfer to an oven proof dish.

Bake about 30 minutes until the crepes are heated through and cheese is melted.

While crepes are heating, using a microwaveable dish, stir the sauce mix into the sour cream. Stir till it is evenly incorporated. Add the water to thin. Microwave on high 3-4 minutes stirring after each minute. The stirring is important so the sauce remains fluid and not lumpy. When it is thickened and hot remove. (You may have to add a bit more water if it is too thick to pour in a stream).

Drizzle crepes with sauce and serve.
Notes
Prep time assumes crepes have been made in advance.