Crepes were the 'original' wrap and still make for an elegant and versatile meal presentation.  And they are really easy to make!
They are really just the foil for the filling - the delivery mechanism.  You don't want them to take over the flavour of the dish.
Crepes are very easy to make as long as you follow a couple of cardinal rules.  You make the batter and let it sit in the fridge for an hour or so so that all the air bubbles have dissipated. You don't want bubbles and holes in your crepes.
You also want to spread the batter as thinly as possible.  The best way to do this is to pick a skillet where the bottom is the size you want for your finish crepe. I find the measuring cup that gives me enough batter to thinly cover the bottom or the pan at the thickness I want. In this case I used a 10" Gotham Titanium Skillet and a ⅓ cup measuring cup and it was perfect.  When you pour the batter in lift your skillet off the heat at a 45 degree angle and turn it tso the batter spreads evenly over the bottom.  Return the skillet to the heat when you have an even coating of batter in your skillet.
Each crepe takes 3-4 minutes per side so to cook 8 or 9  crepes it will take you about 48- 60 minutes.  You can get two skillets going to cut down on the overall time.
I am really happy with my Gotham Steel Pan. It has a ceramic and titanium non-stick finish and I can tell you - I did not use 1 bit of butter or oil when I made these crepes.  They cooked evenly and perfectly!
I also used it to make a Spanish Tortilla that I was really happy with.
This recipe made 9 crepes.  You can transfer finished crepes to an oven proof platter to keep warm if you are using them right away.  They do keep well and they also freeze well.  If you are going to store them put parchment paper between them so they don't stick together when you want to separate them.
If freezing, allow them to thaw completely so they don't break or tear when you separate them.
You can enjoy them with all kinds of fillings. Use your imagination - ham and asparagus, scrambled eggs with ham and chives, chicken, beef.  Use a bit of sauce or cheese to hold the filling together inside the crepe.
You can make dessert crepes too!  Think of fruit fillings garnished with whipped cream!  If you are going to use them for dessert you can optionally add a tablespoon of sugar to the batter.
Check out this recipe for Chicken in White Wine Crepes.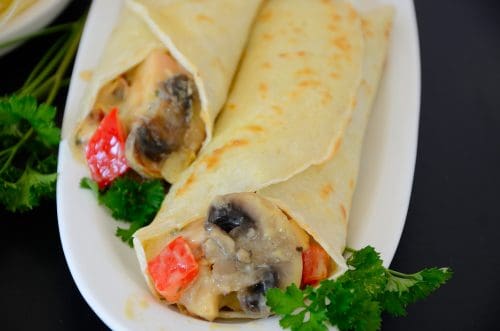 Ingredients
1 ¼

cups

flour

1 ⅓

cup

milk

2

eggs

5

Tbsps

unsalted butter

melted

pinch

pinch of salt

cooking spray

if needed
Instructions
Mix milk and eggs. Add salt. Whisk in flour. Whisk until flour is evenly incorporated. Stir in butter until evenly incorporated.

Cover bowl and refrigerate 60 minutes.

Use a non stick pan preferably. If necessary spray you pan with cooking spray lightly to keep crepe from sticking. Use ⅓ measuring cup for a 10" skillet. Pour batter into bottom of pan and tilt pan to allow batter to spread evenly over the entire bottom surface.

Cook about 3-4 minutes on first side, flip and cook and cook another 3 minutes on the other side. Transfer to a platter to keep warm and continue until all the batter is done. (Use two skillets to cut down on overall time needed to cook the crepes).

If refrigerating or freezing put parchment paper between crepes and allow them to full defrost before separating.
Notes
Note - if you are using these for dessert crepes then add 1 tablespoon of sugar to the batter.
Nutrition
Calories:
164
kcal
|
Carbohydrates:
16
g
|
Protein:
5
g
|
Fat:
9
g
|
Saturated Fat:
5
g
|
Polyunsaturated Fat:
0.2
g
|
Monounsaturated Fat:
1
g
|
Cholesterol:
75
mg
|
Sodium:
53
mg
|
Potassium:
103
mg
|
Fiber:
1
g
|
Sugar:
2
g