This dish has a lot of flavour with only a small number of ingredients, and ingredients you likely have in your pantry.  One of the things I noticed travelling in France and Italy is that many dishes they serve have only a few ingredients, but they choose the ingredients carefully.  This recipe is Greek inspired and it goes well with this Greek Salad with Creamy Feta Dressing recipe and roasted or boiled baby potatoes.
Specialty shops have all kinds of olive variations so you can add a twist to this dish by changing up the olives you choose.  Basic olives work great but you might want to try spicy olives or orange marinated olives etc.
Retsina is a traditional Greek wine. The name Retsina refers to 'resinated' wine - originally it was due to the use of Aleppo pine resin used to seal the wine.  Nowadays with sealed bottles the resin is introduced in the fermentation process via Aleppo pine resin pieces.  The resin pieces release an oily residue into the must and the wine is clarified  and solids removed at the time of racking. Traditional bouquet is often described as turpentine.
I tried it with this dish and found the turpentine and diesel on the nose and palate to be overwhelming. It may be an acquired taste and it is also possible that the one Retsina available in my LCBO may not be the best representation of the brand.
Traditional wine pairing notes often suggest Riesling with Greek dishes, perhaps because the Riesling tendancy to diesel may be reminiscent of Retsina without being overwhelming to our North American palates.
I thought that the herbal notes of  a Sauvignon Blanc would marry well with the savouriness of the olives and capers.  So... I took one for the team .. and opened Kim Crawford's Sauvignon Blanc Marlborough 2015 for lunch with this dish!  I often find a hint of green olive in New Zealand Sauvignon Blancs... and it did not disappoint.  It was crisp and clean with just enough minerality to stand up to the olives, lemon and capers. So..Kim Crawford's Sauvignon Blanc Marlborough 2015 is highly recommended for this dish - or any other New Zealand Sauvignon Blanc.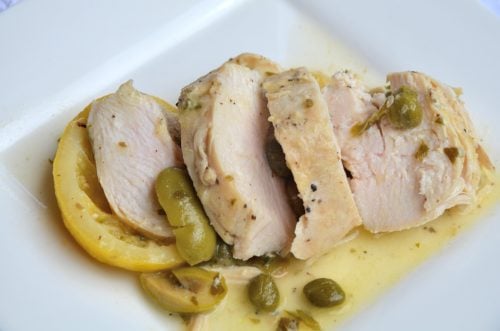 Ingredients
Roasted Lemons
12

thin lemon slices

(about 2 lemons)

olive oil for brushing

coarse sea salt
Chicken
4

boneless, skinless chicken breasts

salt and pepper

all purpose flour for dredging

5

Tbsps

olive oil

½

cup

sliced, pitted green olives

3

Tbsps

drained capers

1 ½

cups

chicken broth

¼

cup

butter

3

Tbsps

fresh parsely

minced, reserve 1 tablespoon for garnish
Instructions
Preheat oven to 350 degrees.

Lay lemon slices in a single layer on parchment paper on a baking sheet and brush with olive oil.

Sprinkle lightly with coarse sea salt.

Roast about 25 minutes. Lemon slices should be slightly dry and starting to brown around the edges.
Chicken
Season chicken breasts with salt and pepper and dredge in flour to coat. Shake off excess flour.

Heat the olive oil in a heavy skillet over high heat. Add chicken breasts and brown, about 3 minutes per side.

Stir in olives and capers. Add stock and bring to a boil. Scrape up any browned bits from bottom of skillet.

Simmer chicken about 5 minutes uncovered, allowing liquid to reduce. Turn chicken over mid-way.

Add butter and the roasted lemon slices and 2 Tbsps parsley. Simmer another 5 minutes or so until breasts are cooked through. Adjust salt and pepper seasoning to taste. Transfer to a serving platter and garnish with reserved parsley.