You can make this comfort food casserole with ground beef or ground lamb.  I like it both ways.  The hint of curry seasoning makes this a bit different from the traditional dish.  I have also spruced up the potato mash on top to add more flavor.
My girlfriend got me started on curry in many shapes and forms.  Her husband's family had spent time in India and they enjoyed a curry meal with Lime pickle and a handkerchief on the side for the mopping of the forehead!   I can't do curry hot like that.  But the other interesting twist I got from her is to add a tsp or so of curry powder to hamburgers or lamb burgers.  It is not overwhelming but adds an interesting note.  In Germany and European delis they sell Curry Ketchup.  I make my own when I want to use it just by adding a smidge of curry powder to regular ketchup.  You gotta try it!
So that is what gave me the idea to add a touch of curry to Shepherd's pie.  And since it works well with beef or lamb you can choose which one you prefer.
This fall it seems I always have part rutabagas and a celery roots in my vegetable drawer so I have been tossing them in whenever I am making mashed potatoes.  I like the added depth of flavor they add.
My husband loves green peas so he loves this casserole.  Sometimes I switch out the peas for frozen corn which adds a bit of a sweet touch.  But curry and peas are kind of a classic combo so I stuck with them.
The curry powder I use is pretty-generic-regular-grocery-store curry powder so it is not very strong.  It actually smells stronger than it tastes- which is kind of nice and inviting!  If you are using a strong one from real East Indian store you may want to adjust the amount to your taste.
You can also add some interest by serving a chutney on the side like Major Grey.
Lately there is a trend toward adding a bit of baking powder to your mashed potatoes to make them fluffier so there is a bit in this recipe too.
This is great right out of the oven but also freezes and reheats well.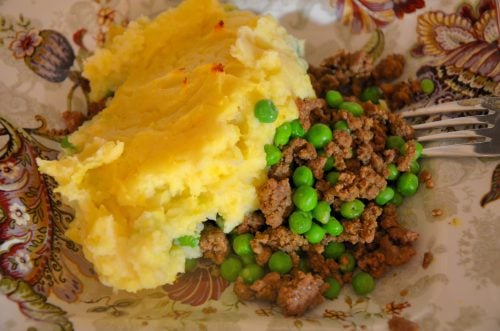 Ingredients
Mashed Potatoes
6

medium

potatoes

cut into 2" dice

1/2

cup

rutabaga

cut into 2" dice

1/2

cup

celery root

cut into 2" dice

1/2

tsp

baking powder

(Optional)

4

Tbsps

butter

1/2

cup

warm milk
Meat and Peas
11/2

lbs

ground beef or lamb

3

tsps

curry powder

1/2

tsp

salt

1/2

tsp

pepper

4

cups

frozen green peas
Instructions
Preheat oven to 350 degrees.

Cover potatoes, rutabaga and celery root with water in a medium sauce pan and cook over medium high heat about 20 minutes until they are fork tender.

Brown the ground meat in a large skillet over medium high heat. Add the salt, pepper and curry after the meat is brown and cook another 3 minutes. Drain off any excess fat.

When potato mix is cooked, drain and mash them thoroughly. Add the baking powder, butter and warm mix stirring well. I actually beat mine with electric beaters until they are really nice and smooth textured.

In a deep casserole dish layer the ground meat, peas and top with the mashed potatoes.

Bake 25-30 minutes at 350 degrees.

If freezing allow the casserole to thaw and bake approx 60 minutes at 350 until heated through. You can also hold assembled casserole in the fridge and reheat the following day. It will take 45-60 minutes to heat through if cold from the fridge.