Salmon in Puff Pastry is worthy of company. With only 5 ingredients it is much easier to make than it looks!
A bed of fennel and some lime/fennel cream set the dish off perfectly.
I love Beef Wellington, Salmon Wellington… Wellington anything.  With the puff pastry this dish is no exception!  Salmon fillet(s) are  laid out on a bed of fennel slices and seasoned with lime juice and zest.  Wrap the puff pastry around it and seal tightly so the salmon steams in its own juices.
You can even buy puff pastry already rolled out now.  How easy does that make it??  You may have to roll our stretch it a bit to make sure it is a big enough rectangle to cover and seal over the salmon fillet.
Serve it with a fennel/lime cream sauce on the side and you have a very elegant main dish.  I served it with these  Potato Roses and oven roasted asparagus.  I just cleaned the asparagus, snapped off the woody ends, drizzled them with a bit of olive oil and a sprinkle of sea salt and popped them in the oven for the last 20 minutes that the salmon was cooking.
The fennel/lime cream sauce complemented everything on the plate.  What a winner of a menu!
My sister-in-law sent me a message about her new favourite way to cook fish. She has been experimenting with slow roasting fish lately – especially salmon, halibut and cod.  Place a bed of thinly sliced fennel, season with salt and pepper then place fish on top. Season fish with salt and pepper, add another layer of fennel, orange and lemon slices. Place in a 250 degree oven for 40 minutes Rest for 5 minutes. She says it works beautifully every time!
That might explain why I have had fennel on the brain for the last couple of weeks!  Our Loblaws grocery chain used to have a President's Choice frozen product that was Salmon Wellington and it was great.  You could pick it up for really easy entertaining.  I don't see it anymore and I miss it so I decided to make my own.
A lot of salmon in pastry recipes use spinach for the vegetable bed but I am a little tired of spinach at this point.  The fennel is very mild but gives a bit of sweet brightness to the dish.  And in the sour cream sauce it is subtle but adds a bit of complexity.
After you have wrapped the fillet you can score the pastry diagonally to make a nice presentation and give it a brush with egg wash for a nice golden finish.
Sides
I served it with these Sweet Potato Roses and Roasted Asparagus.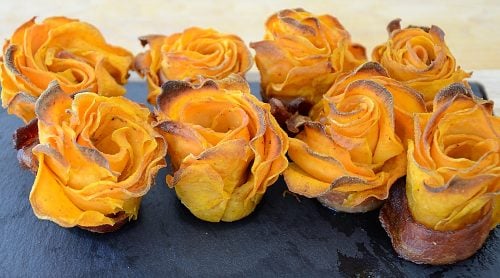 Wine Recommendation
 I served it with Momo SauvignonBlanc 2015 from New Zealand. It is has a bit of grapefruit and stone fruit going on along with the classic herbal notes of Sauvignon Blanc.  It was a match made in heaven, if I do say so myself!  The 2016 is being released in the LCBO Vintages release of April 28, 2017 so stock up if you are a fan of New Zealand Sauvignon Blancs!
A Sparkling Wine  or a buttery Chardonnay would work nicely here as well with the toasty puff pastry.
Ingredients
1

lb

salmon fillet

skinless, boneless

1

package

puff pastry

2

limes

+ more for garnish if desired

1

bulb

fennel

divided

1

cup

low fat sour cream

1

egg

whisked
Instructions
Preheat oven to 400 degrees.

Trim ends of fennel bulb. Trim outer layer if it is blemished. Cut vertically down the center. Remove the core in a V shape at the bottom of the bulb. Slice the bulb halves thinly, horizontally.

Wash and zest the limes.

Lay or roll out the puff pastry in a rectangle large enough to wrap the fillet and seal.

Center salmon fillet on the puff pastry. Sprinkle zest from first lime over salmon. Top with 3/4 of the fennel slices. Squeeze juice of first lime over the fennel.

Close up the puff pastry edges. Wet the edges if you need to to make it seal.

Cover baking sheet with parchment paper. Place pastry on the pan, sealed side down.

Bake at 400 degrees about 40 minutes.

While salmon is baking, heat the remaining fennel in a non stick frying pan over medium low heat about 12 minutes till it is soft.

Put sour cream, fennel, zest of 2nd lime and juice of 2nd lime in a blender and blend til smooth. Reserve to serve on the side.

When salmon is done slice the puff pastry package into 4 equal portions and serve.
Nutrition
Calories:
633
kcal
|
Carbohydrates:
34.7
g
|
Protein:
31.4
g
|
Fat:
40.7
g
|
Saturated Fat:
10.8
g
|
Polyunsaturated Fat:
10
g
|
Monounsaturated Fat:
6
g
|
Cholesterol:
82.3
mg
|
Sodium:
274
mg
|
Potassium:
789
mg
|
Fiber:
0.8
g
|
Sugar:
3
g