So.. what is all the hype about Quail Eggs? Are they worth the extra expense?
I, like many I suppose, was drawn to quail eggs because they are so darn cute! Tiny, compact little bluish speckled things.
That is the outside but the insides are cute too!
Nutrition-wise quail eggs have a slight edge over chicken eggs but only a slight one. They have more fat, protein, iron, riboflavin, and vitamin B12 by weight than chicken eggs. Some believe quail eggs have antioxidant qualities and can help alleviate allergies among other benefits.
I just know they are interesting, creamy litte bite-size morsels!
10 quail eggs approximate the volume of 2 large chicken eggs. Most recipes seem to assume 2-5 quail eggs as a serving.
Calories
10 Quail Eggs
158
2 Large Chicken eggs
148
Fat
11 grams
10 grams
Protein
13 grams
12 grams
Choline
48% of the DV
61% of the DV
Riboflavin
61% of the DV
32% of the DV
Vitamin B12
66% of the DV
43% of the DV
Iron
20% of the DV
9% of the DV
The attraction of quail eggs is that they are so creamy and flavourful. Quail eggs have a higher yolk to white ratio than chicken egg which makes them creamier. Not a strong flavour but rich tasting nonetheless.
They are often sought after for baking as well. (See the link below to a treasure trove of recipes using Quail eggs.)
And - did I mention they are so darn cute?
Cracking a Quail Egg
Quail eggs have very sturdy shells. You can't just break them on the side of a bowl like we do with chicken eggs. There are special tools even for cracking quail eggs but this Martha Stewart video will show how to slice them open quite easily.
Basically the easiest way seems to be to turn the egg with the small end down so the yolk sinks to the bottom of the shell. Take a sharp knife or serrated knife and slice off the cap of the egg. Then you can pour the egg out in to your pan or working bowl.
How to Hard Boil Quail Eggs
To hard boil them, because they are so small you don't need a big pot of water. You can use a sauce pan as long as the eggs are completely and well covered with water.
Spring Creek Quail Farm recommends adding the eggs to a glass of warm water to bring them to room temperature. This will help avoid unwanted cracking of the shell when cooking.
The water will come to a boil much faster in a saucepan than a pot. When the water is at a rolling boil gently add the eggs. (Not like chicken eggs where you add the eggs to cold water.)
Boil:
2 minutes for soft boiled
3 minutes for medium
3 ½ minutes for hard boiled.
If eating them right away cut the cap off and enjoy warm with a pinch of salt.
For hard boiled eggs transfer them gently to a bowl of ice water. It will only take a few minutes for these little guys to cool down.
To peel the hard boiled eggs gently make a crack in one end of the egg. Then roll the egg gently on a paper towl to crack the shell all over the egg and start picking the shell off. I have had them where they peel like a dream and other times the peel comes off in little specks. I read once the fresher eggs are harder to peel.
Here are a couple of hints to help with the peeling. The membrane on quail eggs is also very strong. Crack the 2 egg ends gently on the counter. Gently roll the egg so the shell cracks all round the body of the egg. The air bubble is usually aournd the fat end of the egg. With your fingers, break a whole through the cap at the fat end and make sure you tear the membrane between the shell and the white. Submerge the eggs in a bowl of cold water and let them sit while you crack the remaining eggs. The water will seep in under the shell and make the peel much smoother to remove. If you work gently the shell will sometimes peel right off in 2 or 3 pieces. Rinse any shell bits off the eggs. (See below for hard boiled quail eggs with caviar ideas.)
Peeled hardboiled eggs will keep 3-5 days in the fridge.
Quail Egg and Endive Salad Notes
I find this recipe combination as written quite tasty and refreshing but it is very verstatile.
Details on cooking the quail eggs are listed below and in the recipe.
As for the other ingredients, the stars of this recipe are the quail eggs. You can choose different greens to make a bed to display the cooked eggs on; you can switch out the accompanying vegetable for any common salad ingredients that suit your taste.
You could even sub in some complementary condiments, a bit of pickled beet or pickled onion for example.
You can also use any dressing that appeals to you. This combination works equally well with a sharp, lemon-y vinaigrette or a creamy Ranch, Creamy Cucumber, Poppyseed.
Pick your favourites and enjoy it your way!
Quail Eggs and Caviar
Here is a quick and elegant appetizer. Halve hard boiled quail eggs vertically and assemble on a plate. Take a 6 oz jar of caviar (I use lumpfish roe from Zehrs.) Dump caviar on to a paper towel or coffee filter and rinse and drain gently. Chop up sweet pickled onions finely. Sprinkle caviar and onions over the eggs. Add some parsley or roasted pepper garnish if desired. Serve the remaining caviar on the side with a small spoon.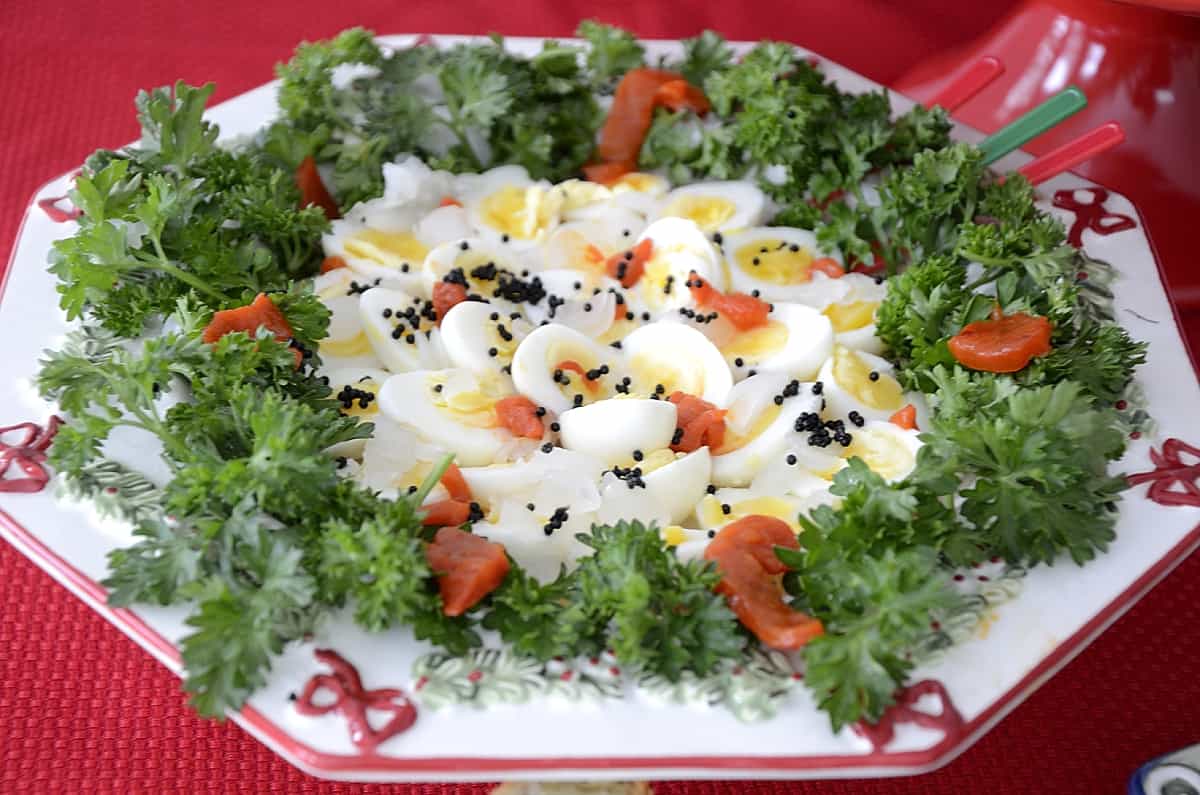 Intrigued Enough to Try Them?
For Canadian stores you can click here to find the nearest store to you carrying Springcreek Quail eggs. ( My Food Basics carries them regularly. Farm Boy and Sobey's also show as stocking them.)
For US stores click here.
Looking for More Recipes?
Check out Spring Creek Quail Farm Recipes here.
Ingredients
8

quail eggs

8

Belgian endive leaves

a 2 Tbsps substitute tender greens per person

4

Tbsps

sweet onion

minced

4

cocktail tomatoes

cut in half or quarters

1

stalk

celery

finely chopped

2

pequillo or peppadew peppers

Can substiture 4 Tbsps sweet red pepper or roasted pepper

4

Tbsps

cucumber

seeded and finely chopped

coarse sea salt and fresh ground pepper for garnish

Parsley for garnish

½

cup

vinaigrette of your choice

I used a commercial lemon/parsely dressing
Instructions
Hard Boil Quail Eggs
Take quail eggs out of the fridge and bring to room temperature. You can speed this up by gently putting them in warm water.

Prepare a bowl of ice cold water and set aside.

Fill a sauce pan with enough water to completely cover the quail eggs. Bring water to a vigorous boil.

Gently add the quail eggs with a spoon one at a time. Boil 3 ½ minutes. Watch the time carefully because they can quickly overcook and get rubbery.

Gently remove quail eggs to the ice cold water. They will cool down in a few minutes.

After about 5 minutes you can start taking one egg at a time and work over a paper towel. Gently crack one end of the egg and then gently roll the eggo over the towel to break up the shell over the entire surface. Pick off all the shell ensure you get all the membrane as well.

Divide Endive leaves evenly among four plates. Cut the quail eggs in half and postion 4 halves per plate on the endive leaves. Divide the onion, celery, cucumber and pepper evenly among the four plates, mound each vegetable around the egg and endive leaves.

Garnish with coarse sea salt, fresh ground pepper and finely chopped parsley.

Drizzle 2 tablespoon of your favourite vinaigrette over each salad plate.
Notes
Peeled hard boiled quail eggs will keep 3-5 days in the refrigerate.
Nutrition
Calories:
201
kcal
|
Carbohydrates:
8
g
|
Protein:
4
g
|
Fat:
18
g
|
Saturated Fat:
4
g
|
Polyunsaturated Fat:
8
g
|
Monounsaturated Fat:
5
g
|
Cholesterol:
152
mg
|
Sodium:
39
mg
|
Potassium:
375
mg
|
Fiber:
4
g
|
Sugar:
3
g
|
Vitamin A:
706
IU
|
Vitamin C:
26
mg
|
Calcium:
43
mg
|
Iron:
1
mg
Recipes for Quail Eggs from Spring Creek Quail Farm
Hard Boiled Quail Eggs with Tarragon Mayonnaise from Ricardo Cuisine