This Pear Cranberry Butter keeps for a month in the fridge and makes a great gift or sauce for scones, turkey or pork tenderloin or ham.
A bit of a work horse based on that!
It is full of flavour, slightly tart but sort of creamy sweet from the pears. I love it on these Cranberry Orange Scones.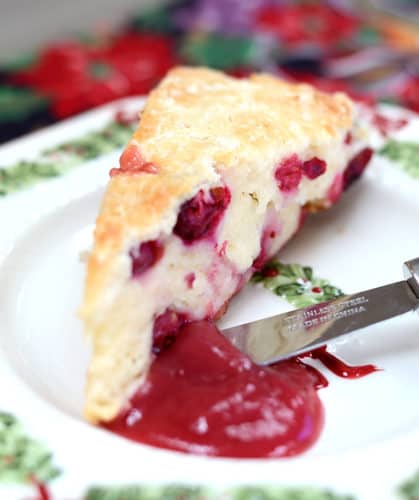 It is also great as a sauce for turkey or other poultry like Cornish Hen or roast Chicken. It would also be great with a pork tenderloin. Lean pork can be rather dry after cooking so it makes a nice accompaniment.
It takes a bit of cooking time so you need to be around the kitchen to stir regularly. Otherwise it is not hard.
You will need to sterilize 4 half pint canning jars plus another for good measure. My recipe worked out to 4 half pints plus another 1/4 pint.
I made 3 batches of scones, froze 2 of them in ready-to-bake format and gifted them along with a jar of the Pear Cranberry Butter.
What a treat for a holiday morning! Warm scones and Pear Cranberry Butter.
The other good thing is there is only about 3 Tbsps of sugar per half pint of 'butter'. Far less than traditional jam.
The tartness makes it a great condiment for roast turkey, pork etc. It is also good with mayo on a turkey sandwich!
With all these uses you won't have to worry about the expiry date in a month!
Chef's Tips
fresh lemon juice give it a bit of extra brightness but in a pinch you can use bottled lemon juice.
a non-stick pot works best so you don't have pear butter dried to the sides.
be sure to label it very clearly with the need to refrigerate before and after opening along with the end date – especially if you have gifted it.
alternatively you could freeze with instructions to defrost just before using and keep refrigerated for up to a month after opening.
you can serve it at room temperature for scones or as a condiment. You could also gently warm it if you are serving it as a meat condiment.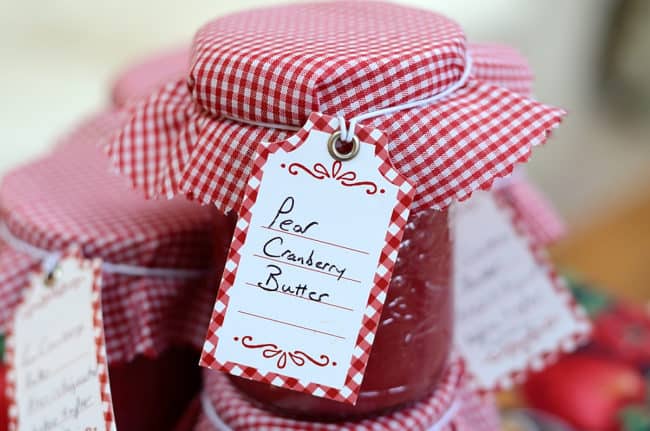 Pear Cranberry Butter
This sauce is delicious on scones or with turkey or roast pork!
Print
Pin
Rate
Ingredients
3 1/2

lbs

Bartlett or Bosc pears

(about 7 large)

2

cups

cranberries (fresh or frozen)

1 1/4

cups

water

1/3

cup

fresh lemon juice

1

4"

cinnamon stick

3/4

cup

granulated sugar

1/3

tsp

salt
Instructions
Peel pears and cut out stem and cores. Cut into large chunks.

Combine pears, cranberries, water, lemon juice and cinnamon stick in a large non-stick pot. Cover and bring to a boil over high heat, stirring occasionally. Reduce heat to low and simmer covered for 1 hour. Stir occasionally. Pears should be very soft.

Allow to cool slightly and, remove cinnamon stick and set it aside. Transfer mixture to a blender or use an immersion blender in the pot to purée.

Put 2 small saucers in the freezer so you can eventually check the thickness of the butter.

Return mixture and cinnamon stick to a clean non-stick pot. Add the sugar and salt. Bring to a boil over medium high heat, stirring often to dissolve sugar. Reduce heat and simmer steadily, stirring often for about an hour until mixture thickens. Keep cleaning edges of the pot so you don't get a dried rubbery ring of fruit.

To test for doneness, spoon out a teaspoon of the butter to the chilled plate and freeze for 1 minute. Butter should hold its shape and not spread. Continue to reduce until it passes this test.

While the butter is reducing, sterilize 4 half pint jars or 8 1/2 cup jars by inverting them in boiling waters for 15 minutes. Sterilize lids in boiling water for 5 minutes just before you are ready to seal the jars. (See alternative in Notes below).

When butter is thick enough pour into the prepared jars. Stir to remove any air bubbles, wipe the rims and place the lid on the jar. Put on the screw band and turn until finger-tip tight. Allow jars to cool at room temperature. Label and store in the fridge for up to 1 month. Or freeze jars for up to one year and defrost when ready to use.
Notes
Alternatively, wash and rinse jars. Preheat oven to 275 degrees.  Place jars on a baking tray and bake for at least 20 minutes.  Place lids in boiling water for 5 minutes before sealing jars.
Per Tablespoon
Nutrition
Calories:
24
kcal
|
Carbohydrates:
6.3
g
|
Protein:
0.125
g
|
Fat:
0.03
g
|
Sodium:
3.4
mg
|
Potassium:
31
mg
|
Fiber:
1.16
g
|
Sugar:
4.75
g