Nothing could be easier than this No Knead Pizza Dough. If you can stir you can make it! You just have to start the day before because it takes 18-24 hours to rise.

The recipe is from Jim Lahey—owner of New York's Sullivan Street Bakery and pizza spot Co.  
 I halved the original recipe.  It keeps in the fridge for a few days and also freezes well but I found it best when used right away so I didn't want to make a mega-batch to store!  This recipe will yield about 3 –  10 inch thin crust pizza bases or 2-10″ regular crusts.
This is my go-to recipe now for thin crust pizza. It is crispier than the more doughy bases. It gets rave reviews every time I serve it.
One note of caution- you must cover the dough with plastic wrap.  I covered my bowl once with a clean towel out of habit but the long fermentation time in this recipe made the dough form a tough crust.
I used it for this Caramelized Onion Thin Crust Pizza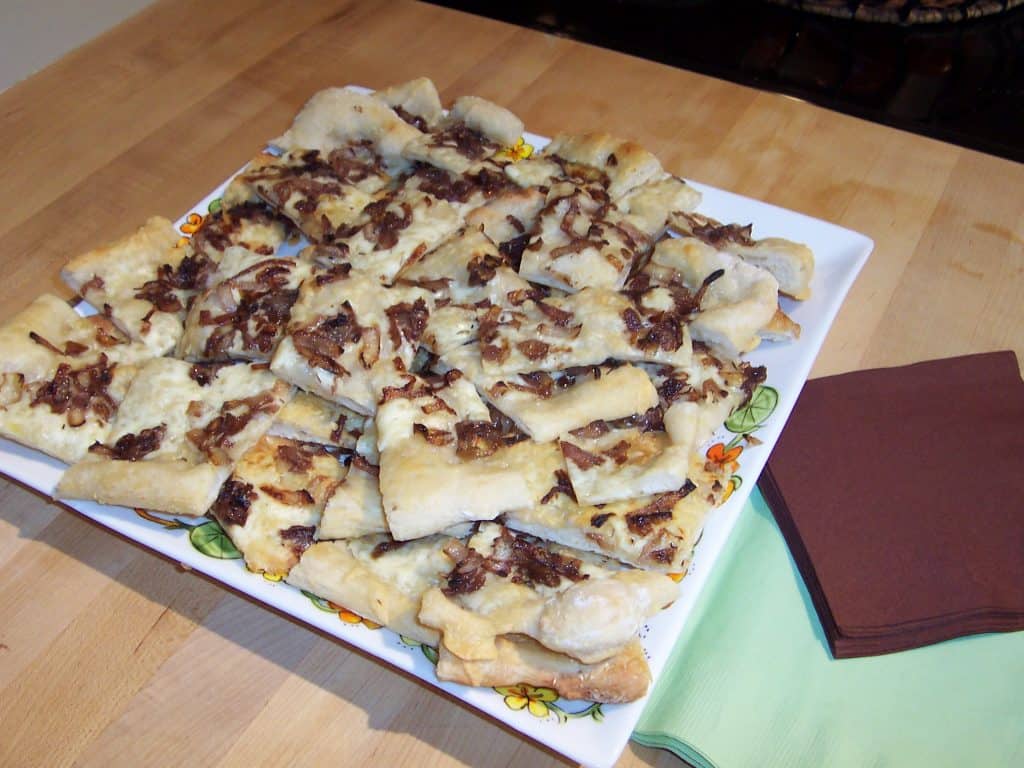 I made a thicker crust for this Basil Pesto Tomato Pizza.
Ingredients
3 3/4

cups

all purpose flour

1/4

tsp

active dry yeast

1 1/2

tsp

fine sea salt

1 1/2

cups

lukewarm water

Water should be tepid to the touch-too hot will kill the yeast.
Instructions
Stir dry ingredients (including the yeast) in a glass or ceramic bowl till evenly mixed.

Add water slowly stirring with a wooden spoon. Incorporate well. Dough will be a bit coarse and rough surfaced.

Cover with plastic wrap and let sit in a warm place 18-24 hours.

Transfer dough to a floured surface and divide into 3 equal parts.

With floured hands, shape into a ball with a smooth top by folding the 4 edges to the under-side.

Let dough rest/rise 1 more hour.

To shape dough put 1-2 tsps cornmeal on a piece of parchment paper approximately the size of your pan or pizza stone. Sprinkle a few more tsps of regular flour on the parchment paper as well, in the area your finished dough will cover. With floured hands shape your dough into a round disk. Continue flouring your hands so you can work the dough without it sticking to your hands.

Starting at the center of the disk gently press and push the dough outward to create a larger circle. Continue shaping outward from the center but leave a bit of the edge thicker to create the outer crust. When your dough reaches the desired shape/size you can add your toppings.

Repeat for each pizza base.
Storing
To store before shaping you can wrap you disk in plastic and keep in the fridge for up to 3 days. When ready to use, unwrap it and let it come to room temperature (2-3 hours) before shaping.

If freezing wrap in plastic and seal in resealable plastic bags. Defrost in fridge over night, unwrap and allow dough to come to room temperature before shaping.

When ready to cook preheat your oven to 425 degrees and pre heat your pizza stone or pan. The dough will cook in 12-15 minutes with whatever toppings you choose.
Notes
Variation:  For regular crust pizza bases divide the dough in half and roll out to a 10" disc after the second rise.