This 3 ingredient marinade will amp up your grilled lamb chops like you wouldn't believe! You can marinate for 8-24 hours and they cook up in minutes. Nothing could be easier!
The secret ingredient here is Montreal Steak Spice!  This is a classic peppery, garlicky spice mixture that has a distinctive flavour.
Remember the father in My Big Fat Greek Wedding that used to use Windex to cure everything?  Well, I have a friend that every time he cooks, when he describes the recipe the last ingredient is 'a bit of Montreal Steak Spice'!
These are so easy but the return on flavour is huge!  It is only Dijon mustard, red wine and Montreal Steak Spice.  You mix the marinade and pour it into a sealed bag or container with your chops and let them marinate 8-24 hours.  This marinade would also work well on steaks.
Fire up your grill or broiler and in 3 minutes per side you will have delicious rare lamb chops. Go for about 5 minutes per side for medium/well done.
Chef's Notes
I usually make  these with lamb chops-the ones you get if you separate a rack of lamb.  This time I had lamb shoulder chops on hand.  The shoulder chops look bigger but they are so marbled that the actual meat portion is the same or less than the other chops.  The shoulder chops are significantly cheaper than the regular chops though.  They cook up in the same time and fashion so you can choose which cut you prefer.
No matter which cut you choose there is not an over-abundance of meat on a lamb chop so count on 3-4 per person.
Sides
I served these with Nutty Mushrooms, which you can also cook on the grill or in your oven.  The mushrooms will take a bit longer than the chops so put them on first.   Use a tinfoil pan if you are doing them on the BBQ.
I had some Sweet Potato Roses in my freezer - can you believe how cute they are and that they are just as good reheated from frozen?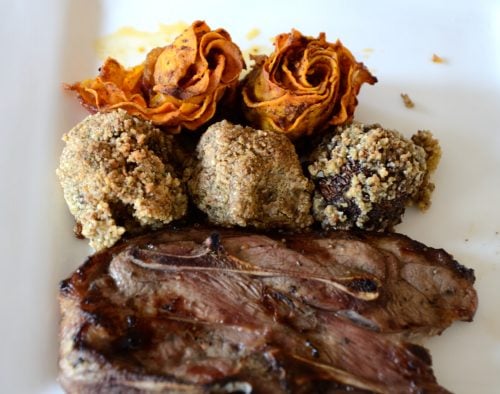 Add a side salad and you have a really generous meal.
Wine pairing
First note would be about the wine for the marinade.  'Cooking' wine is one of the worst cooking terms I can think of - right up there with 'cooking' sherry.   Use a wine that is a quality that you would drink- otherwise save your money and use a dash of red wine vinegar....
For a strong seasoned meat like lamb or steak you would want a robust red- like a Shiraz, Cabernet Sauvignon or Merlot.  If it works for you  use the same wine in the marinade that you plan to serve with the wine.
Our wine group made an interesting discovery.  We served different wines with our main course and rated which one(s) made the best pairing.  The wines were different varieties but of similar quality.
In both instances the group chose the best wine pairing to be the same wine that had been used in the cooking.  They were not aware of what had been used in the cooking and you could not overtly pick out what type of wine was in the marinade or sauce.  But the palate seemed to pick up some subtlety that harmonized the wine in the sauce with the one being served.
So, if you can use the same wine in the marinade or sauce as you plan to serve with that course.  Another trick I use sometimes - if I am serving an expensive wine at the table I may pick a 'lesser' version of the same wine in the cooking. For example if you are serving a reserve with dinner you may look for the same grape and producer's non-reserve offering to use in the marinade or sauce.
If you want to learn more about our pairing experience check out our Holiday Wine Pairing Dinner.
Ingredients
Marinade
¾

cup

Dijon mustard

¾

cup

good robust red wine

(like a cabernet sauvignon, merlot or shiraz)

4

tsps

Montreal Steak Spice
Instructions
Mix marinade ingredients together.

Place lamb chops in a sealed bag or container. Add marinade and massage a bit into the chops.

Marinate in refrigerator 8 to 24 hours.

Heat BBQ grill to high. (Or oven broiler). Cook chops 3 minutes per side for rare and 5 minutes per side for medium.

Remove from heat and allow to rest 5 minutes before serving.
Nutrition
Calories:
423
kcal
|
Carbohydrates:
2
g
|
Protein:
44
g
|
Fat:
16
g
|
Saturated Fat:
6
g
|
Polyunsaturated Fat:
1
g
|
Monounsaturated Fat:
7
g
|
Cholesterol:
144
mg
|
Sodium:
2200
mg
|
Potassium:
554
mg
|
Sugar:
0.3
g