This Meatloaf with Italian Sausage also uses a ground beef and pork blend, Italian spices, Parmesan cheese and red wine sauce.
A fennel bulb adds more Italian flair and keeps it moist. You can substitute celery if you like.
What I learned making this meatloaf was to put it on a wire rack over the baking pan so it doesn't swim in its own juices and fat. I find that no matter if you use lean or extra lean a meatloaf in a casserole has pools of fat laden juices bubbling around the edges. With the ground pork and sausage in this blend that was going to be an even bigger issue.
You can use a casserole lined with plastic wrap to press the meatloaf mixture firmly into the shape of the casserole and then you turn it out onto the wire rack to bake it. If you keep the casserole dish (cleaned) handy you can use it to refrigerate any leftovers because meatloaf will be the same shape as the casserole dish.
This is actually a big meatloaf- serves 10. So it is great for a large family of a crowd. I love to have leftovers for the next day and I don't mind freezing a few portion to pull out on a busy or lazy day.
The red wine pasta sauce is optional but tasty! You only need about 1/2 of it for the meatloaf so I froze the rest for a future pasta meal.
There are some great pasta sauces that are quite reasonable. So go with a commercial pasta sauce if you want to keep it simple and if you want to 'gussy' it up consider this Easy Red Wine Sauce.
I served it with this Roasted Pear Salad that melts fresh Pecorino Romano cheese over roasted pear. Along with the balsamic dressing it make a great side for an Italian style meal.
Wine Pairing for Meatloaf with Italian Sausage
Okay.. this is comfort food after all, so your favourite no fuss wine should certainly be an option. This is a very versatile recipe with the 3 meats, tomato based sauce. If you want to stay with the Italian theme think Sangiovese or Primitivo. A light Chianti would also work. There are lots of good Italian red blends called 'Rosso' that tend to be everyday, casual style as well and often represent good value.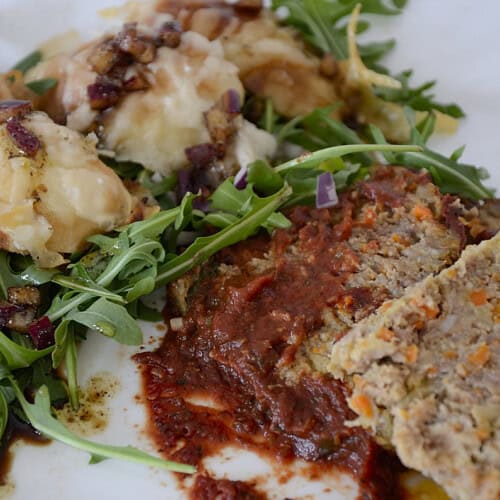 Ingredients
1

lb

lean ground beef

1/2

lb

lean ground pork

1/2

lb

Italian sausage

casing removed and crumbled

1

Tbsp

olive oil

1

yellow onion

1

carrot

1/4

cup

fennel bulb

can substitute 1 celery stick

1

tsp

salt

1

tsp

black pepper

1

Tbsp

Italian dried spices

Or sub a combination of dried basil, oregano, parsley.

2/3

cup

dried breadcrumbs

3/4

cup

grated Parmesan cheese

3/4

cup

marinara sauce

can substitiute Passata
Instructions
Peel and trim onion, carrot, garlic and fennel (or celery). Pulse in food processor to a fine dice. Heat olive oil in a sauté pan. Sauté onion, carrot, garlic and fennel/celery til soft, about 7 minutes.

Mix meat together thoroughly in a large bowl. (Hands work best).

Add the spices and egg to the meat mixture and mix thoroughly.

Add the onion mixture and mix thoroughly.

Add the bread crumbs and parmesan and mix thoroughly.

Preheat oven to 350°. Prepare a rimmed pan by spraying with cooking spray. Place a wire rack over the rimmed pan. (If you don't have a wire cooking rack then line the rimmed pan with foil. Make sure pan is quite a bit bigger in surface area than the meatloaf shape.)

Line a casserole dish large enough to hold the mixture with plastic wrap. Pack the meatloaf mixture into casserole dish.

Invert the meatloaf onto the wire rack. Remove the plastic wrap. Set the casserole dish aside ensuring there is no no raw meat contamination. You can store you meatloaf in the casserole dish when it is done baking.

Carefully pour the marinara sauce over the top of the meatloaf. Use a spatula to get sauce to adhere to the sides of the meatloaf.

Bake until meat reaches 160° internal temperature. Mine took 1 hour and 40 minutes. Time will depend on the shape/depth of your meatloaf.

Remove from oven. Allow to rest 5 minutes. Transfer meatloaf to a platter, slice and serve. You can serve additional marinara sauce on the side if desired.
Nutrition
Calories:
287
kcal
|
Carbohydrates:
9
g
|
Protein:
21
g
|
Fat:
18
g
|
Saturated Fat:
7
g
|
Cholesterol:
68
mg
|
Sodium:
711
mg
|
Potassium:
415
mg
|
Fiber:
1
g
|
Sugar:
2
g
|
Vitamin A:
1172
IU
|
Vitamin C:
3
mg
|
Calcium:
124
mg
|
Iron:
2
mg