After you make these slow cooker baked beans you'll never want to go back to canned beans again.  They are so healthy for you too - low fat, low sodium, high protein, high fiber.
They are not hard to make but they do take a bit of preparation time. Cook time is in the slow cooker so you can do a fix-it-and-forget-it kinda thing.
My family has been making these beans literally for generations.  I remember my grandfather making them, my parents and now me. I am guessing my grandfather didn't make the recipe up but got it from his family! My maternal ancestors were United Empire Loyalists which means they sided with England during the American Revolution and left the USA and settled in Canada in order to remain part of Britain. (no Brexit going on there!)  My grandfather used to make Boston Steamed Brown Bread to go with them.  The bread is very dark and dense and it is literally cooked in a coffee can sealed with foil and set in a pot of simmering water.  I did make it once and it is delicious, but that will be a recipe for another day!
I served them with home-made dinner rolls, similar to what my mother called Parker House rolls (hmm... another Boston connection since Parker House rolls originated in the Parker Hotel in Boston).  My rolls are a bit simpler and have the 'modern' advantage of the dough rising in the bread machine!
I make these sometimes for outdoorsy, casual parties and sometimes people are amazed that you can make beans that are not out of a can!  I have to admit when I see a recipe for 'Campfire beans' or 'BBQ beans' and the first ingredient is a couple of cans of pork & beans I stop reading right there.
The 'real' way is to start with dried navy beans.  At one time the recommendation was to soak the dried beans in cold water overnight and parboil them for about 35 minutes before adding the sauce ingredients and shifting to the bean pot.  The navy bean package still tells you to do that but I haven't done that for years and they turn out fine.
The traditional way is to parboil the beans, mix in the sauce ingredients and transfer them to a bean pot, which is a pottery dish with a fat body and a smaller neck opening.  You would cover them with water and bake them low and slow in the oven for several hours. You would have to keep watch to keep adding water so they wouldn't dry out.
Another modern improvement on this traditional recipe is to use your slow cooker. The condensation provides a moist heat environment that means you don't have to add as much water.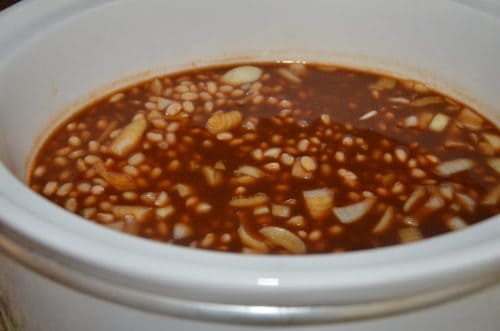 The recipe below is the traditional one that will end up with a tomato sauce similar to the commercial pork and beans variety.  But you can get creative with the recipe too by adding a cup of BBQ sauce of your choice- and there are lots of interesting BBQ sauces that have bourbon or whiskey and varying degrees of spiciness.
After they have cooked they will hold beautifully on the warm setting if your meal is delayed or you have people coming and going.  You can freeze and reheat leftovers.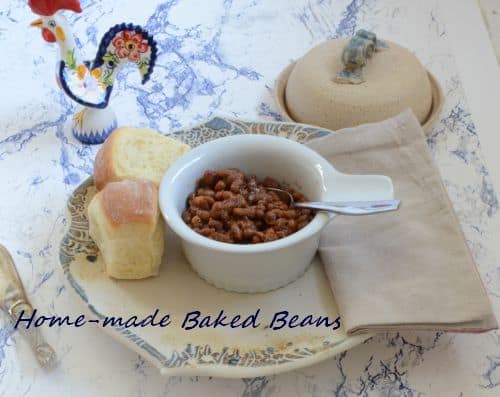 Ingredients
1

900 gram pkg

Navy beans

4

slices

bacon

sub 2 Tbsps veg oil for vegetarian option

1

large

onion

roughly chopped

1

10 oz can

tomato soup condensed

4

Tbsps

Dijon mustard

1

teaspoon

salt

4

tablespoon

brown sugar
Instructions
Rinse dry beans and discard any shriveled or imperfect beans.

Cover in a large sauce pan with a couple of inches of water. Bring to a boil on stove top and simmer about 35 minutes.

Drain beans in colander.

While beans are simmering, cover bottom of your slow cooker insert with bacon slices or veg oil.

Mix all remaining ingredients in a large bowl.

Transfer drained beans to slow cooker insert, pour the sauce over the beans and stir gently to help distribute the sauce. Be careful not to disturb the bacon at the bottom.

Add water so the sauce comes up to the top of the beans. This will probably be 2-3 cups of water.

Cook on low heat 7-8 hours. Check after about 4 hours and add another cup of water if water is below the beans. (If you are fixing in the am and leaving it for the day add an extra cup of water in the beginning).

If you want a thicker sauce, 1 hour before you plan to serve remove approx 1 cup of beans and mash them with a fork till they form a paste. Stir paste back into the bean mixture and let them cook another hour.
Notes
Variation 1: Add 1 cup of BBQ sauce of your choice to the sauce mix.
Variation 2: Add 2 Tbsps molasses to sauce ingredients. (Then drizzle finished beans with maple syrup for the French Canadian twist!)