This Frozen Walnut Torte dessert is like a grown up version of a DQ ice cream cake.  Hands on time is minimal although the meringues have to bake for an hour.  It has to freeze overnight so it is the perfect make ahead dessert!
You need to freeze at least overnight but I have frozen it up to a week before a party and I can't tell the difference.
I am actually not a fan of meringue when it is soft meringue on top of say a lemon pie.  But the dry version, especially this one which includes light brown sugar is slightly reminiscent of that caramel sponge toffee we used to eat as kids.
Chef's Tips for Frozen Walnut Torte
You can also change this recipe up to suit your taste
substitute pecans or hazelnuts instead of walnuts,
substitute fresh fruit chopped finely for the nuts altogether.  Don't put the fresh fruit topping on until ready to serve.
flavour the whip cream with your favourite liqueur. There are walnut liqueurs from Italy that are divine.  I think Bailey's would also be interesting with pecan nuts...the possibilities are endless!
what is your favourite chocolate bar?  Coffee Crisp? Skor? Crispy Crunch?  Make this awesome and kid friendly - grate up  1 ½ cups of your favourite chocolate bar and use that instead of the walnuts!
Wine Pairing
This would be delicious served with an Italian Walnut liqueur.  Frangelico (hazelnut liqueur) would also complement the nuttiness.
This makes a perfect, refreshing summer dessert!
If you like the idea of this dessert you may also like this Meringue Christmas Tree.  Not frozen but absolutely a hit at our holiday meals.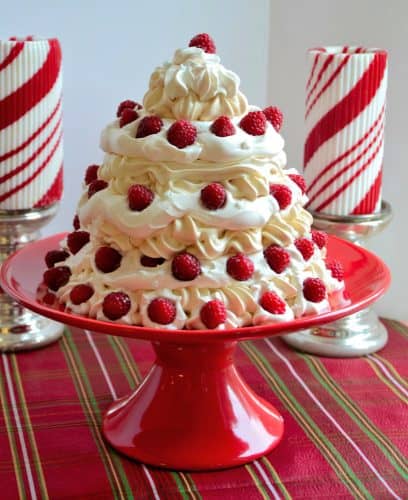 Ingredients
Meringues
4

egg whites

at room temperature

½

cup

white sugar

½

cup

brown sugar
Filling
2 ½

cups

35% whipping cream

¼

cup

honey

1

teaspoon

vanilla

1 ¼

cups

walnuts

crushed
Instructions
Preheat oven to 275 degrees. Cut out 3 9" parchment papers and place on a baking sheet.

Beat the egg whites til they are foamy. Add sugar gradually and whip until they hold stiff peaks.

Divide egg whites evenly and smooth out the surface as much as possible. (If you have a 9" spring form pan I would use the detachable ring as a collar to make a uniform edge and size.)

Bake at 275 degrees for approximately 1 hour until crisp and brown. Remove from oven and allow to cool.

When meringues are done turn oven up to 375 degrees and toast crushed walnuts for approx 13 minutes. Check them often.
Filling
Whip cream till it makes soft mounds. Beat in honey and vanilla and beat until soft peaks form. Fold in 1 cup of the nuts. Reserve the other ¼ cup for garnishing the top.

Place 1 meringue on a cake plate. (Make sure your plate will fit inside a container (Tupperware!) that you can seal to freeze it.) Spread ⅓ of the whipped topping over the meringue leaving about a ½" edge of meringue. Repeat with the 2nd and third meringues.

Sprinkle the remaining nuts on top. Freeze at least 8 hours.

Thaw 1 hour in the fridge before serving.
Notes
Recipe credit goes to the LCBO but I couldn't find this recipe on line.